You know the importance of being able to measure and track the actions your prospects take on your website. After all, it gives you visibility into how well your marketing efforts are performing. At the same time, unwieldy analytics tools can make the process of unearthing these insights difficult.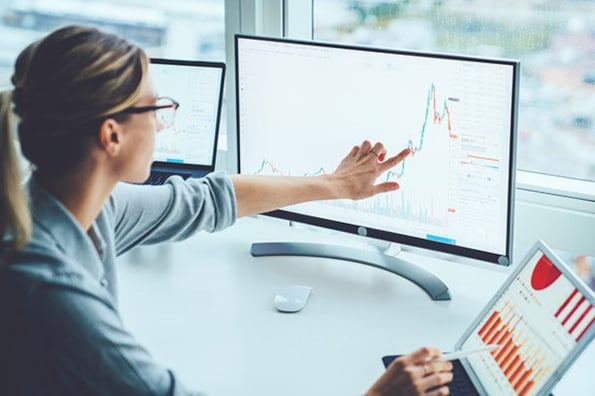 Google Analytics is the biggest player on the block, but it may not be the best for every situation. With data sampling, incomplete data (due to privacy issues), and an interface that comes with a steep learning curve, you may find yourself feeling overwhelmed.
Though Google Analytics is the most widely used and comprehensive reporting system for websites, there are a number of Google Analytics alternatives you can try.
Google Analytics Alternatives
HubSpot
Mixpanel
Woopra
FoxMetrics
Piwik PRO Analytics Suite
Gauges
W3counter
Clicky
Matomo Analytics
Heap
Chartbeat
Microanalytics
HubSpot offers CRM-powered marketing, which includes website analytics. You'll be able to view data on traffic sources, page performance, conversions, and more. Even more critical, everything ties back to contact records in your free CRM, allowing you to track the complete customer lifecycle for any individual in the database. Best of all, you'll be able to create custom reports and dashboards for the views that are most important to you and your team.
Mixpanel is slightly different from the traditional web analytics tools because it was created on the philosophy that the action taken by a user speaks more than the actual page views. With that in mind, you can build user flows that map how users navigate your products and websites (and compare free vs. paid users to see where the drop-offs in your funnel are occurring). Mixpanel also allows you to segment down into an intuitive way so that you can easily uncover valuable insights.
Woopra focuses on four main categories of data: people, journeys, trends, and retention. The idea is to understand user actions to define their customer journey across multiple touchpoints so that you can increase engagement and retention. Woopra offers one-click integrations with your other systems such as Salesforce, Google Ads, and more so that you can get all your data in one place.
FoxMetrics takes web analytics to another level, allowing you to create custom data models so that you can take your analysis farther than Google Analytics. With this in mind, it's best for more advanced users who are familiar with SQL.
Once the models are built, you'll be able to create beautiful dashboards and even set up alerts when your system detects abnormalities, giving you a real-time handle on issues as they happen.
Piwik PRO Analytics Suite (PPAS) is a great choice if you're looking for an alternative to Google Analytics with advanced privacy features. It's a good pick for sectors like government, healthcare, and finance that need to treat customer information with special care.
You can use PPAS to monitor user behavior across desktop, mobile, apps and intranet, including post-sign-in areas, e.g. in transactional systems. PPAS also gives you full control over your data and the way it's stored – on-prem, or in a public or private cloud. The Piwik PRO Consent Manager can also be used to ensure that you gather data in line with all relevant laws.
Gauges is another great alternative to Google Analytics, offering you comprehensive insight into the traffic coming to your site. It comes with attribution modeling capabilities, allowing you to get customer journey insights, track campaign performance, and analyze revenue. Perhaps its most interesting feature is its real-time data breakdowns for specific locations without refreshing the dashboard.
If you want to know the health of your site at a glance, W3counter provides detailed information about your website traffic on an attractive dashboard. With this system, you can identify your most engaging pages, understand more about your visitors, and track their path through your site.
Clicky is known for its real-time traffic tool; you can have a great view of the real-time engagement on your site. Clicky can even track of every action by a single visitor in detail.
The heatmaps help you to have a detailed review of per page sessions as well as the activity by each individual visitor. Overall, this is one of the best Google Analytics alternatives.
Matomo offers a whole host of features that compare and exceed what you can get on Analytics and other single tools. From web analytics and multi-attribution to heat maps and SEO performance, you'll have a full picture to inform your data-driven marketing efforts. Interestingly, you can choose on-premise or cloud-hosted options, giving you full data ownership. Unlike Google Analytics, Matomo doesn't use your customers' browsing information for their own purposes, making it a more ethical choice for your web analytics tool.
Heap is the perfect analytics tool for online products, helping you measure every interaction on your platform down to individual clicks and swipes. You'll be able to analyze behavior, segment data, and discover trends that lead to valuable insights. It even offers Report Alerts on "micro trends" that are developing, keying you into unexpected issues early on.
Chartbeat offers advanced web analytics for content and publishing outlets to increase readership and earn their loyalty. With dashboards, reporting, and optimization, you'll have the tools you need to continue delivering quality content. Chartbeat even offers headline optimization, image testing, and integrations to give you actionable insights.
With the right analytics tool (or combination of analytics tools), you can stop the guessing and start making informed decisions about your marketing strategies and tactics, all in the effort of growing better.
Microanalytics is a lightweight tool that's designed with a privacy-first focus. It is fully compliant with GDPR, PECR, and CCPA, and is hosted in the EU. Microanalytics does not track IP addresses, fingerprints, or cookies, but still provides enough data so that you can make decisions about your website from one location. Plus, Microanalytics integrates with WordPress, Squarespace, Ghost, Wix, and Weebly which makes compatibility easy.
With the right analytics tool (or combination of analytics tools), you can stop the guessing and start making informed decisions about your marketing strategies and tactics, all in the effort of growing better.
Editor's note: This post was originally published in January 2020 and has been updated for comprehensiveness.