Ah, yes. Logistics companies. The unsung heroes of industry.
If Apple and Walmart were the quarterbacks and wide receivers, logistics companies would be the nitty, gritty linemen driving them to success. Their jobs don't always get the recognition they deserve, but without them, businesses would be unable to grow, and that Chia Pet Gremlin you ordered last week would never arrive at your front door.
If you manage a logistics business, you know that speed, accuracy, and efficiency are imperative. After all, your customers are trusting you to deliver their products, and any shred of doubt in their minds will likely drive them to your competitors.
As a result, you understand that every part of your business must foster and nurture consumer trust — and your website is no exception.
In fact, it's probably one of the first points of contact that customers are having with your business. If this first impression doesn't wow them, they'll likely turn to someone whom they feel is more trustworthy.
That's why we put together this list of the best logistics WordPress themes. Read on to learn about their strengths and weaknesses, pricing, and how your business might benefit from each one's unique features.
Best Logistics and Transportation WordPress Themes
CargoPress
Tagoking
Logistics
Trucking
Cargo
Transport
Global Logistics
Transcargo
Logistic Business
FastEX
Logi Truck
Logis Cargo
Logistic
Price: $99
CargoPress is a premium theme built with logistics, transport, and cargo companies in mind. It features a highly intuitive drag-and-drop page builder to create custom designs, but you can also import a professionally-designed demo to get you started.

This theme makes it easy to create unique pages for your company with over 12 custom widgets, like the Counter Widgets, Person Profiles Widget, and Gallery Widget. It's also compatible with many other popular plugins, including the Visual Composer page builder and WPML (if you're interested in going multilingual).

The team at Proteus Themes, creators of CargoPress, specialize in building themes for a handful of specific industries - logistics included. They're a particularly good choice if you're looking for one-to-one support or custom development to help your website (and business) grow.
Price: $59
Tagoking is a clean and simple WordPress theme design specifically for freight, logistics, and transportation companies. It comes with plenty of useful features like a mega menu and a revolution slider.
If you aren't familiar with mega menus, they're fairly standard with most modern websites. These menus come with subtopics and subcategories so users can navigate to the exact page they're looking for without having to click through a bunch of irrelevant pages.
This theme comes with two home page designs, three different blog pages, and two shop layouts. There are also templates for career pages, galleries, and customer service information.
One potential limitation of this theme is that it may require you to download an additional plugin to fully utilize all of its features. While this may not pose a problem for some, for others it may conflict with other plugins that you have installed on your site.
Price: $59
This WordPress theme will help you promote everything from overnight freight post services to corporate supply chain solutions. It's also ideal for package shipping, transportation logistics, and short- and long-term driver training.
This theme has three ready-made homepage layouts, five news and blog layouts, and multiple advanced galleries for you to showcase your products and services. These templates are designed using WPBakery, so you'll have access to a drag-and-drop page builder if you want to further customize each layout.
Similar to the last theme, this one also requires you to download additional plugins for complete access to all of its features. Fortunately, when you do, you'll be able to integrate software like MailChimp and Essential Grid into this theme.
Price: $49
Some WordPress themes say they're designed for a specific industry, but really it's just a multipurpose theme that they've positioned towards a particular marketplace. This WordPress theme isn't one of those themes.
The developers consulted with transportation businesses to make sure it offered logistics companies everything they needed to build a successful website. It has a simple design, and templates are easy to customize using the drag-and-drop visual composer. If you'd rather go with something premade, you can upload demo content with just one click.
Additional features include custom transportation and logistics icons, interactive Google maps, and unlimited theme color options. All of the modules, templates, and widgets are responsive, so you can trust they'll look good no matter what device or browser they're being viewed on.
One limitation that some users have reported with this theme is that it can be tricky to install. Some of the demo content may not be compatible with your site's current content and could require a more manual setup for individual pages and sections.
Price: $59
Whether you're an international shipping company, or a local home-moving business, Cargo has plenty of features that can help you attract and engage customers.
For example, this theme comes with a customizable quote calculator, so visitors can see how much a service may cost before reaching out to a sales rep. There's also a portfolio layout where you can create stunning product pages that educate customers about your offers. With these features coupled together, you can give your customers a clear picture of what they're buying and how much it will cost.
The downside of this theme is that it doesn't come with a feature that tracks shipping orders. If this is critical to your business, it will have to be installed via a third-party plugin.
Price: $59
If you don't want to build a site from scratch, this WordPress theme comes with six unique demo layouts. They're easy to install and will give you a good starting point for creating your site.
After you choose your preferred demo, you can customize pages using the drag-and-drop builder. Your color options are unlimited, and you can add contact forms and Revolution Sliders to your pages.
One downside of this theme is that it doesn't include stock images. After you install it, you might be surprised to find gray placeholders instead of the stock photos shown in the demo. This might add some additional costs to your web design if you don't have any images ready to upload.
Price: $59
While this theme is designed for global shipping companies, it's also ideal for package delivery and freight services.
It comes with a quote calculator, interactive maps, and premade pricing tables. It also offers contact forms, revolution sliders, and a responsive menu with advanced navigation features. There are dozens of unique headers to choose from and this theme is optimized for both mobile and desktop devices.
One unique feature is the quote request form. Rather than providing customers will all of the pricing information upfront, you can have visitors request a quote using a form. This will allow you to collect valuable contact information that can be used to nurture relationships over time.
It's important to note that this theme may not be compatible with WooCommerce. While you can try to install the WooCommerce plugin, in some cases additional stylesheets are needed for its full compliance with this theme. The theme's developers can create these stylesheets for you, but for an additional fee.
Price: $59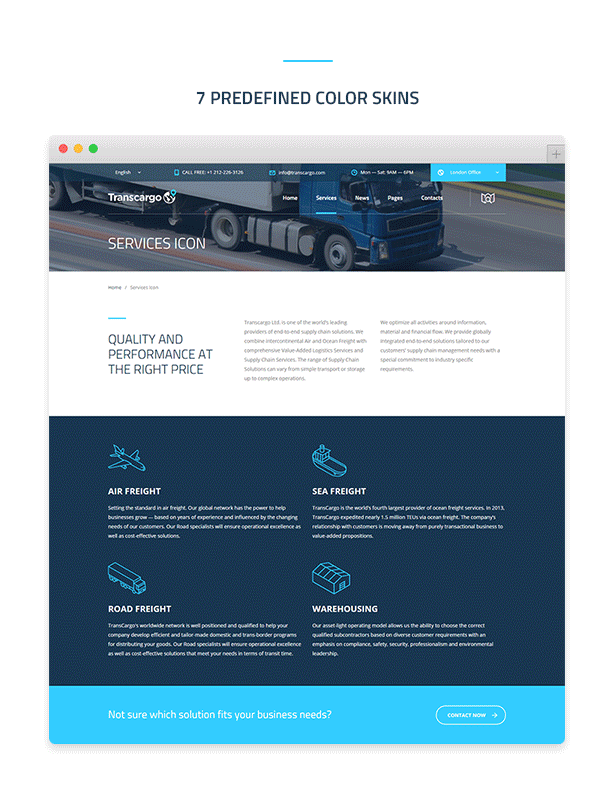 Looking to do a lot of customization with very little coding? Transcargo might be the right WordPress theme for you.
It uses a drag-and-drop page builder, so you don't have to worry about coding anything on your pages. Its templates are built with Sass, which is a stable and professional-grade CSS extension language. There are seven color skins to pick from and over 670 Google fonts. There are also custom sidebars and widgets that you can create using shortcodes.
And, with 24-hour turnaround support, you can get answers to all of your questions whenever you need them. So, if you do have to do a little coding, you can trust that you'll have this theme's support in case you get stuck.
One limitation of this theme is that it can slow down your site if you don't pay much attention to SEO. However, you can make this argument for a lot of WordPress themes, and it's easy to navigate if you're testing page speeds and removing elements that significantly slow down your site.
Price: $49
This WordPress theme comes with a lot of features that are useful for advanced WordPress designers. For starters, it comes with four different page layouts and each one allows you to group content into sections where you can apply unique stylization options. There are over a hundred shortcodes to work with and you can customize the color of almost anything on your site.
One cool feature is that it lets you add animations to your content. These effects grab your viewers' attention and keep them engaged on your page. The longer you can hold your viewers' attention, the more likely you are to close a sale.
If you're a newer WordPress user, it may take some time to get used to the advanced features included with this theme. If you don't feel comfortable going through this learning curve, you might want to pick a more user-friendly option on this list.
Price: $59
This WordPress theme is packed with premium plugins like Visual Composer and Slider Revolution. While Visual Composer is a popular drag-and-drop page builder, Slider Revolution is a highly customizable slider plugin that lets you add eye-popping effects to multimedia slides. It's perfect for creating a banner image or product slideshow that will grab your audience's attention and encourage them to focus on one specific section of your page.
Don't have any crisp, high-quality images to use for your slider? No problem. This theme is packaged with stock transportation/logistics images provided by Photoshop.
FastEX also offers three homepage layouts, three unique post formats (standard, gallery, and video), as well as more than 150 built-in icons designed for logistics companies. And, you can preview your entire site using the live preview customizer, so you can test how all of these features will work together on your pages.
One detail to note with this theme is that the Visual Composer doesn't update automatically. You may have uninstall the WPBakery Visual Composer plugin, then reinstall it for the latest version.
Price: $79
Logi Truck is a more premium WordPress theme for transportation and logistics. But, despite its higher price point, it holds its own with its incredibly sleek design and powerful mobile interface.
This theme looks great on mobile devices and has some unique features that make it stand out from the competition. For instance, there's a sign-in feature where visitors can create an account for your website. Once logged in, customers can track their shipments and browse for new products and services.
As a site owner or employee, you can manage trips, vehicles, messages, and more from the user dashboard. This helps your team ensure customer success because you have an overview of your customer base.
Here's the catch. This is a mobile app theme, not a website theme — which means it might pair well with one of the other options on this list, but it may not be able to fully replace your standard WordPress website. But, if you're looking for a great-looking mobile app theme with some pretty neat features, Logi Truck would be a good choice.
Price: $49
The developers behind Logis Cargo are so confident in their WordPress theme that they offer it with a "100% money-back guarantee — no questions asked." You can test it for 30 days, see if you like it, and if you don't, you'll get your money back in two days.
This theme comes with four header variations, about 30 Custom Visual composer components, and a sliding customer testimonials modules. It's WPML compatible and SEO-friendly, so your site will load faster and rank higher on search engines.
While Logis Cargo doesn't ask questions when its customers return products, we don't share that policy and decided to look into that for ourselves. Turns out, you might return this theme if you're looking for a lot of customization options that don't require much CSS coding. Other than that, this is a pretty well-received WordPress theme as it has near-perfect reviews on Code Canyon.
Price: $51
Easy to set up and use, Logistic is ideal for new WordPress users. It has an advanced theme options panel where you can make changes to your site without having to edit code. It also comes with built-in page templates, each with different layouts, background images, widgets, and more.
If you're not sure where to start, Logistic offers free support documentation and video tutorials for its theme. If you're still getting stuck, you can reach out to its support team for free. This makes it a great option for those who want to build a website, but don't have much experience with web design.
The downside of this theme is that it may become too limited as you improve your developer skills and grow your business. You may eventually want to switch to an option that has more advanced features and allows you to customize more elements on your site.
Choosing the Right Transportation and Logistic WordPress Theme
Choosing the right theme for your website is never an easy task. There are a lot of high-quality themes available, and each one has its own unique features and functionality.
We hope this list helps narrow down your choice. Pick one of these popular themes and get started building an engaging website for your transportation or logistics business.
Editor's note: This post was originally published in October 2019 and has been updated for comprehensiveness.