With WordPress, you can easily configure every part of your site to grow your following and your customer base. Still, sometimes websites can feel a bit impersonal — that's why we suggest trying a team member WordPress plugin.

More and more, customers are looking for a human element in the buyer's journey, a sign that there are real people behind the brands they love. An easy way to achieve this? Add a "meet the team" section, complete with names and profile images. By showing visitors who they're buying from, you establish trust and distinguish yourself from faceless competitors.

That's why we've compiled a list of the best team management WordPress plugins. Your options range from free to premium and basic to feature-rich, but all offer a way to showcase your team members in their best light.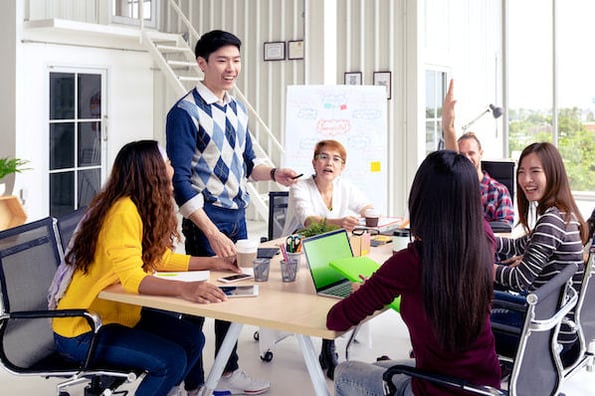 Best Team Management Plugins
Team Members
WP Team Showcase and Slider
Team Showcase
ASWM Team
Team by RadiusTheme
Team Builder
WP Team
Heroes Assemble
With over 40,000 downloads to date, the Team Members plugin by WP Darko is a leading team showcase plugin for WordPress.
This free tool is configurable in your dashboard and lets you display unlimited team members with up to five team member cards in one row. Complete each card with a photo, bio, position, description, and up to three links to social media profiles. Team Members' displays are also mobile-friendly out of the box.
While you get basic functionality for free with this plugin, upgrading to the pro version of Team Members (for $19/year) allows for tighter control over style — you can add a "more info reveal" box, filters for photos, and assign different colors per team member.
What we like: Team Members by WP Darko is one of the most versatile free team member plugins for WordPress, with a reasonably priced pro version for power users.
WP Team Showcase and Slider is another free plugin that lets you creatively display staff photos on your site. It comes with two different layouts for team cards, along with social links and a pop-out option for more information on mouse hover. Cards can be arranged in a mobile-responsive grid or slider and are placed with shortcode.
This plugin also offers a premium version with 25 designs, light and dark themes, drag-and-drop placement, and support for the Elementor, WPBakery, Beaver Builder, Divi, and SiteOrigin page builders.
What we like: The free version of WP Team Showcase offers a good amount of customizability, as long as you're comfortable creating and placing shortcode.
The paid Team Showcase plugin provides an easy way to display photos of team members and add name, position, and contact information, while allowing more control over appearance than free options.
You have several layout options for display, including a simple grid, a grid that reveals employee information on mouse hover, and a thumbnail display which reveals information on click.
You can style your displays with various image effects and add filters to display personnel by category. The information below each member can be aligned to the left, right, or center, and arrange order with a drag-and-drop feature in your dashboard. If you prefer, you can also create a single page on your website for each member with this plugin.
What we like: This premium option packs several impressive layouts and styles into one plugin, and is easy to configure for users at any level. There are also features like effects and filters that you won't find in free plugins.
ASWM Team applies a modern aesthetic to team display modules, aligning your website with clean design trends we've seen taking hold across the web.
If you choose a grid display for your team members, you can set cards to reveal more information on mouse hover, either through a fade-in, slide-in, or card-flip transition effect. A list display allows for name, description, role, and social buttons as well.
ASWM Team integrates well with the WPBakery page builder, and is a great choice for small teams and modern businesses — you'll get a sleek layout with almost no design work on your part. The core plugin is free, but ASWM Team Pro adds layouts including modal windows, slide-ins, tables, and circles.
What we like: Sleek on both the front end and the back end, AWSM Team is a delight to use and lets anyone make clean and minimalist team displays.
The Team plugin from RadiusTheme comes with four different grid layouts for presenting your team, including two with square profile images and two with circle-cropped profile images, along with a carousel slider.
Like other options we've mentioned thus far, Team's modules are responsive and easily placed with shortcode. You'll also get control over the primary color of the display and image sizes.
By upgrading to the pro version for $17, you unlock 20+ more layout options, more control over colors and typography, and other detail controls so you can further customize the layouts you're given to match your site's theme.
What we like: While Team's free version is decent, the paid version is where this plugin really shines, allowing tight control over your display's content, layout, styling, and filtering.
Team Builder is a fully responsive, cross-browser-compatible plugin that comes with various team display layouts. Use the plugin to filter your team by departments, and take advantage of its many customization options to modernize your site — the colors, fonts, arrangements, and hover effects are all up to you.
You can arrange your profiles in a grid, slider, table, or widget, add social icons and custom URLs, and add different tags for members to help visitors filter large teams. Setup is simple, and all layouts are mobile-friendly.
What we like: Team Builder delivers plenty of value for its price, offering up some of the most professional-looking templates and styles we've seen in a team member plugin.
WP Team displays all of your team profiles for free in a simple grid or slider format. To insert the module, the plugin comes with a default WordPress widget and a shortcode generator. You can style your display, then simply place the widget or paste in the shortcode anywhere on your site.
The plugin lets you pick colors for your cards and inserts bio text, social media options, images, and names. It's also worth noting that this plugin comes with add-ons for Elementor and WPBakery compatibility, making it a seamless fit for page builder users.
What we like: WP Team's compatibility with Elementor and WPBakery are it's best feature — with the integration, you might even forget you installed this plugin in the first place.
Wrapping up our list is the premium plugin Heroes Assemble. It offers 12 different grid layouts, including options that minimize space between profile images for a tile effect, a look suitable for modern websites with stylized filtered images.
In addition to a standard photo grid and table layouts, this plugin comes with a profile modal: When you select a team member's thumbnail, a window appears with a larger photo, lengthier description, and contact information. You can even add a "skills bar" section to highlight each member's strengths.
What we like: This plugin's profile modal feature is a one-of-a-kind plus that helps you share more detailed descriptions of each team member while saving on page space.
Show off your team to the web.
Marketing and digital trends change, but here's one key insight we've seen from the rise of online businesses: People like to buy from people.
In an age where it's all too easy to lie on the internet, customers value transparency from websites and brands. By showcasing your team with a WordPress plugin, not only do you further inform customers about your business — you also add a layer of professionalism and legitimacy, no matter your area of expertise.
Editor's note: This post was originally published in November 2020 and has been updated for comprehensiveness.