Alright, let's see a show of hands. Who would rather see the movie instead of reading the book?
While I usually opt for a good movie, a recent study found that 34% of survey respondents said they preferred the book version of a story over the movie. Only 27% said they would rather watch the movie than read the book.
As a marketer, I was stunned. Video is such a powerful marketing channel when it comes to engaging customers. In fact, viewers typically retain about 95% of a message when they watch a video. And, video ads were the most effective channel that marketers used to engage and convert leads in 2019.
If you own or manage a WordPress website, videos are an excellent way to draw people to your site and keep engaged with your pages. Whether it's an ad for your product, a customer testimonial, or a light-hearted marketing message, videos are easy to consume and they educate visitors about your brand, products, and services.
In this post, let's review some of the best WordPress video plugins that you can install on your website. We'll list some of their main features — including price — then provide some pros and cons for each one.
Best Video WordPress Plugins
Price: Free, with paid plans available
While YouTube is by far the most popular video-hosting platform, that doesn't make it the only place where people can upload videos. In fact, websites like Vimeo are also popular channels that you can leverage to promote content.
But, you might find that a majority of WordPress video plugins only support YouTube videos. That's not the case with Video Gallery.
With this plugin, you can create YouTube galleries, Vimeo galleries, and mixed galleries that contain videos from both platforms. Once created, there are plenty of design options to choose from, so you can create a video gallery that matches the look and feel of your website.
Pros
Cons

Compatible with both YouTube and Vimeo videos
Comes with a content and video slider feature
Comes with a lightbox-video gallery option
Provides a view counter for each video

Can't change the sort field or order of videos
Some compatibility issues reported with certain WordPress themes
Limited support documentation
Price: Free, with paid plans available
Smash Balloon aims to be a simple, easy-to-install, and superfast WordPress video plugin. It's built "with performance in mind" so that it doesn't slow down your pages or negatively impact search rankings.
How you might ask? Unlike other video plugins that automatically load the video player on the webpage, Smash Balloon only loads it if the visitor starts to engage with the video feed. This improves your page speed and helps you rank higher on search engines.
Additional features include custom video pause and end actions, responsive designs and styling customizations, and an option to convert videos into WordPress posts.
Pros
Cons

Post caching feature that improves load times
Can create a feed from any public YouTube playlist
Users can filter videos in your feed using keywords
No coding experience required for customization

Free version has limited features and functionality
Geared towards more advanced WordPress users
Limited support documentation
Limited customization options for shortcodes
Price: Free, with paid plans available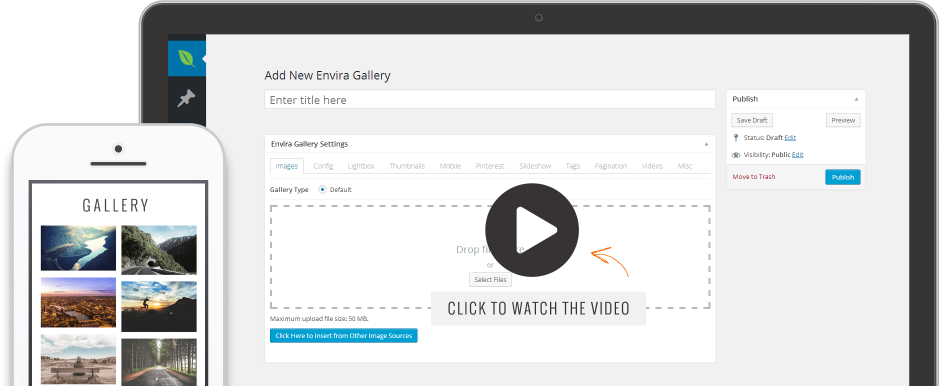 Envira Gallery is a video gallery plugin that comes with a drag-and-drop page builder. Using one of its premade templates, you can easily create video galleries in no time and customize their appearance. You can even add watermarks to your videos to strengthen the privacy of your content and make sure competitors can't copy it as their own.
Keeping track of your videos is fairly easy with Envira. You can organize your content into albums and sort it with unique tags. You can even select cover photos so you know exactly what each video is showing.
You can also add passwords to your videos and limit who can see your content. This lets you create gated marketing campaigns where users have to fill out a form before they receive access to your video gallery. That way, you can collect valuable contact information in exchange for marketing content.
Pros
Cons

Compatible with WooCommerce
Provides a social media integration
Has a responsive, mobile-friendly design
Can present videos as a slideshow

Free version has limited features and functionality
Requires a Pro-Plan to gain access to all of the add-ons
Advanced WordPress users may feel limited
Price: $20
This WordPress video plugin lets you add advertisements to your content at different points of the video. You can show an ad at the start of the video, in the middle, or at the end. That way, you can time up your marketing messaging and display an ad that's relevant to the content being shown in the video.
Ads can be iframes, images, or videos. And, Video Gallery's ads are undetectable by ad blocking, so they'll appear even if the viewer has an ad-blocking software installed.
Additional features include image gallery modules, streaming options, and a skin generator so your video modules will match the look and feel of the rest of your site.
ProS
CONS

Responsive design that will display properly on most devices and browsers
Provides multiple feeds for creating video playlists
Play-from feature: you can decide from what point you want a video to start from
Comes with 6 months of customer support

Geared towards a more advanced WordPress user
Some issues reported with

DZS video galleries

Autoplay is muted by default on mobile browsers
Price: Free
This WordPress video plugin is geared specifically towards YouTube videos. It lets you build your own video playlists and you can choose how you want to play them back on your website. For example, you can generate playlists based on username or search text.
One notable feature of this plugin is that it adds Google-compatible metadata to your videos using the YouTube API. This is great for SEO and helps you rank higher on search engines like Google.
Additional features include an iframe resizer, dynamic video sizing, and the option to create multiple profiles for your videos. Having multiple profiles allows you to customize the style of different videos so you can make each one look unique and stand out on your website.
Pros
COns

No cost to install
Lightweight code that's SEO-friendly
Provides an option to turn off tracking cookies
User-friendly for less-experienced WordPress users

Videos are limited to YouTube videos
Limited support documentation
Not as many styling options as other plugins on this list
Price: Free, with paid plans available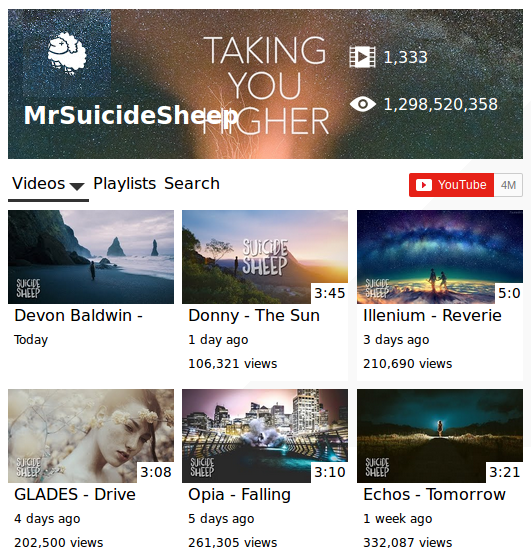 Looking for something clean and simple? YourChannel might be the right video plugin for you.
It creates a YouTube feed on your website that displays your profile picture, channel name, total videos and views, and all of your YouTube videos and playlists. If you'd prefer to hide some of this information, you can do so using its free customization features.
The Pro Version comes with seven video thumbnail styles, autoplay options, and RTL support. It also provides a caching system that improves load times whenever a user returns to a video or web page that they've visited in the past. Not only does this help with SEO, but it creates a better user experience when visitors want to rewatch their favorite videos.
Pros
Cons

Easy to install and use
Translation-ready
Responsive customer support team
Provides an autoplay option

Free version has limited features and functionality
Videos are limited to YouTube Videos
Advanced WordPress users may find this plugin limited
Price: Free, with paid plans available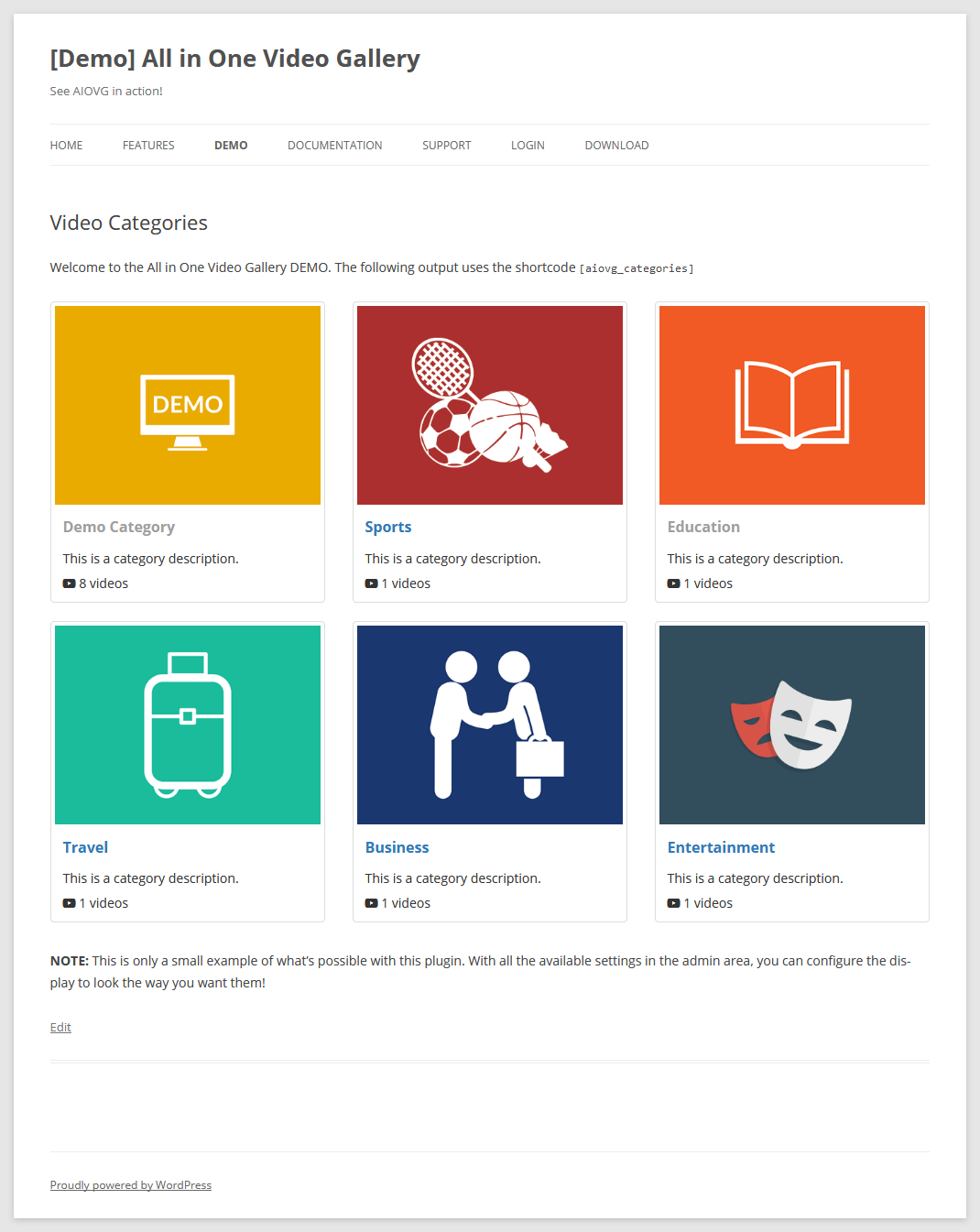 All-in-One Video gallery is exactly what it sounds like. It's a WordPress video plugin that supports all types of videos and video-hosting services. You can upload videos from your own files or use a feed from YouTube, Vimeo, Dailymotion, or Facebook.
Using another host for your videos? No problem. All-in-One Video Gallery has an option to embed an iframe from a third-party service.
Additional features include a responsive thumbnail gallery, the ability to search videos by keywords, and an option to group content by different categories. It also comes with Gutenberg blocks, shortcodes, widgets, forms, and more.
Pros
Cons

Automatically optimizes your videos for search engines
Compatible with Google Ad Manager and Google Adsense
Provides GDPR consent options
Premium version supports live videos




Free version has limited features and functionality
Support team doesn't actively monitor WordPress support threads
Price: Free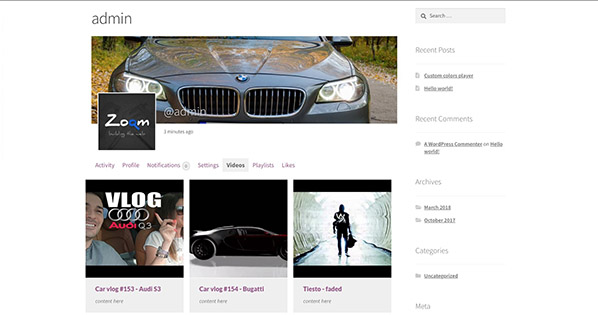 If you're familiar with shortcodes, Easy Video Player is a user-friendly video plugin. Once installed, all you need to do is customize the video shortcode so that it includes your video or file URL.
From there, all of the customization options are available via shortcode. You can add an autoplay option, resize the module, and set the video to loop all from the embed code.
If you're not as familiar with shortcodes, Easy Video Player offers support documentation that can help you get started. It shows you how to setup the initial shortcode and how to personalize it's functionality and appearance to your liking.
Pros
Cons

Free to install and use
Shortcodes are very flexible and come with a variety of customization options
Supports both personal upload files and third-party video hosting sites
Provides autoplay and video loop features

Requires in-depth understanding of shortcodes to use
Can only customize via the shortcode
Limited features and functionality
Not as responsive as other plugins on this list
Price: $69
This plugin uses VAST templates which is short for "video ad serving template." The purpose of these templates is to create a video feed that maximizes your ad revenue.
To do this, Ultimate Video Player is compatible with Google Adsense, so you can add pop-up messages to the bottom of your videos. There's also an option to show an ad when a video is paused. This can save you from losing visitors who've lost interest in your content and are thinking of navigating elsewhere.
Additional features include a "100% responsive design," compatibility with WooCommerce integrations, and encrypted video paths for added site security. There's also a variety of playlist formats for you to choose from, so you can source videos from your personal files, third-party hosts, HTML markup, and more.
Pros
Cons

Over 10 skins included for customization
Provides a "private video" feature
Compatible with Google Analytics
Provides a social media sharing option





Some styling issues reported with certain WordPress themes
May require additional time to set up
Price: $59
Elite Video Player is easy to install and comes with some unique features that aren't offered by other plugins on this list. One example is its compatibility with YouTube 360 VR videos. With these videos, you can turn your phone in any direction to see different views shot by an omnidirectional camera. This makes the viewer feel like they're actually in the video while they're watching it.
Another unique feature for this plugin is that it supports Google Drive videos as well as Dropbox videos. You can upload videos to Google Drive then embed them on your website using the Elite Video Player plugin.
Additional features include custom advertising, subtitles, and live video thumbnails that appear in the progress bar. That way, if you want to jump ahead or go back to rewatch something you missed, you can see exactly where you're jumping to using the thumbnail.
Pros
Cons

Supports "mixed" video playlists
Compatible with Google Analytics
Provides a lightbox mode, responsive mode, and fullscreen mode

Limited customer support options
May require additional time to set up
Price: $19
Video Portal is a very simple, and easy-to-install WordPress video plugin. It supports both personal uploads and URLs from third-party services. It works with BuddyPress sites and even has features like "playlists" and "likes" integrated into its core functionality.
One cool feature that this plugin provides is a Facebook login option. This makes it easier for users to locate videos they've watched in the past because they've been linked to their Facebook account. Video Portal will also record videos that users have "liked" and can organize your feed by the number of likes for each video.
Additional features include a responsive design, retina ready modules, and a skins generator for custom styling.
Pros
Cons

Responsive and SEO-friendly design
Automatically adapts to your theme
Uses a drag-and-drop uploader
Only takes about two minutes to install

Limited functionality and features
Can only customize "custom components"
Fewer design options than other plugins on this list
Why use a WordPress video plugin?
While more people may prefer a good book over a movie adaptation, there's no doubt that video marketing is an effective way to engage and nurture customers. Videos are easy to consume and present plenty of opportunities to creatively promote your brand.
Choose one of the plugins above and get started with adding compelling video content to your WordPress website.
Editor's note: This post was originally published in January 2020 and has been updated for comprehensiveness.