While building a website for your online business, you quickly learn that it involves much more than a flashy front page.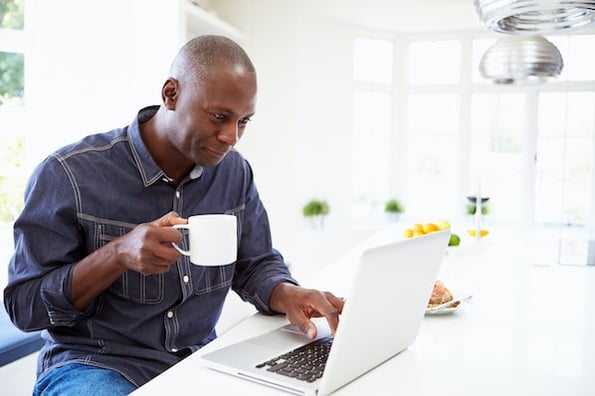 You need workflows in place to post and edit your websites, track the content of your performance, and keep track of your customer base. And wouldn't life be so much easier if all of these workflows could function in harmony with each other?

The solution requires just two important technologies in website development: a CMS and a CRM. Whether you're familiar with one, both, or neither of these terms, they lie at the core of many successful online brands, and potentially yours.

It's never too early or too late to add a CMS and a CRM to your software ecosystem. So, in this article, I'll explain the difference between these two tools. Then we'll explore how to integrate them across different platforms.
CRM vs. CMS
CRM and CMS are software tools for online businesses. Customer relationship management software (CRM) keeps track of all your leads and customers by recording and reporting their interactions with your website. A content management system (CMS) is used for building and managing a website.
Put another way, a CMS helps you create an experience for visitors, while a CRM helps track visitor experience. Before we see how they work together, let's unpack what each does on its own.
Key CRM Features
Organizations use CRM software to track how every lead and customer interacts with your online business. To support your goals, most CRMs include the following:
Contact Management Tools
CRMs store contacts in the form of records, each of which contains relevant customer information like name, company name, and contact information. With this information logged, sales teams can understand each lead and customer journey at a glance, and view overall customer patterns in bulk.
Customer records also record the relationship between sales representatives and customers. Every interaction — email, phone call, meeting, etc. — is stored in the CRM so sales reps know when to follow up with individual prospects.
CRMs also give users the ability to segment customers into lists by criteria like location, company type, or company size. This paints a clear picture of your customer base and helps reps tailor their sales strategies to certain segments.
Automated Data Capture
One major benefit of CRM software is its ability to automatically log communications between contacts and sales reps. Rather than copy-pasting phone numbers, meeting times, emails, and form responses into your system, an integrated CRM takes care of this on its own, eliminating a huge source of friction for your team.
Deal Tracking
Your CRM should have a way to track where each contact currently sits in the sales process, and this information is stored in the contact record. As contacts progress along the buyer's journey, the CRM lets reps update the deal stage, or the stage is bumped up automatically.
Content Repository
To help close more deals, CRMs allow for the creation of a content repository that contains templates for prospect communications. Reps can create templates for emails, forms, and more, which helps standardize the sales process and saves time spent writing individual communications.
Reporting
Finally, a capable CRM needs to aggregate your sales data into digestible reports, so that you and your sales team can extract trends and insights. Reports also help your sales team stay on track with their sales goals and hit quotas. In a CRM, reports can be generated for contacts, segments, or your entire organization's performance over a specified period.
Key CMS Features
If your CRM is your customer management hub, your CMS is your website hub. Organizations use a CMS to build and manage their ever-evolving online presence, with help from the following features:
Content Management Tools
Most popular CMSs comprise two systems under one piece of CMS software: A content management back-end and a content publishing front-end.
A CMS back-end handles everything related to storing and organizing your digital assets. It provides an interface for you to browse your content and pick items to put on your front-end. Some tools also let you edit your content directly with a rich editor before placing them on a page.
Publishing Tools
All CMSs have an interface for publishing content to your website (and possibly other digital channels, like mobile applications). Front-end tools allow you to arrange your content on pages for the best possible display.
Depending on the CMS and extensions you add, your publishing tool might be bare-bones and code-based, or it may incorporate a WYSIWYG editor (short for "what you see is what you get"). A WYSIWYG editor lets you edit pages without writing code, often via a drag-and-drop interface.
Your CMS should also allow you to preview your published content before taking it live and schedule your pages for publishing.
Themes and Templates
A theme determines the look of a website, including its colors, fonts, and layouts. Themes may also include specialized widgets to enhance your site's functionality. Themes can usually be downloaded and purchased from an online marketplace, though some might come with your CMS.
Not to be confused with a theme, a template is a single-page layout (often offered within a theme) that is pre-built for a specific type of page. Rather than constructing a web page from scratch, users can instead employ templates for homepages, landing pages, product pages, blog posts, and more.
Importantly, themes and templates should be responsive, meaning their layouts change in response to different screen sizes on desktop, mobile, and tablet devices.
Analytics
On top of letting you manage and publish content online, CMSs often include analytics tools to track key performance indicators like traffic, page views, bounce rates, devices used, and location. These metrics can be compiled into a dashboard view, so you can gain a clear overall picture of your site's health. If your CMSs doesn't have built-in analytics, it should integrate with a third-party tool like Google Analytics.
SEO Tools
A quality CMS won't just let you run a website — it will help you get your website in front of more people. Through native tools or extensions, a CMS lets you create XML sitemaps, add 301 redirects, boost website performance, and optimize your pages' metadata.
Blogging Tools
Built-in blogging tools, including page templates and content editors, make it easy for any online business to start publishing right away to support their content marketing efforts. In fact, WordPress, the most popular CMS, began as and remains largely known as a CMS for bloggers.
Extensions
No one CMS can cover every possible website need, which is why we have extensions. From enabling ecommerce and membership functionality to bettering SEO to enhancing the user interface, these software add-ons handle all functionality your website needs but your CMS won't provide by itself.
CMS-CRM Integration
The title of this article might read "CRM vs CMS," but there's no competition here — these tools should work closely in conjunction with each other. Since your customers interact with your website, your customer tracking system needs to interact with your website management system.
A good CMS-CRM integration will funnel all activity on your website straight into your CRM for instant analysis, reporting, and actionable insights. You'll also be able to see how your site is performing alongside your other online channels, which better informs your marketing and content strategy.
If you're in the market for a CMS, consider the available CRM integrations for each one on your list. Just about every well-known CMS will work with one or more CRMs, but the integration processes differ in cost, functionality, and options available. Be mindful of which CMS-CRM setup works best overall for your business.
Alternatively, if you've already settled on a CMS but unhappy with your CRM options available to you, don't be afraid to switch to a CMS with a more effective CRM integration. The effort spent to switch your CMS will be more than made up for by customers earned through a better CRM.
In the next section, I'll explain how to add a CRM to a handful of CMSs. But before we continue, see our CRM guide and CMS guide if you want to learn more about either individual tool.
How to Integrate Your CMS with a CRM
Let's now review some of the best CMSs available, and learn how to pair them with an effective CRM.
CMS Hub is built on top of HubSpot CRM, giving you access to tools for lead capture, contact management, and analytics in the same place as your content management system. Every interaction on your CMS Hub website is stored in the CRM for easy reporting. New leads from your website are also automatically saved in your CRM as contacts, which you can organize into lists and easily track from first interaction to purchase.
CMS Hub and HubSpot CRM keep things simple, yet powerful. With these tools fully integrated on a single platform, you'll spend less time trying to sync up software tools and more time optimizing your customer experience, nurturing leads, and growing your online business
Adding a CRM to your WordPress website is as simple as installing a CRM plugin. Add-ons like the HubSpot WordPress plugin seamlessly sync WordPress with a CRM, no coding required.
The HubSpot WordPress plugin connects your website with HubSpot CRM, which works to capture your visitor information, organize it into self-updating contact lists, and review your sales metrics with reports. HubSpot CRM easily integrates with other apps like WooCommerce, Stripe, and Gmail.
For more CRM options, check out our list of our favorite CRM plugins.
Wix has made a name for itself in the CMS space with its ease-of-use, which extends to its CRM as well. To add CRM capabilities to your Wix site, use Wix's customer management and marketing suite, Ascend.
The Ascend CRM blends into Wix's CMS interface, so you can quickly add its suite of user-friendly business tools to your workflow. These tools include essential CRM functionality, marketing integrations with Google Analytics and Facebook Pixel, and custom templates for automated email, social media posts, and video.
Customer relationship management is an essential component of any ecommerce business, including those using Shopify. Shopify easily integrates with third-party CRM software available from its marketplace. Browse for CRM integrations in the Shopify app store, or pick from one of your recommendations:
HubSpot CRM: HubSpot CRM is one of the top Shopify-compatible CRMs, and hands-down the best free CRM available. It offers features to create deep connections with leads and customers, including personalized CTAs and email nurturing, content engagement tracking, and extensive integrations with other popular marketing and sales tools.
AgileCRM: If you're running a small ecommerce business, AgileCRM is a great option to start and grow with. Its all-in-one functionality handles operations for contact management, sales, marketing, and customer support, all for a competitive price compared to other CRM apps.
Metrilo: Metrilo's CRM app for Shopify emphasizes its in-depth segmentation of customers with advanced activity tracking, detailed customer profiles, and its highly customizable filtering tool. Its range of pricing plans are aimed to fit your business' needs, regardless of size.
As the second most popular open-source CMS on the market, Joomla allows room for broad customization with extensions, including some reputable CRM integration options. Some popular Joomla CRM extensions include:
JoomCRM: As the leading Joomla CRM extension, JoomCRM offers CRM features for contact and deal management, team management, lead capture, and more. It's a great place to start.
vBizz: For a broader business solution with CRM included, try the Joomla vBizz extension. It offers powerful and flexible business management features, including customer relationship solutions for project planning, activity tracking, communicating with leads, and analytics.
CiviCRM: CiviCRM is designed specifically for nonprofit websites. This extension empowers users to build strong relationships with funders and partners. Its specialized tools to facilitate donation collection, event management, and site membership.
To add a CRM with Drupal, you can choose from a few well-reviewed CRM modules. Drupal is more hands-on than other CMSs, so expect a more involved process to link a CRM to your site. We recommend trying out these modules for Drupal:
HubSpot: The Drupal HubSpot module uses HubSpot's API to sync your Drupal site with HubSpot's tools, including HubSpot CRM. Users can fill out forms on your Drupal site with their information, which is then stored in HubSpot's system.
AgileCRM: Agile's powerful CRM module can integrate with your Drupal site without much heavy lifting, letting you quickly add landing pages and forms to your pages, automate emails, and track visitor engagement.
RedHen: This open-source CRM accommodates the core CRM needs for nonprofit organizations: contact management, engagement tracking, event registration, and member profiles. RedHen is built for Drupal — it allows for lightweight customization and backend access for those more comfortable with code.
CMS and CRM: The Ultimate Duo
There's a lot to consider while growing a business online. It's easy to become overwhelmed by the many different software products marketed under the guise of "essential" or "must-have."
But, implementing a healthy CMS-CRM relationship at the heart of your strategy will ultimately save you time, money, and lost leads. The sooner you do this, the sooner you'll understand your audience and leverage your insights to earn their trust.