Web design and coding (HTML, JavaScript, Python, and C+) are now critical skills that developers need to engage customers and create relevant content on-demand.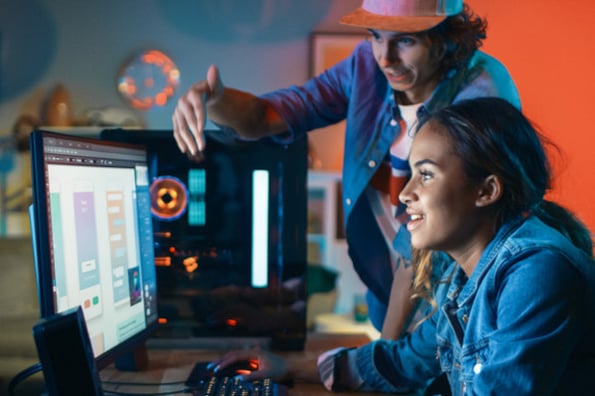 But, great apps, content, and services aren't enough in isolation. If your coworkers aren't willing to adopt these new programs or practices, all the hard work done by your development team will quickly go to waste.
From front-line employees to C-level executives, developer evangelists bridge the gap between internal technology staff and key company stakeholders. This involves communicating complex, but vital, information from the development and IT teams back to upper management.
In this post, let's look at everything you need to know about this emerging IT role and help you decide whether or not you need an evangelist at your business.
What Is a Developer Evangelist?
A developer evangelist — sometimes known as a technology evangelist or advocate — communicates the value of projects to non-technical staff and external stakeholders. They also ensure that internal staff has all of the hardware and software needed to be successful.
At its most basic, the role of a developer evangelist focuses on communication. While evangelists are often trained coders and web designers, they're also skilled communicators who can break down complex functions and clearly articulate value to their community of audience members.
Consider the implementation of a new CRM. IT will have concerns about its deployment and integration — How will the system work with existing tools? What type of infrastructure does it require? What about data security, storage, and access?
While all of these concerns are relevant, they're not top-of-mind for non-technical staff, C-level executives, or business partners. That's where developer evangelists use data provided by IT teams to deliver convincing cases for new technology solutions.
In the case of a new CRM, this means highlighting customer service benefits such as accessing previous service interactions, creating customer feedback forms, and connecting CRM functions across multiple customer support tools.
Developer Evangelist Job Description
Developer evangelists operate as the first point-of-contact for both technical teams and external stakeholders. They improve IT offerings and ensure internal staff can operate effectively at scale.
Here are the tasks and requirements that come with the job:
Staying Up to Date on Product Development
In order to communicate effectively across stakeholders, developer evangelists must be an expert on the products in their own right. That means attending development meetings, collaborating with developers and product managers, and even working in and on the product itself.
Collecting and Interpret Feedback to Create Persuasive Messaging
Developer evangelists aren't salespeople. They're not in marketing or public relations, but it is their job to highlight the value of technology developments. This makes their role unique because of their technical expertise and communication skills.
Developer evangelists leverage their knowledge as the foundation for great communication. In other words, developer evangelists aren't just reading a sales script or a marketing pitch — they're writing the book on IT value.
With this in mind, the developer evangelist must advocate for the internal team with the C-Suite and for the C-Suite with the internal team, all with the organization's best interests in mind. For this to happen, they must network with key stakeholders and earn buy-in.
Bridging the Communication Gap Between Internal Stakeholders and C-Suite
The development team's job is to create products, not navigate the complexities of communication gaps caused by age, culture, knowledge, and job function differences.
By communicating IT's messaging to upper management in an accessible way, developer evangelists help C-level employees make informed decisions that benefit the company. It's their job to vocalize the importance of adopting software or adhering to best practices in a way that non-technical employees will understand and resonate with.
Continuing Education in Development
Developer evangelists need to be tech-savvy. From cloud computing to open source coding, mobile app development, and the Internet of Things, there's no shortage of technical knowledge for developer evangelists to understand and apply in their day-to-day work.
Developer evangelists will typically come into the role with experience in development, though the specific technical skills will vary based on the need of the organization. However, it's easy to let those skills atrophy if you're not using them every day and keeping up with advancements in the industry. To be an effective developer evangelist, you'll have to adopt a philosophy of continual learning.
Operational Management and Process Improvement
As the developer evangelist, one of your primary objectives is to ease the friction and pain points that the IT and development teams have in the organization.
In order to do that, you must be able to empathize with them and be able to solve problems by creating new systems and processes that work for everyone in the organization. This requires intimate knowledge of the company's existing processes as well as the organizational skills to build on and improve them.
Now that we understand the evangelist role, let's look at some skills needed to succeed in this position.
Developer Evangelists Skills
To help articulate the value of business applications and services, developer evangelists need these key skills:
Coding Expertise
Evangelists need the technical expertise to communicate with other developers on their terms. They should be able to code, test and modify their applications, and make suggestions to development teams about how to improve application or service performance.
Communication Skills
Developer evangelists also need "soft skills," like moderation and communication to ensure apps meet business demands and IT requirements. Evangelists must speak to each side and distill technical knowledge into actionable business insight. This means converting business concerns or requests into clear-cut IT recommendations.
Networking Ability
To help companies attract new talent and increase enterprise reputation at scale, evangelists must network with PR teams, developer groups, business contacts, and media agencies. This requires the ability to network between social and professional communities and ensure contacts always have the information they need about products and services.
Patience
Developer evangelists spend a significant amount of time explaining their job and answering questions, often about their technical expertise and experience. Because of this, their ability to be patient is key. Evangelists must field a large number of repetitive questions about their work while also communicating the value of new projects and applications.
Organizational Skills
With multiple projects to manage, organizational skills are critical for delivering on-time and on-demand information. Many evangelists are regularly on the road while still fielding requests for service details or technical advice. Knowing how to manage time effectively and organizing a schedule is key to having success in this role.
If you have a potential candidate who possesses these skills, the next section can tell you how much you'll need to pay them.
Developer Evangelist Average Salary
According to Glassdoor, the average salary for a developer evangelist is approximately $127,000.
Why Do You Need a Developer Evangelist?
IT is rapidly becoming more complex as tech teams deal with multiple application platforms, evolving infrastructures, and new programming priorities. User expectations are also expanding as mobile and cloud technologies become ubiquitous.
The result is a digital disconnect. IT teams recognize critical limitations but are often unable to effectively communicate them to C-level boards and stakeholders. Meanwhile, front-line staff and customers can identify lacking features and missing functions but can't describe the best route from application potential to practical adoption.
Developer evangelists close this gap by speaking the language of both sides. It's their job to both enhance application performance and articulate line-of-business value, all while keeping their ears to the ground for new networking opportunities.
Editor's note: This post was originally published in March 2020 and has been updated for comprehensiveness.