Web design plays an integral role in attracting and maintaining the attention of your website visitors. Icons can enhance the visitor experience with an additional eye-appealing visual. But if you don't have the skills to create an icon, you can get stuck hiring a freelancer who doesn't understand your brand style.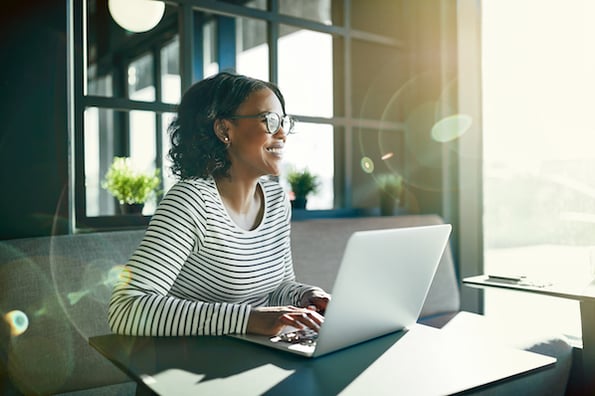 Lucky for you, there's plenty of free, high-quality icons available online. These icons come in a variety of styles, ranging from emojis to wireframes to city-based icons. You can use these icons to update your homepage or add to your web applications.
However, because you're juggling multiple projects, you probably don't have the time to sift through the hundreds of free icons sets on the internet. But no worries, we've compiled the best free icon sets, so you can quickly select what works for your brand and focus on your next project.
In this post, we'll highlight the best free icon sets that you can use to beautify your website..
15 Free Icon Sets
Icon sets can beautify your website and make the content more engaging for your visitors. Below are our top recommendations for free icon sets. Take your pick from this wide selection.
This icon set follows the trend with a blue version of office-related symbols with rounded corners. Each icon includes four different sizes with different levels of detail. You get a small and large version along with a low-resolution and HD version.
Source: Icons8
This icon set is a hand-picked collection of file type icons. These flat color icons provide a simplistic feel for any modern website. You get 20 icons that represent a video, zip, doc, XLS, CSV, HTML, and jpg files. These icons are available in Vector format so that you can change the colors to match your brand.
Source: Creative Tail
Here's a set of colorful business icons that you can use to design your apps and websites. These icons are perfect for helping your visitors visualize office-related concepts. You get free images of a contract, chart, coffee cup, and more.
Source: Flaticon
Your website and marketing materials should accurately represent different audiences and personas. This icon set showcases people from around the world by highlighting a diverse group of ethnicities. Plus, the designers carefully researched the nuances of the individuals and cultures to avoid clichés and biases.
Source: Diversity Avatar
Instagram allows you to tell your brand story and attract new customers to your products. So, spruce up your social media presence with these story highlights icons. These thematic icons will help your brand stand out from the sea of photos on Instagram. This icon set includes several different categories, like cooking, beauty, holidays, travel, and sports.
Source: GraphicsFuel
Designers have a universal toolkit of graphic and code editors, and this icon set is inspired by those popular editing tools. In this colorful set, you'll receive 38 designer line icons in AI, EPS, SVG, and transparent PNG formats.
Source: Speckyboy
If your business has an education focus, this icon set will fit your brand style and tone. These academy icons can help visitors gain interest in your website. This black-and-white icon set comes with ABC blocks, a graduation cap, a schoolhouse, and a globe on an axis, among other images.
Source: Iconmonstr
This science-themed icon set includes 104 icons in flat, filled, and outlined formats for your website, web apps, and corporate presentations. Here are a few of the icons illustrated in the set: bacteria, moon, brain, telescope, and spaceship.
Source: InVision
Here's a growing collection of free city-based icon sets. These Vector icons provide a visual guide for you to showcase popular cities in your web design. The icon sets include San Francisco, Manchester, London, New York, Paris, and Sydney. For example, in the San Francisco set, you get visuals of a crab, earthquake, and the Golden Gate Bridge.
Source: Citysets
This icon set offers one-of-a-kind images for your next design agency-related project. You get 30 colored line icons in fresh pastel tones in SVG and PNG formats. From design software to brushes to stationary tools, you can use these images to improve the visitor experience.
Source: Codrops
Want more than just a few icons? In this icon set, you get 300 free outline icons for your business. This wide selection of icons ranges from cars to telephones to umbrellas. The Vector format makes it easy for you to customize the icons for any web project.
Source: Tonicons
Show your visitors how you feel with these emoji icons. This icon set has more than 70 icons displaying various emotions. Choose the grinning face to show happiness or the grin-in-tears face to exhibit funny joy. Plus, all these icons come in four different sizes and two styles.
Source: Font Awesome
Check out this set of 24 multi-colored icons with an aquatic sports theme. Each icon is an Olympics-like illustration of an aquatic activity with a soft, summer-like color scheme. In this set, you'll get visuals of the following sports: wakeboarding, swimming, water polo, and sailing.
Source: Codrops
These vivid web development icons will help your visitors navigate your website. In this 50-icon set, you can guide visitors to upload documents, watch a video, or avoid an error message. These icons also come in PNG, SVG, and PSD formats to fit your design needs.
Source: Flaticon
Last on our list is a set of wireframe icons. These icons are useful for designing flow structures for an app or presenting how a specific workflow operates. With more than 100 icons, you can choose from checkmarks, boxes, and speech bubbles.
Source: Flaticon
Beautiful web designs can grab the attention of your visitors. Icon sets offer an eye-catching visual for your WordPress website. If you don't have the skillset to create one or the budget to hire a designer, you can use these free icon sets to help you with your upcoming design projects un use a tool like a WordPress thumbnail plugin to organize them. From business icons to sports icons, you can enhance the website experience for your visitors.