You want people to see your website, particularly if you've put in the work of creating one from scratch.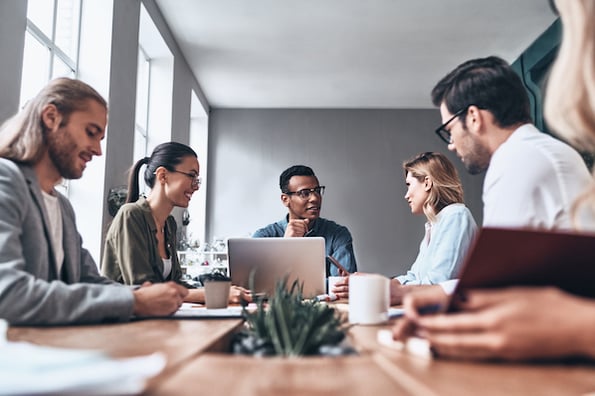 Increasing traffic on your site will not only assure you that your time was well spent, it will also raise awareness of your brand, nurture trust with your target audience, and improve your rankings. As a result, you may see improvements in your conversion rate, user engagement, and revenue.
Above all, increasing your web traffic will provide better insight into what your audience wants so that you can continue to produce content and products that meet and anticipate their needs.
There's no silver bullet to getting more traffic but there are guidelines you can follow to create a WordPress site that provides rich content and seamless user experiences. Let's briefly discuss those guidelines below and then look at some plugins that can maximize your efforts.
How to Drive Traffic to Your WordPress Site
Optimize for search engines.
Write high-quality blog content.
Add internal links.
Build an email list.
Optimize the speed of your site.
Expand your reach on social media.
Measure your performance.
Let's take a closer look at these steps so you can start increasing traffic on your site today.
Optimize for Search Engines
The only foolproof method for getting listed on search engines is to write high-quality content. That includes the copy on your home page, product pages, and everything in between.
However, there are steps you can take to boost the chances of that great content being seen. Your first step? Ensure your privacy settings are set to Public so search engines can find and index your site. Next, do some keyword research to see what specific words and phrases people use in their search engine queries. These keywords should be included in your titles, headers, body copy, meta descriptions, and URLs. Google Webmaster Tools, Google AdWords Keyword Planner, and SEMRush, among other tools, will help you with this research.
"The next step is to choose HTTPS over HTTP connection. HTTPS ensures that the data transfer between browser and web server is secure. Over 96% of web pages that rank in the top 10 results are in HTTPS and this number has only grown through time. Plus, Google has officially stated that HTTPS is a ranking signal" -- Zoran Manic, Search Engine Optimization Specialist at FixRunner WordPress Support
To learn more about building organic traffic, read How to Create an SEO Strategy for 2019 .
Write High-Quality Blog Content
To drive traffic to your site, you should make blogging part of your content strategy. Among many other reasons , you have a 434% greater chance of being ranked highly on search engines if you feature a blog as part of your website.
When writing blog posts, you'll want to consider your audience and what types of content they like to read. Some content has more potential to go viral than others and can generate highly targeted traffic. You'll also want to pay attention to your title, intro, images, and more.
For more insights into writing and optimizing a blog post, check out How to Write a Blog Post: A Step-by-Step Guide .
Add Internal Links
Within your WordPress posts or pages, you can link to other content on your site. Providing your visitors with links to related content will improve user engagement and reduce the bounce rate on your site. You'll also increase the chances of more of your content being discovered, read, and shared.
A strong internal linking strategy can shift user behavior on your site from "read and exit out of tab" to "read, click link, share, repeat." Not to mention, internal linking helps search bots find and index your site content, improving your chances to rank.
Optimize the Speed of Your Site
Load time not only affects your ranking on search engines, it also affects your visitor's experience. Imagine that you draw visitors to your site and then one second ... two seconds ... five seconds go by and your site doesn't load. A study by Section showed that 22.2% of visitors will abandon your site after five seconds. That percentage jumps up to 32.3% after seven seconds. The study also showed a correlation between page load time and the number of pages viewed.
Aside from carefully pruning unnecessary plugins, widgets, ads, external services, and multimedia from your site, there are a few other best practices for improving the load time of your site .
Build an Email List
Once you've drawn in visitors with your great content and products, you want to keep them coming back for more. Instead of hoping they'll revisit your site on their own, be proactive. Include offers of e-books, templates, free memberships, and other lead-generating content on your posts and pages to persuade visitors to give you their email address. An email list gives you direct access to your audience. That way, you can let them know about new content, products, promotions, and events as soon as they're available. This will ensure that new visitors become repeat visitors.
Expand Your Reach on Social Media
There's a growing number of social networking sites that attract huge volumes of traffic. Facebook alone has more than one billion daily active users . You can get a piece of the action by creating personal and business accounts on Facebook, Twitter, Google+, and LinkedIn, among others. Sharing your posts and pages on those platforms will help you reach a larger audience and drive them to your site.
You should also include social sharing options on your site so that visitors can easily share your content. With their help, your content has a better chance of going viral.
Measure Your Performance
To improve traffic on your site and sustain those improvements, you have to measure your performance to learn what you're doing well and what you could improve on. When tracking your traffic as well as keyword rankings and user engagement, you'll identify and target improvement opportunities. You might notice that a particular type of post is outperforming the rest and alter your content strategy and editorial calendar accordingly. Or you might notice that a steady amount of traffic is coming from a country that you hadn't been targeting and modify your posting schedule.
By analyzing these metrics, you can create a roadmap to continuously improve your site and provide better experiences for your visitors.
Plugins to Drive Traffic to Your WordPress Site
Driving traffic to your site is a big undertaking, but you don't have to do it alone. There are plenty of tools that you can use to attract and engage visitors on your site and keep them coming back for more. Let's look at a few of those below.
You can maximize your marketing efforts by using OptinMonster, a lead generation plugin that helps convert site visitors into subscribers and subscribers into customers.
Using its built-in drag-and-drop form builder, you can create a variety of lead capture forms including popups, full-screen takeovers, floating bars, slide-in scroll box forms, inline opt-in forms, and more. You can choose from over 100 pre-made templates in OptinMonster's library or you can start from scratch to create a custom template that matches the look and feel of your brand.
You can then use the A/B testing feature to test these different designs and review each form's conversion analytics to see what your audience likes best.
As its name suggests, Tweet to Unlock is a premium plugin that requires users to share your WordPress posts or pages on their Twitter account to unlock them.
Effectively, this plugin turns your readers into promoters on Twitter so that they help drive traffic to your site. By requiring your visitors to complete an action before they view your content, your boosting engagement on your site and your social media presence. Talk about killing two birds with one stone.
WordPress Popular Posts is a free and highly flexible plugin that lets you showcase the most popular content on your site within WordPress posts and pages to keep your site visitors engaged.
You can choose to display popular posts based on page views or comments. You can even list them based on their popularity within a specific time range (ie. the last 24 hours or 30 days). Or you can order the list by comments, views, or average views per day. You'll use the built-in statistics dashboard to keep up with the performance of your popular posts right in your admin area.
The Fuse Social Floating Sidebar plugin helps you leverage the potential of your social networks. With this plugin, you can insert the most popular social media icons on your site, including Facebook, Twitter, YouTube, LinkedIn, Flickr, Pinterest, StumbleUpon, Reddit, Instagram, Tumblr, and more.
You can then configure the settings and styles of these icons in your WP dashboard. Choose square or round icons, select their size, and add animation if you'd like. Then, watch as more visitors begin to share and promote your content on their social networking sites.
Revive Old Posts is a free social media automation plugin for WordPress. This tool can schedule or automatically share any WordPress post or page to your Facebook and Twitter accounts. This will help ensure that all your content continues to get views and traffic, no matter when it was published.
Because the plugin is integrated with Google Analytics, you can monitor the traffic your posts get to see what's popular and when your readers are most active on social media.
If you want more functionality, you can upgrade to the PRO version of Revive Old Posts. With this version, you'll be able to share your content on multiple accounts, like LinkedIn, Tumblr, Pinterest, and Instagram in addition to Facebook and Twitter. You'll also be able to share media files, WooComerce products, and other custom post types with the premium version.
The Inline Related Posts plugin will take your internal linking strategy to the next level. You can use this plugin to easily add links to relevant content in the middle of your WordPress post or page to increase page views and engagement on your site.
With more than 20 combinations for displaying these internal links, you can style them to stand out without interrupting or distracting your visitors from reading the current article. Just navigate to settings in your WP dashboard and begin customizing your display box's opacity, text color, border, and copy.
This plugin also comes with a social sharing option to increase site traffic while reducing the bounce rate.
WP Native Articles is a premium plugin for converting your WordPress posts into Instant Articles, a lightweight content format that quickly loads on Facebook's mobile app.
By instantly converting your WordPress posts into Instant Articles and publishing them on Facebook, this plugin helps get you more views and traffic on the social platform. You can review stats for individual articles or for all your Instant Articles, broken down by device and segmented by date, right in your WP dashboard. These analytics will provide valuable insights into your audience so you can continue to publish content they value at times when they're most active on Facebook.
If you run a long-established site, you might be wondering what about my old posts? This plugin has you covered. Using the Mass Post Syncer feature, you can easily and quickly convert all your previously published WordPress posts to Instant Articles. You can also use this feature to update all your current Instant Articles at once.
By following these steps and using these plugins to boost traffic on your site, you will benefit from increased brand awareness, trust, and equity. And, more importantly, your visitors will benefit from easier, faster, and more customized experiences on your site.