One of the first steps to create a great website is choosing the right domain name. Popular domain names go quickly. So, once you've thought of one you like, use a domain name search to make sure it's not taken, or pay the asking price if the owner is looking to sell.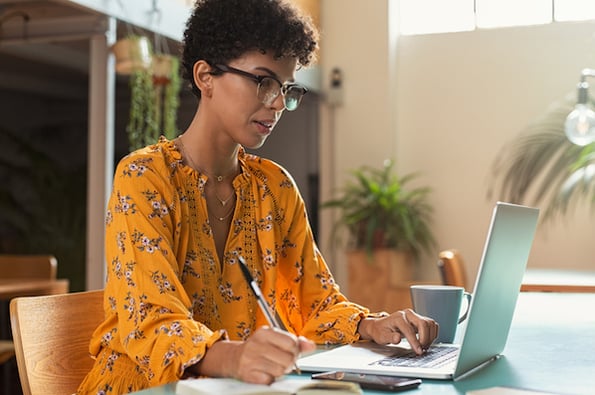 Finding an available name isn't enough, though, since you also need to register your domain name with a domain name system (DNS) registrar. In some cases, your registrar can also be your web hosting service, but this isn't required — you can choose to host and register your site with different providers.
But what happens if you want to change your domain registrar? That's where a domain transfer comes into play. In this post, we'll cover:
Let's get started.
What is a domain transfer?
A domain transfer is the process of switching your domain name from one registrar to another. To be eligible for a domain transfer, you must have been with your current registrar for at least 60 days, since ICANN enforces a 60-day Change of Registrant lock.
You may want to initiate a domain transfer for a number of reasons. Maybe your current registrar has suddenly increased their prices, or your website is taking more time to load. Or, maybe you've found a better deal somewhere else and prefer to consolidate multiple domains under a single DNS registrar.
HubSpot's custom domain connection enables you to connect a custom domain for free.
Whatever the reason, we've got you covered. Here's a step-by-step guide on how to transfer a domain.
How to Transfer a Domain
Update your contact information.
Set up your email sending domain name.
Unlock your domain.
Request an authorization code.
Make sure your domain is eligible for a transfer.
Create an account with your new registrar.
Enter the authorization code.
Authorize the domain transfer.
Pay for your domain transfer.
Finalize the domain transfer.
Decide on a public or private domain.
Cancel your previous service.
1. Make sure your domain is eligible for a transfer.
Per ICANN rules, if you've created or transferred your domain name in the last 60 days, it's not eligible for a transfer. Do the math before making the switch to ensure you're not wasting your time.
2. Update your contact information.
Both the registrar you're leaving and your new DNS registry provider will need to contact you during the transfer process, so your contact information must be up to date.
Log in to your current registrar's control panel and check your account details. Make sure your name, phone number, and physical address are all correct. Any missing information could cause the transfer to take longer or be rejected.
3. Set up your email sending domain name.
Your domain registrar often provides email service tied to your domain name. This allows you to send emails to and from addresses like you@yoursite.com and can help grow your business.
When you transfer to another registrar, these email accounts are typically deactivated which potentially leaves you out of the loop. Make sure you have a backup email address ready to go before starting the transfer process so you can receive important communications.
By the way, if you're using Marketing Hub, you can easily create and optimize your company's email communications to grow and delight your customer base.
4. Unlock your domain.
Look for the "unlock domain" option in your registrar's control panel. Every provider is different, but you'll likely find it under the "Domain" or "Security" section of the main account screen.
Domains are locked by default to prevent accidental changes or deletion. Depending on your current provider, you may be able to unlock your domain with a single click or you may need to request manual unlocking from your registrar directly.
Once your domain is unlocked, you can transfer the name to another registrar.
5. Request an authorization code.
To transfer your domain, you need an authorization code (also called an Auth-Code, Auth-Info Code, or AuthInfo Code). This code protects your domain from being transferred by an unauthorized party.
Additionally, this code serves as the bridge between your old registrar and your new provider and must be supplied within five days of your request, typically by email. Some registrars permit auto-generation of codes directly from their control panels.
6. Create an account with your new registrar.
Next, head to your new registrar and make an account. Find its transfer service page and enter the domain name you're transferring. The "www" isn't required — simply enter the name of your domain and its suffix (i.e., .com, .org, .info, etc.).
7. Enter the authorization code.
Enter the authorization code that was provided by your previous registrar. Double-check that you entered the code exactly as provided. If the code doesn't match, your transfer won't be successful and you may need to start over.
8. Authorize the domain transfer.
Once you enter the authorization code, you'll be contacted by both your old registrar and your new provider. You'll be asked to confirm your contact details and officially approve the transfer. Ensure the contact info you've provided to both registrars is correct and be prepared to answer questions about why you're leaving your current service.
9. Pay for your domain transfer.
Now you'll need to pay for your domain name transfer. Your new provider may require you to pay for a year of service, but promotions that offer the first year for free are common.
10. Finalize the domain transfer.
Once the domain is released by your original provider, your new registrar will need time to configure your domain and servers. This typically takes anywhere from a few days to a week. During this time, your website will remain accessible from your previous registrar.
11. Decide on a public or private domain.
Some providers allow you to obscure public WHOIS information for your website. When searched, your website will return contact information for your registrar rather than your personal details.
This is useful if you're running a business out of your home or don't want your phone number displayed. However, private domains are more expensive than public domains.
12. Cancel your previous service.
Don't deactivate your old registrar service until your new account is running and your domain is fully transferred. Once you've confirmed that everything works, cancel your old service so you're no longer being charged.
Transferring Your Domain Name: FAQs and Troubleshooting
How long does a domain transfer take?
The domain transfer process usually takes five to seven days, but it can take longer if your information is outdated or they can't verify your identity.
Is it free to transfer a domain?
No, although the fee and structure varies.
Some registrars, like GoDaddy, charge a flat fee for the transfer itself. All registrars will charge you a registration fee when your domain is up for renewal. Some will bundle both costs (renewal and transfer fee) together. You also have the option to register a domain name for free.
I don't know who my DNS registrar is. What should I do?
Look up your domain name on the ICANN Lookup tool. Under the "Registrar Information" section, you will find out the name of your registrar.
I've just purchased a domain. Why can't I transfer it to another registrar?
Your DNS registrar has placed your domain name under a 60-day Change of Registrant lock. Additionally, if you've recently made a previous transfer, you can't change your registrar for the next 60 days.
How do I get an authorization code? Where can I find this code?
Every DNS registrar will be different, so we've compiled a list of links to help you get an Auth-Code. Find your registrar's specific instruction below:
My domain name registrar denied my request. Why? What should I do?
There are a few reasons why your request may have been denied.
There could be a discrepancy between your information and that of the domain owner. Alternatively, they can't verify that you're the owner. Make sure your contact information is up to date, and be sure to send what they need from you (ID, domain purchase receipt, and so on).
The domain name owner may have sent an objection to the transfer. If you're not the domain name owner, be sure to get in contact with them to resolve the issue.
If you owe your DNS registrar any fees from previous domain purchases, they may have put your domain name on hold. Be sure to pay any outstanding amount owed.
Your domain name may still be under "Lock" in your portal. Make sure this setting is set to "Unlocked."
Alternatively, you may be under the 60-day Change of Registrant lock, in which case you'll have to wait 60 days to make the transfer.
What if my domain has expired? Can I still transfer it to another registrar?
Yes. If your domain has recently expired, you can still transfer it to another registrar. You'll need to renew it with your current registrar, then initiate the transfer.
Make sure that the domain name hasn't been deleted by your current registrar and that you're still in the Redemption Grace Period (up to sixty days after expiration). If more than 60 days have passed, your expired domain may be made available for purchase to the public.
Does transferring my domain hurt my site's SEO?
Essentially, no. If everything goes properly with your domain transfer, your SEO should not be hurt by the switch. Just be sure that the information you provide for the switch is up to date.
Make your domain transfer seamless.
As you may have gathered from reading this post, completing a domain transfer isn't rocket science — you just need to go through the steps and ensure you're providing the correct information along the way. When done right, it should make no difference to your visitors.
Get started with HubSpot's free CMS tools.
Editor's note: This post was originally published in February 2020 and has been updated for comprehensiveness.