With thousands of options, you might be wondering how to choose the right WordPress theme. You want to pick a design that is clean and easy to use, yet still stands out. That's especially true in a landscape where 500+ new WordPress websites go live every day.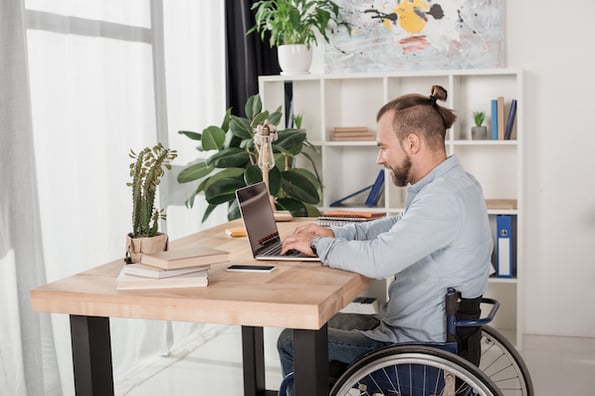 If you have been scouring the internet in search of an article to help you pick a theme, you've come to the right place. In this article, you'll learn:
Let's get started.
What is a WordPress theme?
A WordPress theme is a tool that changes the setup of your website. These themes dictate the design of your site, including the layout, typography, color, and other aspects of your website's interface.
Basically, a WordPress theme is a bunch of files that work together to create the design of your site. A theme includes template files, stylesheets, images, and so on. All those files work together to create the look and feel of your website.
Why is it important to choose the right WordPress theme?
To your visitors, your theme basically is your website. It's what they look at, interact with, and remember. Your site's look and interactivity impact not only how people view your online presence, but your entire brand. Simply put, your theme needs to deliver.
Choosing the wrong WordPress theme might be downright disastrous for your website. For instance, the wrong WordPress theme might make your e-commerce website for whimsical and cute products look super serious and boring. Or it might make your website feel slow and clunky.
"Some good-looking themes may hide a lot of technical issues," writes Sujay Pawar, CEO of software development company Brainstorm Force. "If your theme is not coded correctly, it can make your site incredibly slow. This means you'll get higher bounce rates and eventually rank lower on Google."
So how can you avoid making the wrong choice? Find out below.
What to Consider Before Choosing a WordPress Theme
To avoid choosing the wrong WordPress theme, ask yourself the following questions.
1. What's your website's content?
Your website content should factor into your theme decision-making process. So, what kind of website are you looking to build? WordPress websites for a food blog, an online clothing store, and a real estate agent will all look different, and thus require different themes.
Are you trying to create a blog? Then you might want to choose a theme that prioritizes readability and organized texts. Perhaps you want to showcase your creative work. Then find a photo-centric and gallery-like theme. If you're simply looking to build an online store, search for a theme that's fully integrated with e-commerce and includes lovely product pages.
Evaluate some websites belonging to other businesses in your industry to better understand what designs are out there. If your favorite sites are built with WordPress, you might even be able to find out what theme they're using.
2. What's your brand aesthetic?
Since most themes can be customized, you can usually change the color scheme to match your brand colors. The important thing is finding a theme that fits the overall look and feel of your brand aesthetic.
Is your brand's style elegant and smooth? Look for a theme that uses white space effectively, simple fonts, and a neat, one-column layout. Are you looking to be fun and bold? Find a theme that uses distinctive design details like bold shapes and overlapping images.
If you need some advice on colors for your theme, you can check out this blog post on color theory by WP Engine Founder and CTO Jason Cohen.
3. What's your website's purpose?
What kind of functions will you need the website to perform? Do you need restaurant menus, membership forums, or other unique features?
While these functions can be added through plugins, it's better to start with a theme that already has those features. If there are plugins you already know you'll need, you can also check for compatibility.
4. What's your budget?
Lastly, what can you afford? Premium themes with refined, distinct designs or features charge an annual fee. This fee will be in addition to other website costs, so be sure to consider your budget.
There are thousands of free theme options which can be helpful for those just starting out. You can start with a free option and upgrade as your site grows.
Choosing a WordPress Theme for Your Website
So you've already figured out your content, brand aesthetic, website purpose, and budget. The next step is finding a theme that works for you.
When reviewing your options, consider each theme's performance in the following categories. Once you have a short list, the best option for your site will become clear.
WordPress Theme Essentials
Available Features
Price
Functionality
Customization
Responsiveness
Cross-Browser Compatibility
Plugin Support
SEO-Friendliness
Performance
Updates
Customer Support
Positive Reception
1. Available Features
Before choosing a WordPress theme for your business, you should decide which features are necessary for your website. The WordPress feature filter in the Themes Repository makes it easy to look for free themes based on the features you need.
For example, your site may target an international audience. One essential feature in this example would be translation. You can search the repository for translation-ready free themes, or you can build a multilingual WordPress site by using a WordPress translation plugin.
2. Price
Some WordPress themes are free, while many are paid, or "premium." First, ask yourself: Are you willing to spend a little extra for a premium theme? There are many viable choices in both categories, so don't feel forced to purchase a premium theme, especially if you're a beginner and lack the budget.
If you end up choosing the free route, find a simple, lightweight, and flexible theme that you can easily customize. Be wary of free themes with few downloads, as these might be poorly coded or contain malware.
Instead, stick to the official WordPress theme directory. You can start by checking out our favorite free WordPress blog themes for more recommendations.
Still deciding if a premium theme is worth it? Start by drawing up a list of features your theme absolutely needs. If you can only find these features among paid options and you have some cash to spare, don't let the price deter you.
3. Functionality
No matter your style choices, your theme must be intuitive to use and explore, especially for new visitors. Simplicity is key here.
What users want should be immediately apparent from the homepage. If your theme is cluttered with effects and features, it will send many users straight to the "back" button. Trendy effects will come and go, but a great user experience is always relevant.
The best way to test this? Try the theme's demo, typically linked on the main page of the theme listing. This will give you a feel for how your own site might look and perform with the same theme.
A theme might even offer multiple demo sites that you can directly import to your own site and populate with your own content. Take the free Astra theme, for example.
One more note here: Remember that not all users will have the same experience browsing the web as you. Some have disabilities or limitations which affect their ability to engage with your content, so your theme (and your website as a whole) needs to be accessible to all.
Every quality theme comes equipped with accessibility tools, but always make sure of this. See our Ultimate Guide to Web Accessibility for more pointers.
4. Customization
Chances are, you won't find a theme whose default layout matches your needs exactly, which is why your theme needs to be customizable.
Of course, all themes are customizable to an extent, but too few choices will significantly limit your ability to brand your site. If a theme listing offers a customizer demo, test to see if you can add the page elements you want and change the look to suit your brand.
To make these changes effortlessly, find a theme that integrates with a drag-and-drop page builder plugin like Elementor. This way, you can switch themes while keeping the same builder that you're used to. You can check out our guide on how to easily customize a WordPress theme here.
5. Responsiveness
You probably realize how important it is for your site to look good on all devices. That's especially true when more than half of web traffic comes from mobile phones or other handheld devices. WordPress itself recommends that users look for responsive themes.
"You'll want a design that moves content around on smaller screens to create a single column layout — which is much more readable on mobile and essential for good search engine optimization," writes the WordPress team in a blog post about choosing the right theme.
A responsive WordPress theme detects the size of the browser window and changes the page layout to improve the browsing experience. This isn't just a perk — it's a necessity.
Most WordPress themes you'll see are technically responsive, as stated in the theme description. But, this doesn't guarantee high-quality responsive pages. You should test a theme's responsiveness before activating it.
Using a theme's demo, there are a few ways to check responsive design. You can open the demo on a mobile device and shrink the size of your browser window to assess how the layout changes.
If you're using the Google Chrome web browser, try simulating different mobile devices on your desktop with Developer Tools.
6. Cross-browser Compatibility
Google Chrome has more than 60% of the market share, according to Statcounter.
Because of this, WordPress theme designers may test their designs on Chrome but neglect other browsers like Mozilla Firefox, Safari, or Microsoft Edge.
You should be extra vigilant of cross-browser compatibility. Whether it be Chrome, Safari, Firefox, or Internet Explorer, your visitors are going to prefer different web browsers.
Most popular themes work well across all modern browsers and will say so in their descriptions. If you want to run some tests yourself, it's as simple as opening the demo in a few different browser windows.
7. Plugin Support
Plugins are necessary to accomplish anything in WordPress past the basic blogging tools of WordPress core. Your theme needs to be fully compatible with most or all WordPress plugins you expect to use for social sharing, e-commerce functionality, contact forms, and advanced SEO optimization.
If you need some help installing a plugin on your website, watch this video with detailed instructions.
8. SEO-friendliness
Your theme plays a big role in optimizing your WordPress site for search. After all, your theme helps make up the pages that search bots crawl through. A theme with messy code tells these bots that your site is low-quality, hurting your website's ranking.
Be aware that most theme descriptions include "SEO-optimized" or some variation, but it's best to run some tests to validate. You can check the quality of the theme's code by pasting the demo URL into the W3C Markup Validator.
Also, consider limiting your theme research exclusively to search-friendly themes.
9. Performance
SEO is closely related to performance, which is how fast your pages tend to load. Faster load times influence higher search engine rankings, more visitor engagement, and increased conversions. Why? Because internet users are impatient.
"No matter how good the content and graphics are, your page speed must be able to satisfy the user. Pick a theme that satisfies this need," advises Rashida Royal, a freelance UX designer.
The standard for websites today is an average load time of under three seconds, though this will vary based on the amount of content per page.
If you're looking to prioritize speed, "always go for a lightweight theme," suggests designer Faith Amaole.
What does that mean? To ensure your theme does not slow down your site, avoid feature-rich themes. You probably won't use the majority of the effects they offer, and your theme files will be needlessly large. The larger your website files, the more time your pages will take to load.
Poorly-coded themes can also reduce performance — stick to quick-loading themes and avoid this problem. For more help speeding up your website, read our tips on how to speed up WordPress performance.
10. Updates
Between new features, security patches, bug fixes, and performance improvements, WordPress updates a lot. You'll need a theme that keeps pace.
Theme descriptions will include a "Last Updated" attribute, which is a good indicator of whether the theme stays consistently up-to-date.
Pro tip: If a theme has been updated within the past few months, go ahead with it. Any update older than six months is less promising. Avoid any theme that hasn't been updated in two years or more.
11. Customer Support
Most paid WordPress themes come with at least a few months of premium customer support. After this expires, you'll have the option to renew on a monthly or annual basis. If you foresee using this perk in the future, be sure to factor the cost of a recurring support subscription into your theme choice.
Keep in mind that free themes rarely offer the same support options as premium ones. You're on your own if you encounter any major problems. That's why the theme you choose should at least come with thorough setup instructions and support resources (e.g., forums or a knowledge base).
12. Positive Reception
Finally, don't ignore what other users have said about the theme. Look for a high number of active installations, five-star ratings, and positive reviews.
There's no hard rule here, but any theme with a download count in the thousands and at least a handful of reviews is worth a try.
Check out our list of the best-reviewed WordPress themes here.
Where to Find WordPress Themes
At the start of your website journey, you may be asking which sites offer reputable, high-quality themes. Look no further, here are four marketplaces for WordPress themes.
If you're looking for WordPress themes, you can go directly to the source.
You can filter themes by subject matter to see what options are most popular among other blogs, ecommerce sites, and portfolios. You can also sort by feature, to ensure that your most important widgets and menus are supported.
Many of the options offered by WordPress are free. Commercial options are also available.
If you're planning on buying a premium design, ThemeGrill offers thousands of options. Plans offer different tiers, so you can pay only for the functionality you need. Plus premium theme users have access to a support team that responds to queries within 24 hours.
Each theme clearly shows how many users "love" the theme. You can easily get a sense of functionality and what's working for other users.
If you're looking to sort by industry, try out ThemeForest. This site gathers themes by the type of website. If you're looking to promote your real estate website or ecommerce business, you can find thousands of options in seconds.
Each theme also calls out when it was last updated. This way, you can easily avoid security concerns.
If you're looking for advanced search features to help you find the right theme, Studio Press may not be for you. However, if you're looking to pick from a handful of clean, curated options, Studio Press makes finding a theme easy.
You can sort by a handful of the most important features, as well as how many columns you want your site to offer. If you're looking for more options, you'll need to upgrade.
Research Now, Save Time Later
Choosing a theme for your WordPress site can be an intimidating and sometimes tedious job. Given the importance of your theme, however, it's always beneficial to put in research before making a decision. Follow the guidelines above to narrow down your search to the best options.
Soon, your site will be up and running.
Editor's note: This post was originally published in August 2020 and has been updated for comprehensiveness.