Ready to generate more leads? Want to boost sales revenue?
A customized, responsive, and well-designed landing page can help you do just that.
But, creating an effective and engaging landing page can quickly become an expensive endeavor if you don't have the right tools for the job. The good news is, if you have a WordPress website, you can choose from a number of landing page WordPress plugins to help you quickly and seamlessly create a beautiful and professional-looking website.
In this post, we'll cover the best WordPress plugins that you can use to create well-optimized and attractive landing pages for your website, blog, or online store.
What is a landing page in WordPress?
A WordPress landing page is the web page your visitors are guided to when they search for your business via URL or search engine. Your landing page should welcome visitors and help them navigate your site (subscribe, learn more, make a purchase, get support, contact a rep, etc.).
Here's an example of what a WordPress landing page might look like.
In this example, the landing page has a call-to-action that's front and center and above the fold. Below that is information related to the company's products and services as well as a series of links that direct visitors to other web pages. While your landing page may look similar to this, there are endless possibilities that you can imagine and create when designing one.
And, building landing pages is easy if you have the right plugin. But, the right WordPress plugin for you may not be the same for everyone. That's why we put together a brief explanation as to why you should use these tools as well as some of the most important characteristics to look for when choosing a landing page plugin.
Why use a WordPress landing page plugin?
The short answer is that it saves you time. You can quickly add elements to pages using drag-and-drop builders, similar to the example shown below.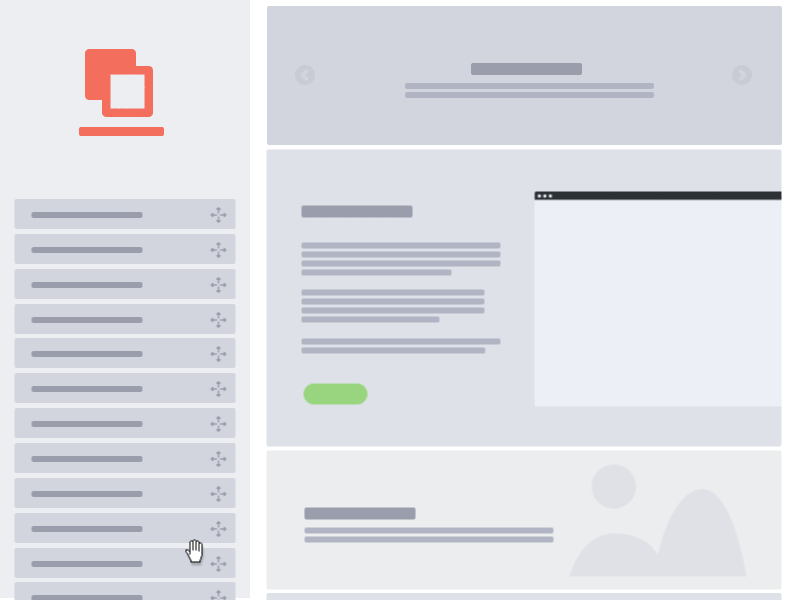 Don't have any coding experience? Never made a web page in your life? No problem.
With a landing page plugin, you don't have to know how to code, nor do you have to hire a web developer to build all your pages. These tools provide you with pre-built templates that you can use as a starting point so you're not starting from scratch. From there, you can customize your page using the drag-and-drop features and make it look exactly how you want — no coding required.
That being said, not all WordPress plugins are created equal. Some have unique features and support options that make them more preferable than others. To make sure you choose the right one for your website, let's review some of the characteristics you should look for in a good landing page plugin.
What to Look For in a WordPress Landing Page Plugin
A good WordPress landing page plugin should have the following features:
User-Friendly
Depending on how comfortable you are with building web pages, this will be the most important thing to look for in a landing page plugin. If you don't have any web development experience, you'll want to choose a plugin that's intuitive and easy to use. You'll probably want something with a drag-and-drop builder and plenty of support options as well in case you get stuck.
Customizable
As we mentioned before, the possibilities for designing a landing page are nearly endless. We say "nearly" because the only limitations are your level of experience and the capabilities of the plugin you're using. You want to make sure you're using a plugin that's customizable, so you can edit templates and add features how you like and create a landing page that looks exactly how you envisioned it.
SEO-Friendly
A great landing page is all for naught if search engines can't find it. That's why you want a WordPress plugin that's SEO-friendly. These plugins optimize your content for search so visitors can easily locate your website when they look for your brand online.
Feature-Packed
The best landing page plugins offer an arsenal of elements and features that you can add to your website. These can be really useful if you don't have much coding experience and you want a quick solution rather than researching how to design different web elements.
Now that we're familiar with these types of plugins, let's review some of the best landing page plugin options available for your WordPress site.
Top WordPress Landing Page Plugins
Creating a landing page is quite simple in WordPress with the help of plugins — here are some of the most popular.
With over 2 million active installations, Elementor is one of the most popular plugins on WordPress. The plugin features a drag-and-drop builder, a live editor, and fast page-loading times — part of which is due to how clean Elementor's code is.
Elementor gives you various options for customization, too; there are over 100 pre-designed templates and more than 300 design blocks to work with. One of my favorites is the animations where you can add scrolling effects to different background elements on your page.
Elementor is ideal for those who are just starting with their website but don't want to begin from scratch. It's user-friendly, and makes web design a comfortable experience for everyone, regardless if you're a web developer or not.
Price: $49/year
Thrive Architect provides over 250 templates to create an attractive landing page without coding. The drag-and-drop builder uses a "click to edit" function that lets you completely customize pages to your liking in seconds. There are various page layouts to choose from including sales pages, opt-in pages, webinars, and more.
This plugin also offers several important conversion elements to help your landing page generate leads (e.g. content boxes, CTA buttons, testimonials, countdown timers, responsive video embeds, responsive Google Maps, and a star rating system). And, these elements are built right into Thrive Architect, so you don't have to download 10 or 20 different plugins to convert leads on your landing pages.
Thrive Architect is great if you plan to build more than just a couple of landing pages. If your plan is to bring your entire company online, this plugin has all of the tools and templates required to create not only landing pages, but other web pages needed to conduct your business.
Price: $19/month
Qards is a modern page builder plugin for WordPress. It helps users create beautiful pages with a user-friendly drag-and-drop interface. And, this plugin uses WordPress native code, so you won't run into as many integration problems with different WordPress themes.
The Qards plugin includes helpful components like covers, images, Google Fonts, grids, menus, footers, and subscribes. Each element comes with its own settings option for easy customization and they're responsive, too, so you can trust your page will look great regardless of the device or browser it's being viewed on.
Qards also offers an integration with MailChimp. When visitors fill out forms on your site, their information is forwarded to your MailChimp account. This is really helpful for conducting automated email marketing campaigns that are triggered by submissions on your landing pages.
Price: Free, paid plans available
WP Lead Capturing Pages helps users build impressive landing pages with its built-in drag-and-drop features. As the name suggests, this plugin is designed for building web pages that convert interested visitors into promising leads for your sales team.
WP Lead comes with 10 autoresponder integrations and more than 30 shortcodes. The 20 pre-built, responsive templates and countdown timer make WP Lead a "no configuration needed" type of plugin.
Web elements offered with this plugin include text, images, buttons, forms, and more. Each element is responsive and requires no coding to add. This makes WP Lead Capturing Pages a great plugin for those who want to get their landing page up and running as soon as possible.
Price: $29
If you plan to create engaging sales pages to promote your products, the WP ProfitBuilder plugin is a great option for you. It doesn't just provide the tools needed to create high-converting landing pages, but it also provides you with some direction while you're designing each one.
There are over 60 pre-designed lead, sales, and marketing layouts you can choose from. The plugin also makes it easy to design responsive, SEO-friendly pages without any coding knowledge using the drag-and-drop interface.
WP ProfitBuilder is compatible with various email and marketing platforms, so your web pages will fit in perfectly with your active marketing campaigns. Once a visitor converts on your site, all of their information is forwarded to the appropriate location via an integration.
Price: $68
InstaBuilder takes a more light-hearted approach to web design. It brands its plugin as "sexy" and says it's so easy to use, "it feels like playing a video game."
InstaBuilder enables you to create stunning landing pages with a responsive design in minutes. The plugin features over 100 templates and the user-friendly customization tools help you create a landing page that meets your exact business's needs.
Other features of this plugin include advanced text formatting, custom elements (like date stamps and Facebook comments), and one-click integrations. There's also an insightful analytics feature that can tell you what's working on your site and what isn't.
Price: $77
It's easy to create attractive and responsive landing pages with OptimizePress. You can edit and view changes in real-time with the live editor, and if you need some design help, there are more than 30 pre-made templates to choose from with over 40 customizable elements (e.g. headlines, order boxes, testimonial blocks, progress bars, countdown timers, and video and audio players).
OptimizePress comes with GDPR-ready features that are compliant with European data privacy standards. This is pretty useful, too, as OptimizePress offers various opt-in forms so you can collect data from people visiting your site.
Looking to create more than just landing pages? With OptimizePress, you can also build sales pages, marketing funnels, and make use of the checkout and payment plugin by turning your website into an online store.
Price: $199/year
Keyword is a landing page generator that allows you to create different landing pages for different users based on keywords. This plug-in works by attaching each landing page to a unique keyword. Then, depending on the keyword that the visitor used to find your website, the landing page changes its text to fit the visitor's search.
The result is an SEO-friendly landing page that's also useful for creating targeted ads and sharing personalized content. Rather than having to create a new landing page to match every keyword your customers are searching for, you only need to create one and Keyword will handle the rest.
One of the best features of this plugin is that it's compatible with Adwords. Once you set the targeted keyword in Adwords, Keyword will show you the corresponding landing page that matches it.
Price: $18
Avada has all of the features and tools needed to create a modern look for your website. It has an extensive library of design elements and a single-post layout builder that you can use to create aesthetically pleasing and engaging landing pages.
One post type that you can use with this plugin is portfolio pages. If you want to showcase a product in action or share a detailed customer testimonial with your visitors, you can use one of the several pre-built templates for your web page.
Avada even lets you customized your 404 error pages. So, even when visitors stumble upon a page under construction or visit a page that no longer exists, they'll be greeted with a personalized message that encourages them to continue browsing your site rather than abandoning it.
Price: $60
If you're building more than one website, you may want to check out Beaver Builder. With the purchase of just one license, Beaver Builder allows you to build as many sites as you would like. So, you can build multiple websites or a few variations of one without having to pay for additional licenses.
Like other options on this list, Beaver Builder is SEO-friendly, responsive, and easy to use. It provides users with a drag-and-drop builder and comes packed with several pre-built templates.
You can copy and paste styles between different sites and manage overall themes from the global settings dashboard. There's also a translation option, so you can easily translate your content and engage with different audiences around the world.
Price: $99
There's a lot to like about the Divi WordPress page builder, including the responsive editing and the custom CSS controls. The drag-and-drop builder shows you real-time changes to your site and there are dozens of unique page elements to choose from.
One cool feature that's included with this page builder is an "undo/redo" option. Want to test out a new look for your site but don't want to lose your current layout? No problem. You can quickly recall previous versions of your site even after you publish new changes.
Additional features include in-line text editing, pre-made website packs, and a global admin page where you can adjust themes and settings for multiple sites at once.
Price: $89/year
The LeadPages plugin makes it easy for you to efficiently create landing pages — it offers over 70 pre-built templates to implement and customize. All of the templates are responsive, so no matter what kind of devices your users are on, the landing page will load perfectly on any screen size.
LeadPages also comes with a built-in SEO feature so your landing page will automatically be optimized for search engines. And, LeadPages offers remarkably fast page-load speeds, which further improves your ranking on SERPs.
LeadPages supports unlimited publishing which means you can create and post as many landing pages as you would like. There's also a conversion guide, which not only lets you know if a page isn't converting but also what you can to do to improve engagement on that page.
Price: $59/month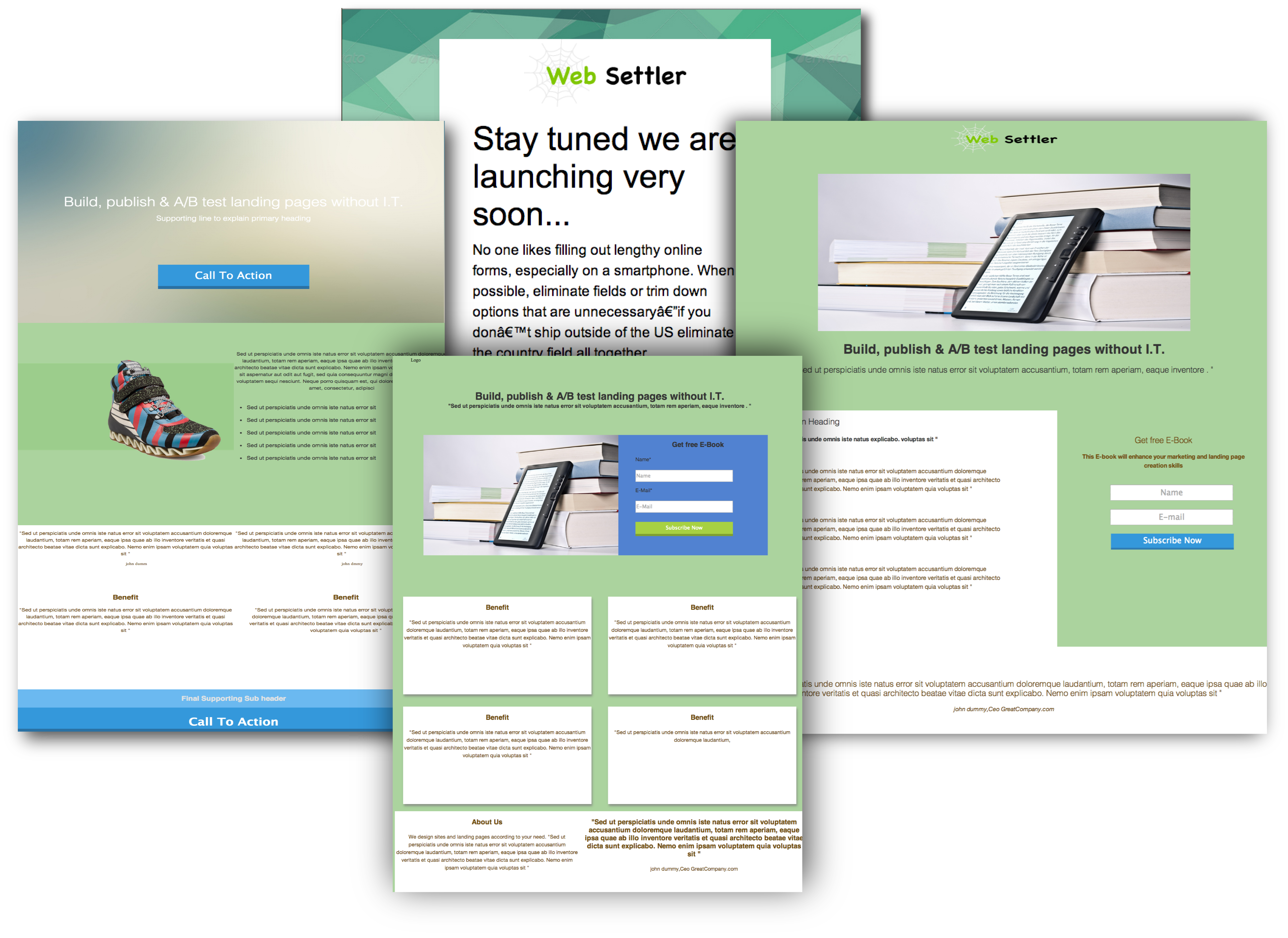 Landing Page Builder offers multiple templates for you to test and customize. The plugin comes with MailChimp subscription forms to help you increase subscribers without technical assistance.
It has an email autoresponder to help you instantly engage with users who input their emails on your landing page. The plugin also offers an SEO tool for you to add keywords and meta descriptions to boost your landing page's ranking on search engines.
Finally, this plugin also offers pre-built templates for several different types of landing pages, including sales pages, home pages, and even "coming soon" pages.
Price: Free
Boost Conversions With Custom Landing Pages
All of the WordPress plugins above are top-notch options for designing and implementing your site's landing page. Read through their unique features and capabilities to identify the right one for your website.
Editor's note: This post was originally published in January 2020 and has been updated for comprehensiveness.