Capturing consumer attention and encouraging people to connect with your company means creating a customer journey that aligns with user preferences. Step one is getting them to your website — targeted data capture and marketing can help with this process.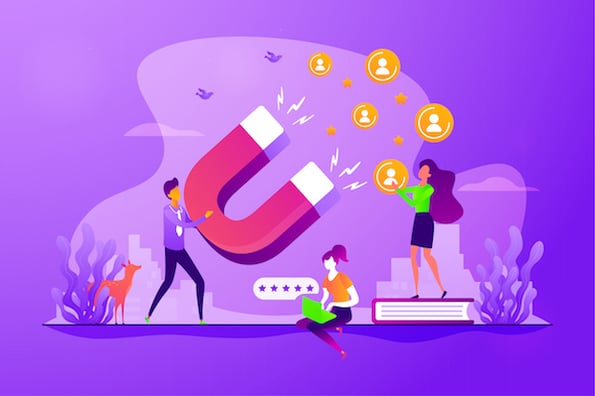 Once visitors have arrived, however, you need more than another set of ads; you need a lead generation form that encourages users to provide contact details and generates genuine interest.
Making this work starts with a great lead generation template — here's what you need to know about designing, building, and deploying effective lead generation forms.
What is a lead generation form?
If you're looking to capture customer information, a lead generation form is the answer. Unlike a contact form or newsletter signup, there's an advertising component, too — visitors will clearly understand that by providing their contact details, they'll get something of value in return.
Think of a lead generation form as equal parts contact and conversion. A sales spin helps generate interest but keep it controlled — an overwhelmed customer isn't a delighted one. With the help of an effective lead generation form, you'll convert website visitors to potential leads.
What are the key components of an effective lead generation form?
There's a lot to think about when developing one of these forms. That's why a lead generation form template is helpful — it guarantees you'll have everything you need to get in contact with your web visitors.
Remember: there's no single method to create a high-performing lead generation form, but excellent examples typically share some commonalities. Here are a few key components your lead generation form should include:
Effective placement: The higher up on the page you place your form, the better — without being obtrusive. When forms move below the "fold" — where users need to scroll down — they're far less effective.
Great design: Keep it simple, bold, and straightforward. Color and clean lines will help your form stand out and garner more responses.
Compelling copy: Use copy as a hook to intrigue potential leads. "Free" is a great word here, along with "value" and "bonus." The caveat? Don't overuse them, and make sure your copy communicates value to prospective customers.
Problem-solving: Find your target market and offer relevant services or products. Ask yourself: what problem are you trying to solve for your target audience? For instance, if your company helps generate website traffic, highlight potential traffic increases, or success stories that resonate with the audience.
Contact details: Ensure your lead generation form template offers potential leads the opportunity to share their contact information with you. Whether that's email, phone number, mailing address, or all of the above, don't forget this critical component.
Wondering what that looks like in practice? We've rounded up a few free lead generation form templates you'll love.
Free Lead Generation Form Templates
Why make a lead generation form from scratch when compelling templates are available? Here are a few of our favorite free options.
1. Online Registration Form Template
This simple, clean template is perfect for those looking to sign visitors up for online services and events quickly. It also helps generate solid sales leads. (P.S. You can check out more examples of effective registration forms here.)
Pro tip: If you want to gain demographic data, you can include 'birth date' on your lead generation form. Or, if you own an ecommerce site, you can use that birthday information to send your customer a coupon for their big day.
Source
2. Sales Contact Form Template
If you're a service-based business, this template allows you to pinpoint the products or services that potential customers are considering. It also collects their contact details so you can connect with them directly.
Pro tip: Give your potential leads a place to indicate their intent. It's a time saver for your team and allows the site visitor to consider what they're looking for.
3. Consultancy Services Lead Generation Template
If you work at a consulting firm that offers various services, don't miss out on this lead generation form template. It includes all the essentials (name and contact information) while providing a space to indicate their company and country.
Pro tip: The firm's offerings appear adjacent to the form, which allows potential leads to gain a better understanding of how your company's capabilities and their business' needs align.
4. Coming Soon Lead Generation Template
Do you have a new product or service launching soon? If so, this template captures visitors' attention and inspires excitement for the latest release while capturing their contact information.
Pro tip: Keep it simple by asking potential leads to only supply their email address. It's non-invasive and quick.
What tools can help you create better lead generation forms?
The good news? There's no need to build lead generation forms from scratch. Instead, make the most of tools that simplify and automate the process. We've rounded up some of our favorite options for building better lead generation forms.
You can use HubSpot to create free, effective, and visually compelling forms. This tool makes ad platform linking simple so you can quickly craft lead generation forms with text and video copy that target your audience. Easily connect your forms to the CRM or your contact database.
And, thanks to HubSpot's form builder technology, there's no technical experience required to get started.
What we like: With HubSpot, you can set up automatic notifications and emails based on a visitor's form completion. The best part? You can do this directly from the form builder.
In addition to free lead generation form templates, Unbounce also provides custom page creation tools. With more than 100 templates and a powerful drag-and-drop builder, it's easy to create the form you want, exactly how you want it. Unbounce "Launch" — the company's base plan — starts at $90 per month (or $81 if billed annually). Check out the 14-day trial to see what's on offer.
What we like: Unbounce allows you to create multiple variations of your form and automatically routes site visitors to where they're more likely to convert.
Qualaroo is a user research platform that also makes creating compelling lead generation forms accessible. The targeted, in-depth, unobtrusive data collection means potential customers won't feel overwhelmed when visiting your site.
Your best package depends on how many page views your website garners per month. Qualaroo's base package costs $100 monthly (or $80 per month billed annually).
What we like: This platform offers powerful analytics to help you make the most of your collected data.
For those seeking a beginner-friendly form builder for WordPress sites, WPForms fits the bill. With its drag-and-drop interface and over 100 templates, getting your lead generation form up and running is easy. It's also significantly more cost-effective than some of the other options — the most basic plan is only $79 per year.
What we like: WPForms has dozens of add-ons available that make it easy to connect with tools like Paypal, Stripe, and other significant tools.
Leadformly provides well-built, pre-optimized, customizable templates to help you get higher-quality inbound leads. This technology automatically segments potential leads with conditional CTAs, webhooks, and custom redirect URLs.
Because Leadformly offers pay-as-you-grow pricing, the price tag varies depending on how many leads you gain. It starts at $37 monthly.
What we like: With over 1,000 solution integrations, it's never been easier to drive better data collection.
Gravity Forms is an advanced, digestible tool that lets you quickly create lead generation forms for a WordPress site. Select your fields, configure options, and embed the form into your website.
Because it offers a drag-and-drop builder, you don't need extensive technical knowledge to create a form that stands out. Depending on the user's selections, you can also employ conditional logic to display or hide specific fields, pages, and sections.
What we like: Gravity Forms also integrates with popular apps and services, including Stripe, Signature, and PayPal.
Forminator is an all-in-one form-making plugin. Its number of active installations speaks for itself — 300,000+. This plugin checks the box, whether you're creating a lead generation form, payment, or order form. It also features a visual builder to simplify building your form.
What we like: This plugin integrates with HubSpot, so transferring the data collected into our CRM is automatic.
How to Build a Lead Generation Form Template
Open your HubSpot account.
Click on Marketing > Ads.
If needed, create and link an ad account.
Create an ad campaign.
Select where to display your form.
Add images, videos and text.
Choose your form type and CTA.
Select your targeted audience.
Choose your budget and schedule.
Publish your form.
Now that we've discussed what an effective lead generation template looks like, let's walk through building one using HubSpot forms.
1. Open your HubSpot account.
If you don't have a free Hubspot account, create one, then navigate to your dashboard. Here, you'll be able to manage every facet of your site — from marketing to sales to contacts and beyond.
2. Click on Marketing > Ads.
Under Marketing, you'll see links to free Email and Forms creation tools. You can upgrade to Marketing Hub Starter to access Landing Pages and Market Hub Professional for Social tools if you prefer.
3. If needed, create and link an ad account.
The first time you create a lead generation form template, you'll need to link an active ad account. Choose from Facebook, Google Ads, or LinkedIn. When you click through to the ad platform of your choice, you'll be asked to grant access permission and may need to create a separate ad account.
4. Create an ad campaign.
This page lets you embed your HubSpot tracking code, target and track visitors and enable ad auto-tracking. To get started with your lead generation form, select Create ad campaign in the top right corner and choose your preferred Lead Generation platform.
5. Select where to display your form.
This page allows you to select where your form should display. Start at the top of the left-hand menu to choose your targeted LinkedIn (or Facebook) page along with your default campaign group.
6. Add images, videos and text.
Add text and body copy along with a headline from the left-hand menu. Then, click Select Image/Video to drag-and-drop or search for image and video files.
7. Choose your form type and CTA.
At the bottom left-hand menu, choose from CTAs, including "Get Quote," "Learn More," and "Sign Up." Then, create a new form that includes your offer headline, offer details, and required form fields for customers.
8. Select your targeted audience.
At the top of the screen, select Targeting and choose your remarketing and lookalike audiences.
9. Choose your budget and schedule.
Select Budget & Schedule at the top of the screen, choose your currency and budget, and decide how often your ad should run.
10. Publish your form.
After you complete all fields, click Publish in the top right-hand corner to complete your lead generation form and embed it on your site.
Lead Your Customers to a Great Lead Generation Form
Great advertisements are no longer enough to turn a potential customer into a viable lead. To encourage information sharing, businesses can use lead generation form templates that offer concise messaging, compelling content, and clear customer value.
Editor's note: This post was originally published in April 2020 and has been updated for comprehensiveness.