So you want to build a website for your business but you're intimidated. You have no coding or web design experience and don't know where to start.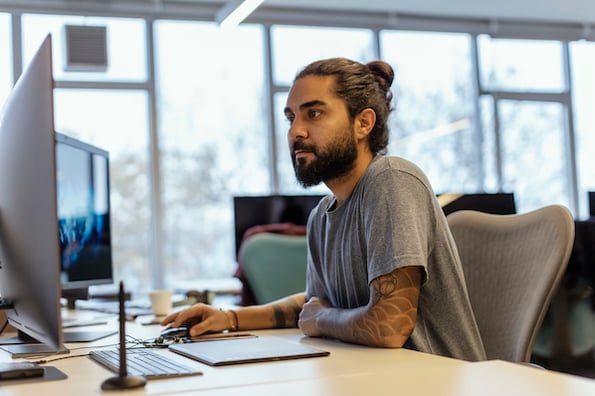 Lucky for you, WordPress page builders can help you create custom page designs and layouts with no coding or design skills required. With page builders, you can drag and drop elements on a page and preview any changes before publishing your site.
Live Composer is a free front-end page builder plugin available in the WordPress.org directory that lets you create and customize a WordPress site with ease. Before we look at the plugin's key features, let's discuss the advantages of using a front-end page builder to create a WordPress site.
Why Use a Front-End Page Builder
To understand the benefits of using Live Composer to build out your site, we have to compare front-end page builders to back-end ones.
With both types of WordPress plugins, you can design custom pages without touching a single line of code. This levels the playing field in web design so that content marketers, bloggers, and business owners can create a site without having to rely on web developers and designers.
The difference between the two plugin types comes in the editing process. With back-end page builders, you are basically working with abstractions. You arrange generic boxes that represent beautiful page elements into rows and columns. It's easy to organize and create a unique layout in this way, but you can't see the final design while you're editing. You have to make changes, hit the Preview button, make more changes, hit Preview, and so on.
With front-end page builders, you know exactly how your page will look when published. All the headings, images, and CTA buttons you drag and drop on the page will look exactly how your site visitors will see them. This allows you to create custom pages in real time, making front-end page builders a must-have plugin for marketers.
Among the front-end page builders available in the WordPress marketplace, Live Composer is a popular and budget-friendly choice for creating a custom WordPress site. Let's take a closer look at its key features below.
Key Features of Live Composer
Live Composer is an all-in-one solution for creating and customizing your WordPress site. Let's explore some of the plugin's key features below.
Content Modules
Live Composer comes with over 30 modules for creating custom landing pages and blog posts. You can add testimonials, image galleries, call-to-action buttons, comment forms, and more simply by dragging and dropping the module onto the page. These modules are fixed at the bottom of the editing screen, as shown below.
Responsive Design
With this page builder, you can create responsive pages that are optimized for desktops and mobile devices. This ensures a seamless experience for your visitors, no matter what device they use to view your site.
Theme Compatibility
You can use Live Composer with any WordPress theme. However, you can select from a range of WordPress themes that come with the Live Composer page builder built-in. This will allow you to start customizing your site as soon as you install and activate the theme.
Final Word
Live Composer is a powerful tool for newbie and expert WordPress users to save time while creating custom pages for their sites.
Using Live Composer, you can quickly and easily build a site that reflects your unique brand. No need to worry about coding or hiring a web developer or designer with this drag-and-drop page builder.