User reviews affect where we choose to shop, eat, sleep, and more. They help us feel more comfortable selecting a health care provider, finding a hotel, getting into a taxi, and purchasing products online. According to a survey by Bright Local, 57% of consumers will only patronize a business if has four or more stars.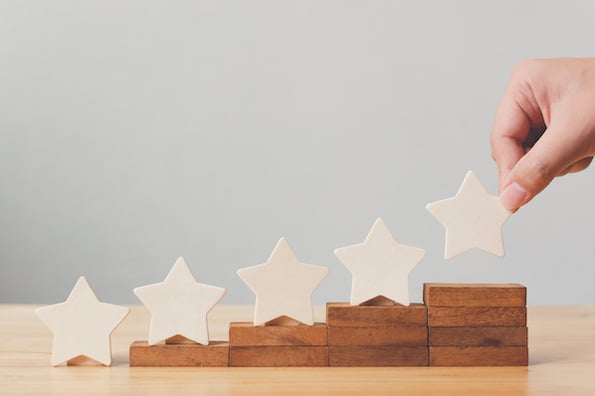 As consumers have come to rely on reviews to drive decision-making, ensure quality, and provide feedback, businesses have also come to rely on reviews as an effective marketing tool. Customer reviews help businesses monitor customer feedback and gain the trust of potential customers. Positive reviews can be used as testimonials in sales and marketing collateral, whereas negative reviews can be used to improve their service and products.
Businesses that leverage reviews in these ways increase the chances that consumers visit, contact, and purchase from them, according to the above-mentioned survey by Bright Local. As businesses realize the potential of reviews to push customers through the buyer's journey, they are increasingly focused on asking for, publishing, and responding to reviews.
Many online businesses that recognize the importance of user reviews have begun incorporating them on their site. The 5-star rating is a popular choice among rating systems because it's easy to understand and use. No matter what language, font size, or font color your site uses, consumers can recognize and understand a star rating system. With this system, consumers are also able to see what their peers think of your product or content at a glance.
Choosing the star rating system can help you meet other business objectives as well. Ecommerce sites, for example, include star ratings to establish credibility and trust, which helps buyers feel more comfortable making a purchase. Content-rich blogs use star ratings to help readers easily identify the most popular content. Product or service review sites include ratings to help visitors make an informed purchasing decision.
To leverage the power of user reviews to advance your marketing strategy, you can add star ratings to your posts, pages, and comments with the WordPress Rate Everything Star Rating Plugin. Let's take a closer look at the key features of this must-have WordPress plugin below.
What is the WordPress Rate Everything Star Rating Plugin?
WordPress Rate Everything Star Rating Plugin, otherwise known as WP Rate Everything, is a premium WordPress plugin available through the CodeCanyon plugin marketplace. With this tool, you can add star ratings anywhere on your site. Only registered users will be able to leave a review, but any site visitor will be able to see a product's or post's current rating.
Key Features of WP Rate Everything
Consumer reviews can help improve your site's credibility, brand identity, and more. WP Rate Everything is a powerful tool for encouraging people to read and talk about your products, services, and brand. Below are a few key features of the plugin.
Rating Theme
In the plugin settings, you can select from three rating themes — the default yellow stars, red stars, or hearts. With these options, you can control the appearance of your site.
Shortcodes
If you'd like to display star ratings on posts, pages, or products in your WordPress site, then you can just check the corresponding box in the plugin settings. If you'd like to place them elsewhere on your site, you can use a WordPress Rate Everything Star Rating Plugin shortcode.
Page Customization
There are built-in features you can use to customize the appearance of star ratings on two specific types of pages. One is description pages, which are content-heavy pages that typically focus on one product or service. WordPress can distinguish these pages from others because they are rendered by a full-width, one-column template. The other is listing pages that display multiple products or services. These are rendered by a template with multiple columns.
For these two page types, you can modify the rating scale and choose where it appears on the page with a few clicks of your mouse in the plugin settings.
Given these options, you may choose to display a 10-star rating scale after the "main content," or body of text, on description pages. That way, readers will clearly see the star rating once they scroll down to the bottom of the page.
On the other hand, you may opt for a 5-star rating scale to avoid cluttering your listing pages. Whichever scale you select, you can then choose to display ratings after the title or excerpt of each listing. Below is a listing page with star ratings displayed after the title.
With the WordPress Rate Everything Star Rating Plugin, you can add star ratings to your WordPress site in no time. Doing so can help your visitors make informed decisions about what they are reading or buying and help you build trust with those visitors, monitor feedback, and generate leads.