Finding the right platform for your website is crucial to your online success. When making your selection, you'll want to consider the functionality, cost, ease-of-use, and flexibility of each platform. You need one that will enable you to build a site that reflects your brand, meets the needs of your consumers, and scales over time.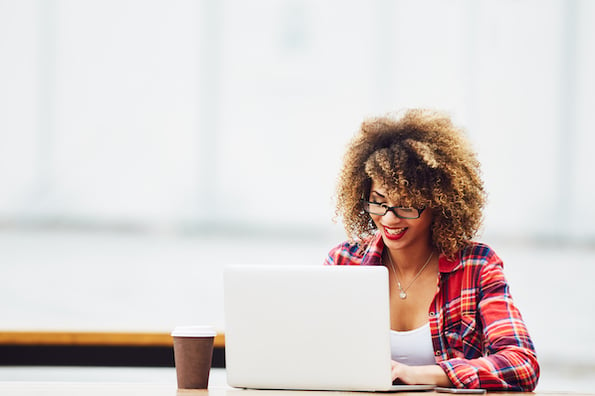 Because WordPress checks off these boxes for so many users, it is the most popular content management system in the market. According to data from Hosting Tribunal, 34% of all sites on the internet are powered by WordPress. That percentage jumps up to 60% when looking specifically at sites built on content management systems.
If you decide to become one of the 661 sites built on WordPress every day, then you'll have to choose whether you want to create your site on Wordpress.com or WordPress.org. Let's look at the difference between the two entities so you can make an informed decision.
WordPress.com vs WordPress.org
WordPress.com is the commercial version of WordPress. It's a free hosting service that offers a range of features, security, and support to help you manage your site — at the expense of some flexibility over the appearance and functionality of your site. WordPress.org is the self-hosted version of WordPress. Using this free platform, you have to purchase your own domain name and hosting service, but you control all aspects of your site, including themes, plugins, affiliate links, ads, code, and third-party analytics.
If you select a managed hosting service, then you will have the most similar experience to running a site on WordPress.com. A managed hosting provider, like WP Engine, SiteGround, or WPMU Dev, will regularly cache your site, run malware scans and daily backups, and update your WordPress theme and plugins. But you will maintain control over every feature, including your themes, plugins, affiliate links, ads, code, and third-party analytics.
You can take a look at the infographic below to see how WordPress.com differs from WordPress.org at a glance. Then we'll take an in-depth look at some of these differences.
It's important to note that WordPress.com offers a paid Business plan that allows a lot of self-hosted functionality, including the ability to install third-party themes and plugins. However, it's pricier than many hosting packages for WordPress.org and site owners are still subject to WordPress.com Terms of Service (which means, among other things, that they can delete your site at any time if they think it violates their TOS). For these reasons, we'll limit our focus to comparing the free WordPress.com hosting service with self-hosting your site on WordPress.org in this post.
While hosting with WordPress.com appeals to many beginners because of the built-in functionality, security, and backups it provides users, there are many advantages to hosting a site on WordPress.org. Let's look at those advantages below so you can decide which platform is right for your business.
Advantages of Hosting Your Site on WordPress.org
Register a custom domain.
Install plugins.
Install a custom theme.
Customize your footer.
Monetize your site.
Run custom analytics and tracking.
Modify your code.
Below we'll look at the different aspects of your site that you can control when self-hosting on WordPress.org. By understanding these benefits, you can determine whether WordPress.org best fits your needs.
Register a Custom Domain
Your domain name is an important part of your web presence. Because it's your address on the internet, you want to pick a name that's easy to remember and spell so that visitors can easily find and return to your site. Ideally, you also want it to match your company name. This can strengthen your brand identity and make the site seem more professional.
Using the WordPress.com, you have to use a WordPress subdomain that looks something like: yoursite.wordpress.com. This .wordpress extension can indicate a lack of professionalism or credibility to visitors and, unfortunately, free users can't remove it.
You can easily register a custom domain for your self-hosted WordPress.org site. This enables you to pick a name that's short, memorable, and easy to pronounce and spell, which can positively impact your brand awareness and make it easier for visitors to find and return to your site.
Install Plugins
Whether you're looking to enhance security on your site or boost visitor engagement, plugins can help you add or extend your site's functionality. With these tools, you can build a custom site that provides visitors with an experience that they can't find on any other WordPress site.
WordPress.com only offers plugin support to Business and Premium users. Meaning those on the free plan have to rely on the built-in functionality of WordPress.com. While this functionality is robust — there's spam blocking, Google Sitemaps support, SEO features, social media buttons, advanced galleries, statistics and more — it does limit what your site can do.
WordPress.org removes those limitations. You can install any free, premium, or custom plugins to extend the functionality of your self-hosted site. With over 50,000 free plugins available in the official WordPress.org directory alone, there are nearly infinite possibilities to customize and enhance your site.
Install a Custom Theme
Like plugins, a custom WordPress theme can help ensure your site reflects your unique brand and appeals to your target audience. Your theme not only controls the appearance of your site — it can also affect your site's load time, performance, and SEO.
While free plan users can easily install a quality theme from the WordPress.com directory, they are limited to the current selection of 111 free themes.
Whereas if host your own site, you can find — or build — the exact theme you want. Not only will you be able to choose from hundreds of themes in the WordPress.org directory, you can also purchase any third-party theme. According to data from Scepter, there are approximately 30,000 themes available for download or purchase.
If you still don't find one that meets your unique needs, you can design your own theme or customize one using CSS on WordPress.org. A one-of-a-kind website design can set your business apart from competitors and capture your visitors' attention — much more than a cookie-cutter template can.
Customize Your Footer
Though it's often overlooked, a footer is an important element in website design. By adding information and navigation options at the bottom of web pages, footers can help improve the visitor experience on your site. They're also your last chance to convince visitors to take an action and convert them into leads.
With the free plan, WordPress automatically includes branded copy in your site's footer. While you can choose among text options like "A WordPress.com Website" or "Powered by WordPress.com" or choose to display the WordPress.com logo, you cannot remove this footer credit.
You can, however, edit or remove the branded footer on your self-hosted WordPress site and add relevant information about your business. You may include your logo, copyright notice, a link to your privacy policy, office locations, and more. You might even include a customer's testimonial as seen in the footer below.
Whatever information you include, a custom footer will ensure that every inch of real estate on your site is being used to strengthen your brand identity and provide valuable content to your readers.
Monetize Your Site
Many site owners monetize their web traffic and earn additional lines of revenue through advertising, affiliate marketing, and sponsored content, among other monetization methods.
Unfortunately, the free WordPress.com hosting service limits your monetization options. Only site owners who meet a minimum traffic requirement can apply to WordPress's official advertising program, WordAds. There are also restrictions on how affiliate links and sponsored content can be included on your free site.
Plus, third-party ads may be displayed on your site. Because these ads are generated by WordPress.com's advertising software, you can't control the content or placement of these ads.
On the other hand, you have unlimited monetization options when hosting your own site. With WordPress.org, you can
control the content, size, and placement of your ads;
use any ad network;
create a product page to sell products and services;
join any affiliate program and display affiliate links on your site;
use advertising plugins; and
publish any amount of sponsored posts.
Using these methods, you can display relevant ads that boost your revenue and enhance the visitor experience on your site.
Run Custom Analytics and Tracking
To expand your business's reach online and convert more leads into customers, you need actionable information about your site visitors. Which pages do they stay on the longest? What campaigns bring them to your site? Which of your landing pages are converting best? You can find some of these stats right in your WordPress dashboard but not all of them.
As a free plan user, you are restricted to WordPress.com stats. These stats will tell you how many views and unique visitors your site gets, which external links your visitors are clicking on, and what posts and pages are popular. However, if you're looking for more in-depth data, you're out of luck. Free users cannot add Google Analytics or install any other powerful tracking platform on their sites.
On WordPress.org, you can install Google Analytics or any other third-party analytics software on your site. These tools will provide you more details about who is visiting your site, what they're doing while on your site, and how long they're staying on specific pages.
Modify your code
There are a number of reasons you may want to modify the source code of your WordPress site, the most popular being is to edit your theme template.
With WordPress.com, you have no access to the PHP, CSS, or JavaScript code that your site is built on, which limits your options for customization. WordPress.org users, on the other hand, have full access to and control over their code.
If hosting your own WordPress installation, you can add code to your functions.php file to hide your WordPress login error details, upload custom file types, change the default length of your post excerpts, and more. To make changes to the design and structure of your site, you can edit your WordPress theme's source code. You can also edit your wp-config.php file to fix a redirect loop on your site or set up error logs.
Whatever the reason, being able to add or edit the source code of your self-hosted WordPress site will ensure you can customize it however you'd like.
Final Verdict
While WordPress.com will assist you or automate many of the tasks involved in building and managing your website, WordPress.org will give you complete control to customize and grow your site over time. If you're just getting started, you can always build a site on WordPress.com and move it to your own self-hosted domain on WordPress.org later.