Anyone can design a website nowadays thanks to page builders. With their drag-and-drop user interfaces, page builders make it easy to construct all types of pages without requiring any coding.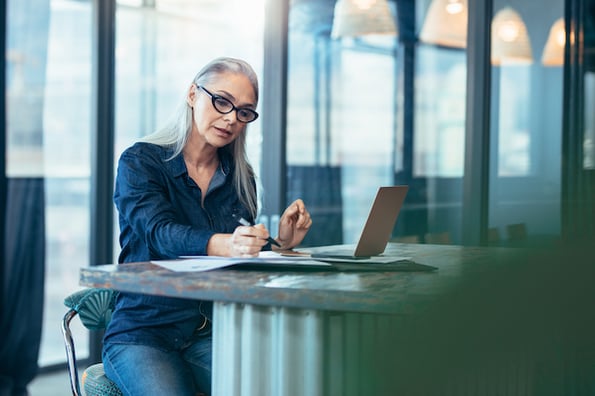 Want to move a headline? Just drag and drop where you want it to be. Want to change the font color? Just click on the text and start editing instantly. Want to add an image, button, or icon? Just insert modules into your layout.
If you're looking for a quick and easy way to design a custom WordPress site for your business, you can use Thrive Architect. Previously known as Thrive Content Builder, this drag-and-drop page builder will help you create custom content without any coding or design skills required.
Before we dive into its features, let's take a closer look at the benefits of using Thrive Architect to build your WordPress website.
Why Use Thrive Architect Page Builder
There are dozens of page builder plugins available in the WordPress directory and third-party marketplace. What makes Thrive Architect unique is its focus on helping you build landing pages that convert.
Thrive Architect comes with over 300 landing page templates that can be customized to your specific brand and audience. To ensure high conversion rates on these pages, Thrive Architect comes with built-in CTA buttons, credit card icons, pricing tables, testimonials, contact forms, animated countdown timers, and other conversion-focused elements.
Furthermore, Thrive Architect integrates with all major email providers and webinar platforms, including MailChimp, iContact, and Drip. So you can use Thrive Architect to not only create a beautiful site but also grow your business.
In addition to high-converting pages, you can use Thrive Architect to create homepages, sales pages, and blog posts that attract and engage your visitors. Let's explore some of the key features of this must-have WordPress plugin below.
Key Features of Thrive Architect Page Builder
Thrive Architect is an all-in-one solution for creating and customizing a WordPress site that generates leads. It comes with an intuitive front-end editor, hundreds of page templates, and a range of features specifically designed to help you build high-converting and responsive pages. Let's take a look at just a few of these features below.
Intuitive User Interface
Thrive Architect offers a simple and intuitive interface so that you can build custom pages in no time.
Some page builders claim to be front-end but only show you the front end of a page and then open a back-end editor in an overlay or sidebar. This is called a "lazy" front-end editor and can eat up valuable time loading and saving changes in the back-end editor, as shown below.
Thrive Architect, on the other hand, is a "true" front-end editor. That means elements can be added with a single click from a constantly visible menu. Check out the demo below to see how instant editing in the Thrive Architect interface is.
Landing Page Template Sets
Thrive Architect groups its 300+ landing page templates into sets. Each set includes pages that use the same design components so you can create a consistent look and feel across your site.
These pages even include sales copy. Once you customize the language to best speak to your audience, you'll be able to publish an entire lead generation funnel in minutes.
Responsive Design
Since mobile accounts for approximately half of web traffic worldwide, it's important that you build a responsive site on WordPress. Every template and element in Thrive Architect is responsive out of the box so you can provide a consistent website experience across all devices.
However, Thrive Architect comes with additional features designed to help you provide customized experiences to your mobile visitors. You can instantly preview your page on different screen sizes. You can hide an element or an entire content block on different screen sizes simply by toggling its visibility, as shown below.
Or you can tweak the position of elements on different screen sizes. This way, you have complete control over even the most complex layouts.
Thrive Architect is a powerful page building tool for WordPress users at every skill level. With this premium WordPress plugin, you can save time while designing custom pages that reflect your brand personality and generate more leads.