Call me a biased marketer, but blogs are fascinating website tools. They've been around since the early 1990s and continue to be effective at engaging and entertaining online audiences.
As a website owner or developer, you might already know this. In fact, you might have a blog that's been around for quite some time. And, if that's the case, you probably know how valuable your blog is for generating leads and word-of-mouth marketing for your business.
But, while some blogs may never change, the rest of the internet certainly has — and will likely continue to evolve over time. The website you created your blog on may not be the same one you're currently using today. You might have purchased a new subdomain, created a new website altogether, or upgraded to a new content management system like HubSpot or WordPress.
But, what do you do with all of your blog content once you move on to a new site?
You could manually transfer it over, one by one until they're all in one place. But that would take time and could create competing URLs on search engines, thus damaging your SEO.
You could also leave the content where it stands, and point visitors to your blog when they're looking for specific information or community discussions. This reduces the risk of any negative SEO effects but lessens the user experience. Readers are stuck searching for content on an outdated interface while your core website has a state-of-the-art design.
Another option is to install an autoblogging plugin. Autoblogs pull content from external sites and display them on your web pages. There's no manual transfer process and your blog's content is searchable from your primary site.
If you have a WordPress website, there are plenty of autoblogging plugins to choose from. Below, we listed a few of the best options available, as well as their pricing and the pros and cons of each. Pick the one that's best for your business and keep growing your blog at a steady pace.
Top Autoblogging Plugins for WordPress
WordPress RSS Feed Retriever
Blog2Social: Social Media Auto Post & Scheduler
Youtubematic
Copify
WP RSS Aggregator
Simple Link Directory
CyberSEO
WPeMatico
WP Robot
Feedzy
The WP RSS Retriever plugin uses shortcodes to import your blog's RSS feed. It creates a module on your desired webpage that contains thumbnail images for each post as well as a corresponding excerpt from each one.
What's nice about this plugin is that it lets you customize different aspects of your RSS feed. For instance, you can set the image size for thumbnails and you can make the excerpts as short or as long as you want them to be.
There's also no limit on how many RSS feeds you can import. So, you can pull content from a few different sources if you have multiple blogs connected to your website.
This plugin is geared towards users that have at least some experience with building websites on WordPress. Since it primarily works through shortcodes, it might not be as user-friendly to a novice WordPress developer.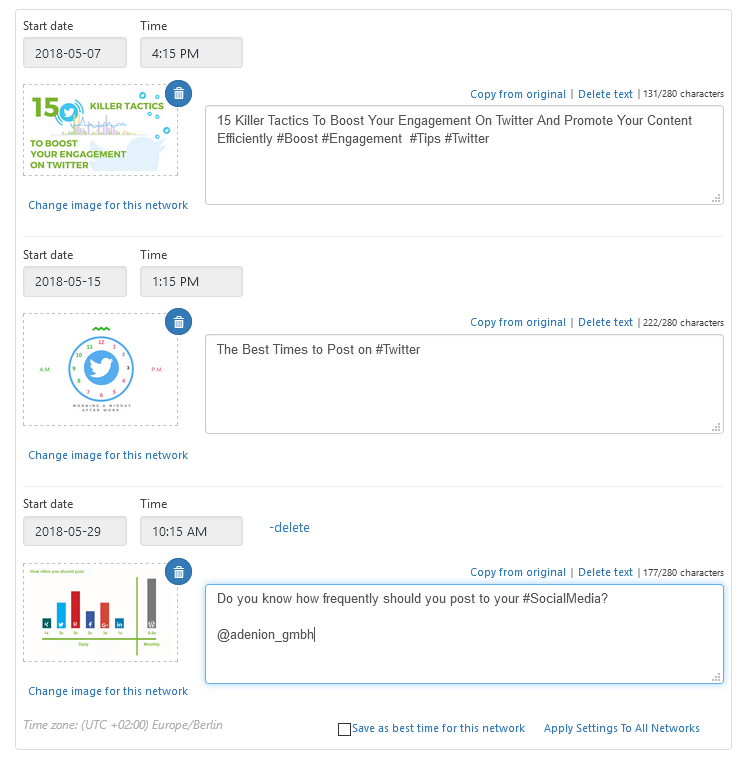 Sharing your latest blog posts on social media can be tedious, not to mention time-consuming, too. If you publish new content frequently, it can be difficult to keep up with social media promotion across multiple accounts.
That's why Blog2Social is a handy WordPress plugin. It shares blog posts automatically to your preferred social media accounts. You can post to Twitter, Facebook, Instagram, LinkedIn, Reddit, and more all at the same time.
There's also a premium version of this tool that schedules posts based on the times they'll be most effective. This optimizes your social reach by sharing your content at moments when your followers are most active and willing to engage with your account.
Unlike the last tool, the downside of this plugin is that you can't embed your blog on your website. This tool and its premium version are solely designed to share content on social media. While that doesn't make this plugin useless, however, you may need to install an additional autoblogging tool to work in tandem with this one.
Price: $39
Not all blogs are text-based. In fact, some of the most popular blogs are video blogs or vlogs. Take, for example, people who shoot videos of themselves cooking, or the multitude of makeup artists providing tutorials on YouTube.
Even if your blog isn't a vlog, video is still an excellent medium to use alongside your text-based content. It provides more diversity to your blog posts and gives the reader more to do on your page other than just reading.
Ready to add videos to your blog? The YouTubeomatic plugin allows you to embed Youtube, Vimeo, Twitch, DailyMotion, and other types of videos into your blog posts. Once you upload the link, your video is automatically uploaded to your YouTube channel. This helps you share your content outside of your blog without having to log back into YouTube to do so.
This is a useful plugin if you want to start a vlog or use videos in your blog posts. However, if you don't have any need for video, you might not have any use for this plugin. In which case, you might want to consider another option on this list.
Don't have time to blog regularly? No problem. Copify can produce new blog content for your website and publish it automatically.
How it works is you tell Copify how many posts you need them to write, and what subjects you would like these posts to cover. Copify will then find qualified writers to compose each post, optimize them for SEO, then deliver them to your team for publishing. And, with the Copify plugin, these posts can be published automatically to your blog.
Copify isn't for everyone, especially if you have the time to regularly write for and update your blog. However, if you don't have the time, but do have the budget, Copify is an excellent option for producing and sharing blog content automatically.
WP RSS Aggregator is a robust autoblogging plugin with a variety of useful features. For example, you can import, merge, and display RSS feeds anywhere on your site. This includes playable YouTube videos — similar to how the Youtubomatic plugin works.
What's nice about this plugin is that it uses a block element as well as a shortcode to add RSS feeds to your site. If you're a new WordPress user, or just aren't as familiar with shortcodes, it's great having a block module that you can simply drag and drop into your content.
The downside of this plugin is that a lot of the advanced features like templates and categories are only available with the premium version of this plugin. While the free version is still useful, there aren't as many ways to customize your RSS feed as you can with a paid subscription.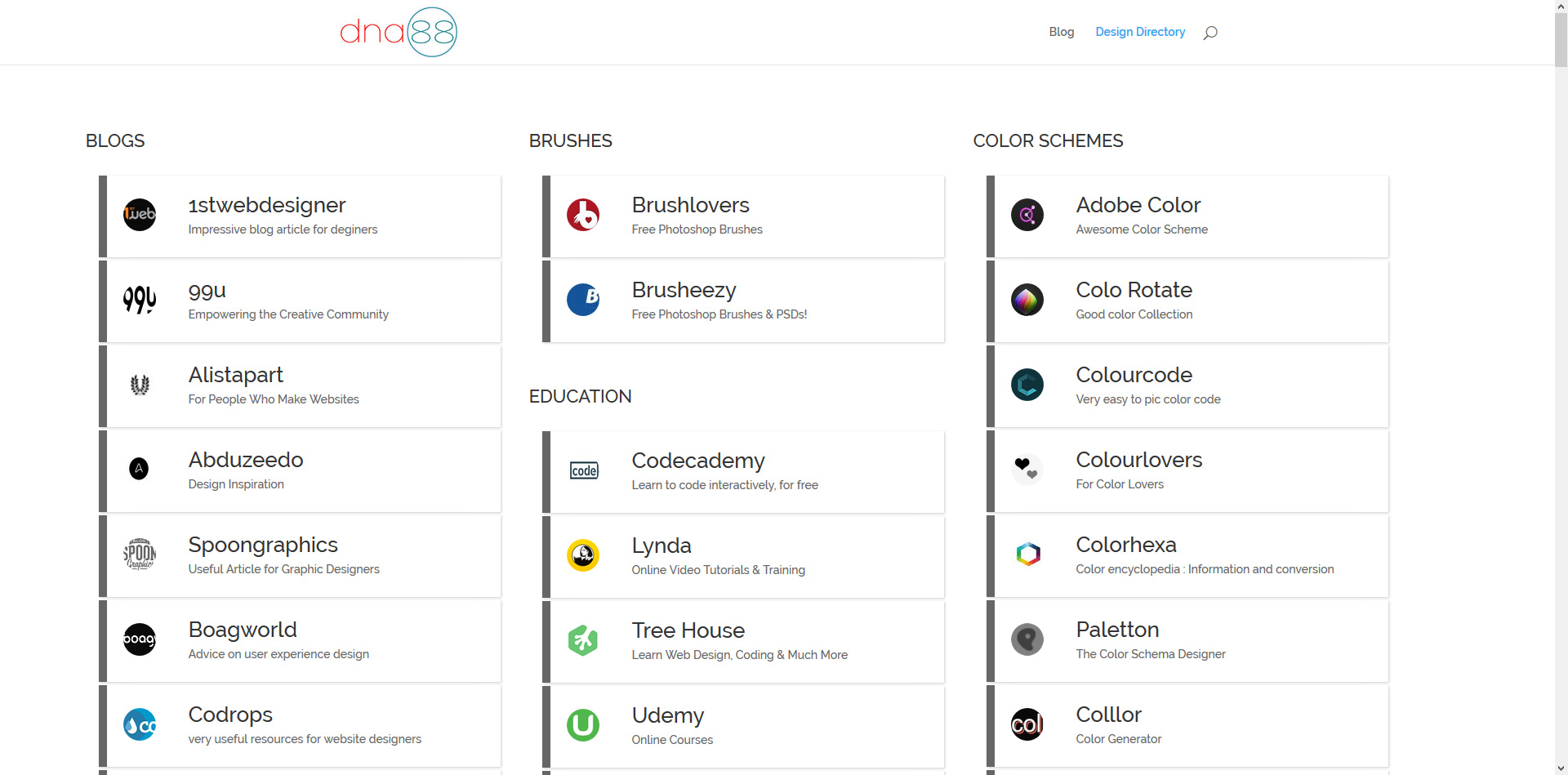 While not designed specifically for blogging, this WordPress directory plugin can still double as an autoblogging tool. It comes with 18 page templates, video gallery modules, and a fully responsive design.
Using the directory templates included with this plugin, you can link visitors to the various blogs and blog posts associated with your website or company. There are also features that allow visitors to submit their own posts through your directory site. You can even enable payment options so you can make money off of the submissions sent to your blog.
Additional features include three sidebar widgets — Latest Links, Most Populat Links, and Random Links — as well as a dozen shortcode parameters. There are also live, on-page filtering options that visitors can use to search for specific blog posts.
This plugin is great if you're writing consistently and are managing multiple blogs from one location. However, if you only dabble in blogging and aren't churning out content left and right, this might be too complex of a solution. Instead, you might want to consider a simpler alternative on this list.
CyberSEO seamlessly pulls blog content from external sources into your primary site. It extracts full-text articles from shortened RSS feeds then embeds them on your pages in a customizable format. And, blog posts are extracted automatically as you publish them, so you won't have to go back and redownload your RSS feed every time you create a new blog post.
CyberSEO is fully translatable, meaning no matter what language your blog posts are in, you can translate them to match the rest of your primary site.
There's also an option to "spin" content using third-party content spinners. These tools rewrite your blog posts automatically, making each variation appear different from the next. This can help you advertise to wider audiences who may be searching for different keywords relating to the same topic.
The limitation of this tool is that the free version doesn't come with many customization options. You'll need to pay for a premium plan if you want to do things like use the plugin's built-in post templates or take advantage of the third-party content spinner feature.
Price: Free
For a free plugin, WPeMatico is a powerful autoblogging tool. Not only does it pull in RSS feeds from external sites, but it lets you organize them into marketing campaigns. You can also add categories within each campaign, making it easier to keep track of related content that spans different marketing strategies and channels.
Even if you don't have your blog's RSS feed, you can still import content using the auto-discovery feature. This tool uses an API instead of a URL to locate and extract content from your site, which is ideal if you have multiple people managing the backend of your site and may not have access to your blog's RSS feed link.
The downside to this tool is that it doesn't appear to be as user-friendly as some of the other options on our list. Some users have reported bugs and compatibility issues, and support options seem a bit limited for this plugin. This may be ideal for a more experienced WordPress user, but a newer one may experience a sharper learning curve when using this tool.
Price: $89/year for Basic Plan, $119/year for Full Plan, $149/year for Pro Plan, $249/year for Developer Plan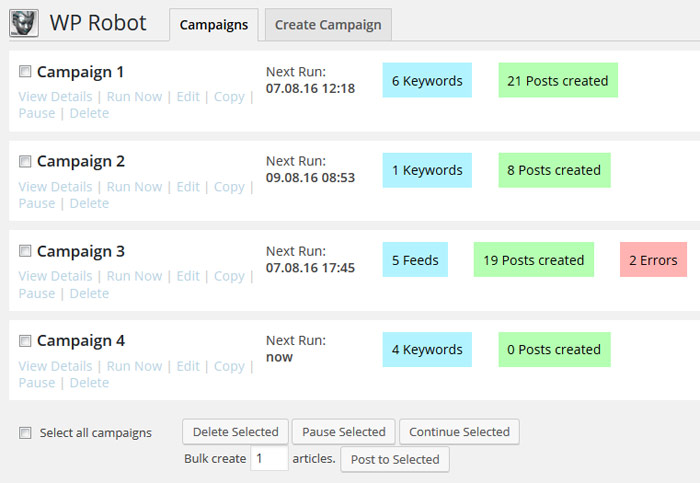 The robots are coming. No seriously, they are. The WP Robot plugin is a robot that can write blog posts for you.
How? The "Curation" page lets you build new articles using content from multiple sources in a building-block system. After you optimize the content and add your own input, you can publish it to your website. The plugin uses spinner tools to rewrite sourced content, ensuring that everything you publish is unique and credited properly.
WP Robots can source content from dozens of providers including Amazon, YouTube, eBay, Vimeo, Bing, Yelp, Indeed, and more. Each one lets you source different types of content for different purposes. For instance, if you sourced content from Amazon, you could display related product offers in your autoblog module.
For the price of $89/year, this might not be the best option for someone that's looking for a simple autoblogging plugin. Instead, this tool is geared towards someone who's interested in featuring a lot of content on their site, but doesn't have time to write it themselves.
Feedzy is a very simple and straightforward autoblogging plugin. It imports the RSS feed from your blog and displays content in a responsive module.
One cool feature that Feedzy offers is its "Feed to Post" tool. This tool lets you convert RSS feed items into WordPress posts and pages. That way, you don't have to direct visitors to an external site when they click on your content. Instead, they stay in the same interface as your primary site, creating a better user experience.
For customization, Feedzy lets you choose how many articles you want to show in your autoblog module. It also allows you to set a title character limit and control the meta fields that appear alongside each post.
As for limitations, there's not much to criticize with the free version. However, some users have reported that the premium version isn't as cost-effective as the free one. It feels like the free version has more useful features than what the premium plan unlocks.
Choosing an Autoblogging WordPress Plugin
Blogging is hard work. Not only do you have to create content and promote it, but you also have to do it on a recurring basis if you want to be successful. The more content you share, the better chance you have of being discovered by your target audience.
But, just because blogging takes a lot of time and effort, doesn't mean you can't recruit a helping hand. Pick one or a few of the plugins on our list, and get to work creating blog content that you can easily share with your followers and customers.
Editor's note: This post was originally published in Jan 2020 and has been updated for comprehensiveness.