If you've noticed some strange comments popping up on your blog lately, you're not alone. You might have seen comment after comment linking to random and even unrelated websites — and some of them look spammy.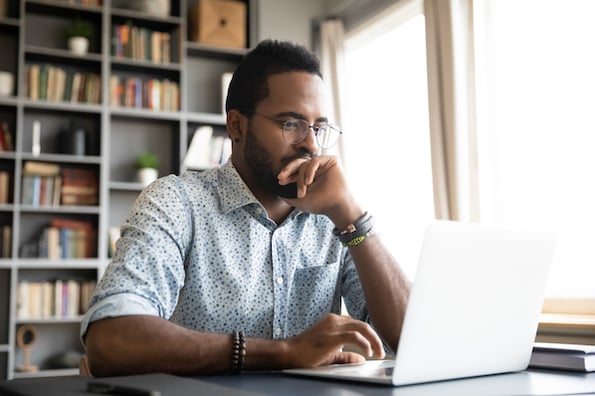 If you want to keep your audience safe and prevent your site from looking like spam — which could hurt your SEO — it's important to know what this problem is and how to solve it.
The issue? Trackback spam. But how can you put an end to it? Let's discuss what trackback spam is and review some options for monitoring it or simply disabling trackbacks altogether.
What is a trackback?
First, let's review what a trackback is. The WordPress definition of a trackback is, "a way to notify legacy blog systems that you've linked to them … Think of trackbacks as the equivalent of acknowledgements and references at the end of an academic paper or chapter in a text book."
Appearing as manual comments on the blog posts you've linked to, trackbacks alert other websites that you have linked to them.
In addition to broadening your audience, trackbacks are a great way to earn backlinks. This can boost SEO if the sites that you link to are reputable and use and allow for trackbacks.
What is a Trackback on WordPress?
On WordPress specifically, trackbacks are automated and called pingbacks. When you link to another WordPress website in your content, the website will automatically receive a comment that notifies them of your link.
You don't have to write the comment or do anything other than have pingbacks enabled. The WordPress blog you are linking to must also have pingbacks enabled to receive them.
How to Use Trackbacks in WordPress
When done correctly, trackbacks are a great way to communicate with other websites, reach wider audiences, and improve your ranking in the Search Engine Results Pages (SERP). If you want to start using trackbacks, follow the steps below.
Step 1: Enable trackbacks.
First, you'll need to enable trackbacks. In WordPress, you can do this from the Post Editor. Go to "Screen Options" at the top of the page, then check the box next to "Send Trackbacks". This will create a Send Trackbacks metabox within your Post Editor.
Once you've done this on one post, WordPress will save this setting for all posts, so you won't need to repeat this process unless you later decide to stop sending trackbacks.
Step 2: Track down the trackback link.
If you've linked to another site in your blog, head to the URL you've linked to or want to send trackbacks to. Simply copy the URL then head back to your Post Editor.
Step 3: Add the trackback URL to your post editor.
Head to the bottom of the Post Editor page in WordPress, and you'll find the Send Trackbacks metabox. Paste the trackback URL here, then save your article. This will send the trackback to the other website. From here, the other website can determine whether or not to display your trackback.
What is trackback spam?
If you have trackbacks enabled, other people can link to your blog on their own sites. While this sounds great, it also means their website, whether legitimate or spammy, is automatically linked in the comments of your blog.
Spam websites and site scrapers can spread the link to their spammy and potentially dangerous website via comments. This could also be an indication they've scraped or stolen the content from your website and posted it to an illegitimate website. Either way, the spammy comments can hurt your site's reputation among users and in search rankings.
Where does the spam come from?
Many instances of trackback spam are malicious and come from content scrapers, bots, or users operating websites that could compromise user data and security. Other times, the trackback spam isn't necessarily coming from those with ill intent.
If you have a successful blog, newer blog owners might take note and start sending trackbacks to your site in hopes of grabbing the attention of some of your audience. But, if they aren't linking to your content in any meaningful way, this can be annoying and frustrating.
You can either choose to monitor trackbacks for spam or disable the trackback system for your website entirely, depending on your website's needs.
How to Prevent Trackback Spam on WordPress
There are several ways to stop trackback spam on a WordPress website. You can choose to disable trackbacks entirely. If you don't rely on them for SEO boosts or reaching new audiences, you won't need them anyway. But if you want to keep trackbacks, you can explore plugins that detect and prevent spam and monitor comments across your site to keep spammers at bay.
Disabling Trackbacks
If you decide to remove trackbacks altogether, simply log in to your WordPress account and visit the dashboard. Go to 'Settings,' then 'Discussion.' Uncheck the box next to 'Allow link notifications from other blogs (pingbacks and trackbacks) on new articles' and save.
Now, this will only disable trackbacks for future posts, so let's go through the steps on disabling trackbacks for existing posts.
Go back to the dashboard and visit Posts > All Posts > Screen Options. Set Pagination to as high as it will go at 999; hit 'Apply,' then select all posts via checking the box next to 'Title.' Go to the 'Bulk Actions' drop-down menu and select 'Edit.' In this 'Bulk Edit' box, select 'Do Not Allow' for pingbacks, then hit 'Update.' If you have 1000 or more posts, you'll repeat these steps for each set of 999.
Pros and Cons of Disabling Trackbacks
The obvious pro to disabling trackbacks is that you can stop spam links from entering the comments on your site. Many sites actually no longer allow trackbacks for this reason.
One con is that you will no longer be notified when others link to your site, but as your site grows, you might find that to be a nuisance, anyway.
Plugins to Help Prevent Spam
Akismet
Antispam Bee
CleanTalk Spam Protection
Cerber Security
Stop Spammers
There are many SEO plugins on the market that will help stop trackback spam, including some all-in-one security plugins that handle trackback spam as well as overall site security. Here are a few great options for plugins that will prevent trackback spam.
1. Akismet
Akismet is one of the most popular anti-spam plugins available on WordPress and was developed by the same team that created WordPress.
Akismet uses cloud-based algorithms to detect and filter spam. Luckily, you can still review comments marked as spam, in case they are filtered incorrectly, although you'll find Akismet is fine-tuned to its job.
You'll also have access to a support team if needed, and you can upgrade your plan as your blog grows or if you expand to multiple websites.
2. Antispam Bee
If you are looking for a completely free plugin, Antispam Bee is a solid option. This plugin offers several features to allow you to choose when, from where, and how comments are posted on your site, from trusting commenters with Gravatar (avatars) to validating IP addresses.
Keep in mind that this app is simpler and free, so the support available is limited to forums and documentation.
3. Cleantalk Spam Protection
This anti-spam plugin by Cleantalk avoids using CAPTCHA, which can be annoying for some users, in favor of filtering and even banning spam comments. The plugin will also prevent spammers from infiltrating your comment forms, widgets, and newsletters.
Spam comments are filtered and moved to a separate folder for your review or banned automatically — your choice. The Cleantalk Spam Protection plugin is available for free for a trial period, then $8 a year.
4. Cerber Security
The Cerber Security plugin will stop spam across your website, from the comments section to the contact page.
The plugin uses an anti-spam engine, reCAPTCHA, and malware scanning to prevent trackback spam and keep your site secure from many different forms of spam. Spam comments are automatically detected and moved for review or deleted immediately.
5. Stop Spammers
If you want something that will work quickly and easily right after downloading, Stop Spammers might be right for you.
It works right away without adjusting settings, although there are plenty of options for customizing if you wish. You can block users and comments based on disposable emails, spam words, suspicious behavior, IP addresses, and more.
Commenters will need to pass the CAPTCHA screen to submit their comments, as well. The premium version unlocks firewall protection, Contact Form 7 protection, and more.
To Trackback Or Not To Trackback
At their best, trackbacks can help you communicate with other websites and blogs and earn backlinks. At their worst, they can lead to spam that hurts your website.
Spammy comments can put some of your audience off from commenting and engaging with your blog, and those with links that lead to malicious websites will hurt your rankings in Google.
Whether you disable or monitor trackbacks through WordPress plugins, it's important to keep tabs on trackbacks on your website.