Website hosting is a service that makes your website available on the internet and stores data from your site. A website host is a third-party provider of that service, making your website accessible so when a user types your domain name into a web browser, the host delivers your website and all of its content to that user. With managed website hosting, you as a site owner can lease a dedicated server — which will store site data and deliver it to site visitors — from the third-party hosting provider. The hosting provider will then handle the often challenging task of keeping the server secure and fast. So how does this all work for sites that run on WordPress?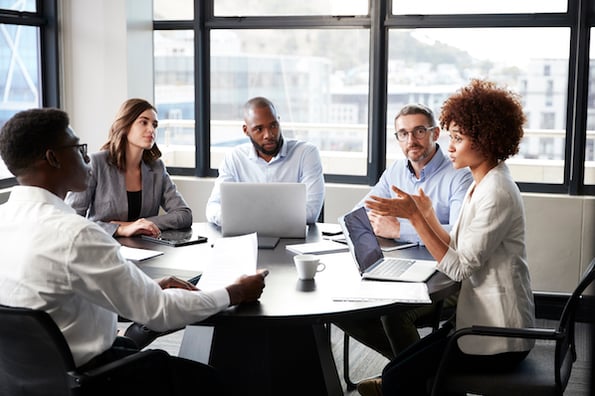 Managed WordPress hosting is a managed website hosting service specifically for websites made on WordPress. Managed WordPress hosting can make your life easier by handling website caching, security, offering plugins, and more to keep your site running smoothly. But is managed WordPress hosting right for you?
What is managed WordPress hosting?
Managed WordPress hosting maintains the security of your WordPress site by handling updates, site backups, malware detection, and caching. It is specifically optimized for this content management system and can better address issues and tailor performance needs specifically for WordPress websites. The result is a website that is quick, secure, and reliable.
If you are trying to decide whether or not to invest in managed WordPress hosting, it's important to weigh the pros and cons as well as find out some of the top providers. This guide will help you determine why you might need managed hosting and how to find the best hosting provider.
The Benefits of Managed WordPress Hosting
Compared to non-WordPress hosts, managed WordPress hosts will offer more features that are tailored specifically to your WordPress site. These features include:
Automatic updates for your WordPress site.
Site backups that will improve your site's security and speed.
Responsive support teams that are ready and able to assist you.
Early detection of security issues in plugins and automatic deactivation of plugins that could cause harm to your website.
When evaluating hosting options, check what kind of support each they have — is there a live chat line or phone number you can call for urgent needs? Do they offer self-help resources? Most importantly, make sure the host offers 24/7 security monitoring, regular site backups, and WordPress core updates.
There are many providers for WordPress hosting. But what makes these different from non-WordPress providers, and which is the right one for your website? Let's take a look at some of our favorite WordPress Hosts below.
Best Managed WordPress Hosting
Best for: Scaling businesses.
Why we recommend Bluehost: One of the first web hosting companies, Bluehost is still the number one choice of many website owners. It has a team of WordPress experts to provide 24/7 assistance for its managed WordPress hosting services.
Bluehost hosts your site without sharing your IP address. You can upgrade your plan at any time, and you can easily add more RAM, SAN, or CPU to improve the user experience during heavy site traffic times. Here are some more features we like about Bluehost:
Spam Protection: The comment section on your website is safe from bots and unwanted traffic with Bluehost's spam protection feature.
PayPal Integration: Bluehost goes beyond managed WordPress hosting to a full website solution that allows you to process payments in more than 60 countries.
Unlimited Website Sales: When you upgrade your hosting plan, you can sell as much as you want — the sky's the limit for your revenue goals.
Pro Tip for Bluehost: There are rather affordable rates, especially for managed WordPress hosting, and Bluehost will automatically update WordPress when core updates are available.
Best for: Agencies and enterprise businesses.
Why we recommend WPEngine: WP Engine has a thriving community of experienced users who love the security and loading speeds that this host offers. It also offers easy restoration and a one-click backup process. It regularly scans sites for hacking attempts, and if your site does happen to get hacked, WP Engine will fix the issue for free. Take a look at some of our favorite WPEngine features:
Award-Winning 24/7/365 Support: With more than 100 representatives, it's easy to get in touch with someone when you need assistance.
Advanced Caching and CDN: WP Engine's increased speeds are attributed to its advanced caching system and CDN, or content delivery network, which operates as a geographically distributed network of servers that can quickly deliver content such as images, videos, and javascript files to a user based on that person's location.
Website Caching: See faster website load speeds thanks to WPEngine's built-in caching system.
Pro Tip for WPEngine: Not every WordPress website is slow which means you can spend more time optimizing other areas of your website. WPEngine provides a free Speed Test Tool that gives you a brief report of how your site is performing so you can make the best decision to speed things up.
Best for: Budget-conscious WordPress admins.
Why we recommend SiteGround: SiteGround covers all the WordPress bases, and in addition to that, Cloudways also offers managed WordPress hosting and WooCommerce hosting if you're running an ecommerce site. It's best suited for small- to medium-sized businesses and newer websites, but it does offer cloud hosting for scalability. Here are some of our favorite SiteGround features:
Website Transfer: Choose from a DIY plugin or a SiteGround WordPress expert to get your site migrated to SiteGround's managed WordPress hosting service.
Start With 10GB of Web Space: In the StartUp plan, SiteGround gives your website 10 GB of web space so you don't have to worry about your visitors seeing a sluggish site.
Add Collaborators: Whether they're clients or team members, you can collaborate with other stakeholders so that the responsibility of the website isn't stuck in a silo.
Free Email: Professional-looking emails use your domain name and SiteGround offers this option for free when you purchase the StartUp plan.
Pro Tip for SiteGround: SiteGround is one of the more cost-effective options for managed WordPress hosting, so compare these features against other tools in this list to see which has the most bang for your buck: free domain, email services, automatic upgrades, CDN, and inbuilt caching
Best for: Agencies and enterprise businesses.
Why we recommend Nexcess: Reliability, speed, and performance are nonnegotiables when you're managing more than one website. Whether you're serving multiple clients or you manage several brands each with its own web presence, Nexcess has all the features you're looking for in managed WordPress hosting. Some of our favorite Nexcess features include:
Full Server Access: You'll have access to both the databases and the servers of your sites – something not all hosts provide.
24-hour Support: Because WordPress mishaps rarely happen on a 9 - 5 schedule, the Nexcess team is ready to help by phone, email, and chat.
Automatic Daily backups: You'll have revisions of your sites stored for up to 30 days. Download them anytime you need them with the click of a button.
Pro Tip for Nexcess: Use the Staging Site feature to create a fool-proof workflow. By using this included feature, you'll have an opportunity to double-check that your page looks the way you want it to and functions properly before publishing it to your live site. That means fewer accidents that your managed WordPress host will need to help you fix.
Best for: Agencies and freelancers.
Why we recommend WPMU Dev: WPMU Dev is a WordPress developer platform offering many services, including managed WordPress hosting. Within this managed hosting service, WPMU Dev can increase your site's speeds thanks to its CDN and page caching. You'll also get regular updates and security monitoring, plus nightly site backups. If you have any issues, support is available 24/7. Additional features we like about WPMU include:
White Label Client Portal: Managing several client websites is easier when your clients have their own web portal. WPMU Dev makes this simple with a white label client portal that can be customized to fit their brand and their website needs.
Site-Management Tools: See a dashboard filled with relevant information like site crawler details, analytics, security, and performance.
Library of WP Plugins: Take your pick of more than 2 million WP plugins to maximize your WPMU Dev managed WordPress hosting services.
Pro Tip for WPMU Dev: Try the image optimizer to help your site run faster without needing to install additional plugins on your site.
Best for: Freelancers, agencies, and other WordPress professionals.
Why we recommend RAIDBOXES: The RAIDBOXES Dashboard offers multiple features tailored to WordPress, allowing you to automate many processes and make the development and management of your projects simpler. Some of our favorite RAIDBOXES features include:
Website Migration Assistance: If you've not moved your website between hosts before, RAIDBOXES will help you make the transition seamless.
1-click SSL: SSL certificates are free and simple to install with RAIDBOXES.
Login With WordPress Single Sign-On: Not only is SSO secure, but it's also one of the fastest ways to log in to your RAIDBOXES account.
Pro Tip for RAIDBOXES: RAIDBOXES is an attractive option for customer projects that work with WordPress while also wanting to operate sustainably — they are a "climate-positive" company and plant a tree for every WordPress website that uses its services.
Best for: Any website type.
Why we recommend Pagely: Pagely is a pioneer of managed WordPress hosting, with excellent features for any type or size website. Pagely offers 24/7 chat or ticket support, plus limited availability on Slack or by phone. Our favorite Pagely features include:
Managed WordPress Upgrades: You can focus on building and updating your site with new content while Pagely keeps an eye on the latest upgrades available in WordPress.
PRESSCDN: Pagely comes with a global CDN to help your site perform at top speed.
PRESSARMOR: Pagely's built-in advanced network security gives you peace of mind that your WordPress site will be protected against attacks.
Pro Tip for Pagely: Combine the power of Pagely's with some of your favorite platforms like New Relic, Gitlab CI, Docker, and Elasticsearch with supported platform integrations.
Best for: High-traffic and content-heavy websites.
Why we recommend DreamHost: DreamHost provides its WordPress sites with a dedicated server that isn't shared with anyone else. This means your site has a 100% network uptime guarantee and it'll deliver your website content quickly every time a visitor lands on it. Some of our favorite DreamHost features include:
DDoS Protection: Don't worry about malicious attempts to interrupt traffic. As your managed WordPress Host, DreamHost protects against this.
Uncapped Bandwidth: Website launch day bring in more traffic than you anticipated? Your site won't crash thanks to uncapped bandwidth.
PHP7/Perl/Python/Ruby: Rest assured DreamHost supports your favorite programming languages.
Pro Tip for Nexcess by DreamHost: If you're using DreamHost for more than one website, try the reseller and sub-account features to keep all your projects organized.
Choose Your WordPress Hosting Provider
Managed WordPress hosting is a valuable investment for your website because it will keep your website fast and secure. With managed WordPress hosting, you can focus on creating a great site while delegating its technical maintenance to the WordPress experts.