A simple WordPress security scan could protect over 43% of websites on the internet. But many WordPress users don't understand proper security or they don't take it seriously.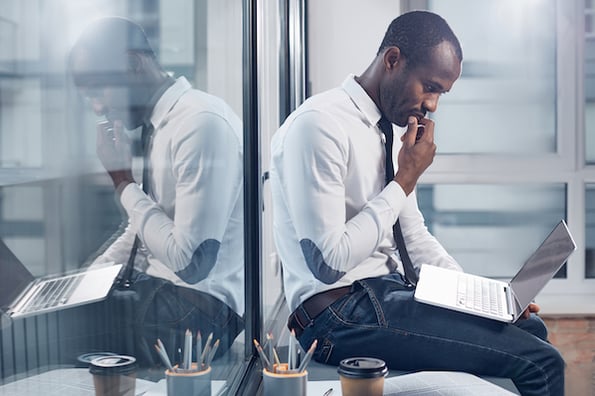 This makes WordPress a popular spot for cyber criminals looking for websites to hack. But you can prove them wrong.
One of the first steps to strengthen security on your WordPress site is to use a security scanner. This article will go over what a security scan is, the best WordPress security scanners, and how to do a security scan on your website.
So keep reading, or jump to the section you're looking for:
What is a WordPress security scan?
A WordPress security scan reviews the files that run your website and detects suspicious or harmful code placed by attackers. Some scanners also flag potential security vulnerabilities like weak passwords or outdated files and provide users with recommendations to fix them.
A thorough security scan will check your WordPress core (the files WordPress itself uses to run), your current theme, and all installed plugins for dangerous code and security vulnerabilities. These comprehensive scans are safest since you never know what part of your website could be compromised.
Why You Should Scan Your WordPress Site
Cybersecurity should be a top priority for any website. This is because a successful attack could mean disaster for your business's growth and reputation due to leaked client data, costly repairs, and lost revenue. According to a 2022 FBI press release, compromised companies lost over $43 B between June 2016 and December 2021.
It doesn't help that the security battlefield changes so often. Programmers are constantly creating new technologies that can both harm and protect website owners.
Even after taking the proper measures to block out attacks, it's impossible to eliminate the chance of a successful hack on any website, including those built with WordPress. Even worse, an attack gone undetected will continue to cause damage long after the initial breach. Without security scanning, you leave your visitors and customers susceptible to attacks like hotlinking, phishing, and SEO spam from undetected intrusions.
You could review your website files for harmful code yourself, but this requires time and expertise that you may not have. It also carries the risk of accidentally damaging your files in the process. To clean up your WordPress site and keep it that way, leave it to a proper security scan.
Types of WordPress Security Scanners
A WordPress security scan isn't just to protect your site from malware and spam. It doesn't matter whether you're building your first WordPress site or updating a site that's been growing for years. There are many ways you might need to protect your site.
For example, say a member of your team added a new plugin. If they don't know what to look for in terms of security risks, your site could be vulnerable.
And as helpful as a malware scan is, this type of security scan won't catch every issue. So, as you're searching for a tool to solve your security problem, let's talk about the different types of WordPress security scanners.
Find Security Vulnerabilities
Businesses create WordPress websites with collections of plugins, widgets, and other tools. This is part of why WordPress is so popular because these tools make it easy to customize a website.
But they also create security vulnerabilities. This is because each plugin and theme you add to your site can impact everything else. There are useful databases and tools with lists of vulnerable, infected, or outdated add-ons. But this information changes fast, so the best way to secure your site is to add a tool that scans for these issues.
The list below includes some of the most common areas of vulnerability.
WordPress Core Security
WordPress core software controls user accounts and authentication. It also manages details like:
User IDs
Names
Passwords
Content uploads
According to the 2021 iThemes Vulnerability report, only .05% of vulnerabilities are in the core.
But this is valuable information that you need to protect. Without strong core security, your site is open to brute force attacks, cross-scripting injections, and more.
You can cover most of these issues with regular WordPress updates. But 2022 W3Techs usage statistics say that only 50.1% of websites are using the latest version of WordPress.
WordPress Theme Security
Themes are another potential weak point. Only 2.4% of security issues come from themes, but they still need regular updates.
You could open your site up to attacks if your theme is:
Out of date
Incompatible with the version of WordPress you're using
From an unknown source
Besides security scans, it's important to research any theme to make sure it's safe and trusted.
WordPress Plugins Security
Many WordPress plugins are safe. But 97.1% of security vulnerabilities in the iThemes vulnerability report came from plugins.
Plugins are one of the most attractive and useful parts of using WordPress. But with each plugin you add to your site, you open it up to risks like:
Viruses and malware
Brute attacks
Unexpected site behavior
Data loss
Before adding a plugin to your site, take time to research it. There are so many plugins to choose from. That makes it easy to focus on whether a plugin can solve a problem for your site or your users and forget about security.
But for each plugin, it's important to follow these steps for security reasons:
Review third-party plugin providers' websites
Read plugin comments
Look for blogs about plugins from unknown providers
Check insights from the WordPress community
Use the WPScan Vulnerability Database
Then, make sure that you perform regular updates and vulnerability scans.
Detect Malware
It doesn't take a lot of technical experience to build a WordPress website. But without a security scanner, you might not know that your site is being attacked.
You might notice a jump in traffic on a page or section of your site or a big increase in login attempts. But many malware infections are more subtle. They may show up on the server side or other places you may not be looking regularly.
Malware is software that's dangerous for your website and your business. A tool that can scan for and locate malicious software is essential.
Block Malware, Viruses, and Suspicious IPs
Once you've found malware on your WordPress site, you'll usually want to back up your data and delete the malware files. But waiting until an attack happens can lead to negative impacts on your business and customers.
It's a good idea to choose a security scanner that can remove or block attacks. As you research, keep in mind that there are many different types of firewalls.
While a firewall can help you protect your site, it can also impact your user experience. For example, the use of CAPTCHAs can sometimes create user frustration and accessibility issues.
Also, a firewall may not help with every potential threat to your site. It's important to work with your team to take every step you can to protect your unique website and business.
How to Scan Your WordPress Site for Malware
1. Choose a WordPress security scan tool.
As is with many functions in WordPress, you need a tool designed for WordPress security to conduct scans. But not just any plugin will do — choose a tool that's reputable and properly maintained since new security vulnerabilities are always popping up and require competent developers to address them.
2. Run security scans regularly.
Even with the right plugin, security scans are not one-and-done. According to cybersecurity company Kaspersky, you should run a full scan of your website for problems at least once a week. The frequency of scans should increase based on the popularity and visibility of your website, as well as what content you store online.
3. Run scans after updates.
It's also a good idea to conduct a scan after an update to WordPress core, your theme, or any of your plugins. This is because each update may bring new security risks. The sooner you catch these vulnerabilities, the safer your site will be.
4. Look for new features and tools that can improve your website security.
Just about all reputable security plugins offer more than simple scanning. Some can help you do things like limit access to your WordPress dashboard while others can track user activity in your WordPress account. When browsing security plugins, keep in mind your WordPress security requirements beyond simple scans.
With all this in mind, here are 10 security tools for WordPress we recommend for security scanning and more.
Best WordPress Security Scanners
Defender
Wordfence
iThemes Security
BulletProof Security
Jetpack
All In One WP Security & Firewall
Intruder
Titan
Sucuri
Security Ninja
Best for: All-in-one security
Download here.
Type of security scanner: Malware blocking and detection, plus security vulnerabilities
Defender is an all-in-one security plugin for WordPress, offering both free and paid versions. Among its many security features, the free version offers WordPress core malware scans to detect malicious code and quickly restore damaged files. Other useful features:
Tools for two-factor authentication (2FA) from Google
Login protection to combat password-guessing bots
Login screen masking
IP blocklist manager
Pro Tip: To get the most from Defender, we recommend upgrading to Defender Pro. With it, you'll receive security update reminders, firewall protection (for filtering traffic from outside networks), advanced reporting, and audit logging. Defender Pro also scans your plugins and themes in addition to WordPress core.
Pricing: Defender offers a free version and a paid version for $7.50 per month. Alternatively, you can sign up for a WPMU DEV membership which grants access to all other premium WordPress plugins offered by WPMU Dev.
Best for: Malware blocking and detection
Download here.
Type of security scanner: Malware blocking and detection, plus security vulnerabilities
Wordfence is a widely used plugin for comprehensive protection of your WordPress website — many WordPress site owners consider it the best of its kind.
The free version of Wordfence offers an integrated malware scanner that checks WordPress core, themes, and plugins for security vulnerabilities and eliminates harmful code, spam, and injections. While the free benefits are enough for many, note that malware detection updates are delayed by 30 days, meaning you won't get real-time alerts of potential security issues.
Other useful features:
Brute force login protection measures
Website monitoring tools
Powerful firewall
The premium version of Wordfence enables live malware detection updates and an IP blocklist. It also gives you the ability to check whether your website or IP has been blocklisted, and for what reason.
Pro Tip: If you manage multiple websites built with WordPress, Wordfence also offers the free "Wordfence Central" feature, which allows users to oversee security for all websites using the Wordfence plugin.
Pricing: Wordfence offers a free version and a paid version with additional features starting at $99 per month.
Best for: Security vulnerabilities for specific industries, including ecommerce
Download here.
Type of security scanner: Security vulnerabilities, also has tools for malware detection
iThemes Security is another highly reputable option for WordPress users seeking better security. The free version of the plugin is capable of fundamental security measures including basic security scans.
However, the paid version is where iThemes Security shines, with more advanced malware scans (including scheduled scans and a dashboard widget that lets you scan instantly.)
Other useful features:
Content backup
Login protection against brute-force attacks
Spam prevention
2FA
Tools for closely monitoring user accounts
Password strength checking and expiration
Google reCAPTCHA integration for login and website forms
Pro tip: Try one of six different templates for more custom security. Choose from ecommerce, network, non-profit, blog, portfolio, and brochure templates.
Pricing: iThemes security offers a free version and annual subscriptions ranging from $80 to $499 per year.
Best for: Malware scanner and firewall
Download here.
Type of security scanner: Malware blocking and detection, plus front and backend security
For a more hands-on plugin solution, try Bulletproof Security. The free version alone offers an abundance of features including malware scanning, login protection, and monitoring. If that's not enough, the pro version essentially doubles the number of available features.
Other useful features:
One-click setup
Real-time file monitoring
Maintenance mode
Update reminders
Error logging
Tools to modify specific files to your liking
Pro Tip: BulletProof Security is for experienced WordPress admins who are comfortable toggling the most minute aspects of their website, so it's not recommended for beginners. If you want a plugin that does most of the work for you, we recommend looking elsewhere.
But, if you want tighter control and aren't afraid of a slightly steeper learning curve, give BulletProof a shot (pun intended).
Pricing: BulletProof Security offers a free version and a paid version for a one-time payment of $69.95.
Best for: All-in-one tool that includes professional security features
Download here.
Type of security scanner: Malware blocking and detection
Jetpack has become a staple of the WordPress ecosystem, so much so that many hosts will automatically install Jetpack on new WordPress websites. This is all for good reason: Jetpack is a suite of tools that handle most of your WordPress needs in one place, including marketing, speed, design, and, relevant here, security.
Jetpack is developed by Automattic, the team behind the WordPress CMS, so they understand WordPress's inner workings and how to harden them.
Other useful features:
Automated backups
Spam protection
Automated malware scanner
2FA
Downtime monitoring
Pro tip: To get the full extent of Jetpack security, you can subscribe to the Daily plan ($11.97 per month) or the Real-time plan ($33.57 per month). The difference between these plans is the frequency of backups and scans, with Real-time allowing multiple per day.
Pricing: Jetpack offers a free version and paid versions starting at $10.95 per month. You can also subscribe to the full Jetpack suite for $39.95 per month, which gets you all features from the Complete plan.
Best for: All-in-one security
Download here.
Type of security scanner: Malware blocking and detection, plus security vulnerabilities
For a powerful free option, try All In One WP Security & Firewall. This plugin emphasizes its user-friendliness and wide range of free offerings, including malware scanning, a firewall with adjustable filter levels, and many other features to toggle smaller security details in your website, all tied together with a highly visual interface.
Other useful features:
Login protection
Close user monitoring
Automatic and manual database backups
Easy to use
Google reCAPTCHA integration
Pro Tip: If you're looking for a wider selection of premium features, you'll need to spring for a paid tool. But, for a free plugin, All In One WP Security & Firewall is quite versatile.
Pricing: All In One WP Security & Firewall is free.
Best for: Security vulnerabilities
Sign up for a trial here.
Type of security scanner: Vulnerability scanner
This vulnerability scanner checks plugins, site changes, and more for potential threats to your site security. It searches for infrastructure and security weaknesses and also offers penetration testing.
Other useful features:
Continuous security scans
Integrations with popular tools like Slack and Jira
Security certificate notifications
Clear advice to address security issues
Pro tip: If security is a primary concern for your site, the Vanguard add-on offers access to security engineers who can actively help your team address more complex security concerns for your business.
Pricing: Intruder is available with an essential version for $113 per license. It also offers a pro version for $181 per license.
Best for: Anti-spam features
Download here.
Type of security scanner: Malware detection and blocking, plus security vulnerabilities
The Titan Anti-spam & Security plugin started as a spam-blocker but has since expanded into a comprehensive freemium security plugin and malware scanner. The free version of the Titan plugin includes basic functionality like simple scans.t will compare your core, theme, and plugin files to those in the WordPress repository and allows you to delete unnecessary files from your admin dashboard.
Titan will also scan messages and comments on your website for harmful and suspicious URLs and code.
Other useful features:
Scan scheduling
Real-time IP block list
Pro tip: Like other recommendations here, your scans won't be as powerful as they could be if you're using the free version of this plugin. After upgrading to a paid plan, you'll have access to a more thorough malware scanner (with 6,000+ signatures, as opposed to 1,000+ in the free version) that can be scheduled and automated.
Another unique bonus of Titan's scanner is the option to scan at three different speeds — a slower scan is less likely to temporarily affect the performance of your live site.
Pricing: Titan is available as a free plugin, or as a paid plugin. Titan subscriptions start at $55 per year for one website.
Best for: Basic security scans
Download here.
Type of security scanner: Malware and vulnerability detection
Sucuri is known for its standout cybersecurity products and services, including its free WordPress security plugin. Besides free resources like email alerts, WordPress core integrity checks, and guides for a post-hacking scenario, Sucuri's plugin includes a scanner that detects malware, errors, outdated code, and blocklisting status.
Other useful features:
Blocklist monitoring
File integrity monitoring
Pro tip: Securi's scanner is remote, meaning it can only find vulnerabilities in your WordPress website pages. It cannot check the core files that control your site's backend, so it won't scan as thoroughly as other options on this list. You can also use the same scanner tool on this page without having to install the plugin.
Pricing: The Sucuri WordPress plugin is free, and integrates with Sucuri's paid security features.
Best for: Overall website security
Download here.
Type of security scanner: Malware detection and blocking, as well as vulnerability scanning
Security Ninja is an excellent option for WordPress users who want a security plugin focused on extensive checks and detailed reviewing. Besides having the best name on this list, Security Ninja runs over 50 different security checks on the safety of your login procedures, plugins, and more. After a scan, it presents the results in detail, making it easy to run down the list and pinpoint vulnerabilities.
Other useful features:
Core scanner
Country and suspicious request blocking
Auto fixer features for some security tests
Scheduled scanning
Pro tip: Security Ninja is unique among the premium plugins listed here for offering both a subscription service and a one-time purchase of the product. If you think you'd prefer the plugin's highly visual means of reporting, sample the free version and decide if you're up for paying the lifetime, one-time charge.
Pricing: Security Ninja offers a free version and a paid version with monthly and annual subscription options. A paid subscription starts at $39.99 per month.
Check these lists for more security plugins that can help secure your WordPress site and find malicious code. You might also want to check out this resource if you're looking for more ways to keep your WordPress site safe.
Protect Your Website With a Malware Scan
There are many options for hardening your WordPress site, and some will work better for your needs than others. Take the time to research and weigh your options before settling on one WordPress security scan tool. Of course, switching out one for another is okay, too.
If you use any of the tools I've listed here, be sure to update them when needed and run scans regularly. By staying on top of your scanning, you'll keep a clean website and a clear head.
Editor's note: This post was originally published in May 2020 and has been updated for comprehensiveness.