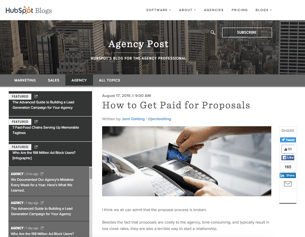 Join our community of more than 30,000 agency and media professionals, and subscribe to Agency Post to receive great content delivered right to your inbox.

Agency Post articles cover the advertising and marketing community. You'll also get in-depth articles from top industry professionals.

When you subscribe, you'll get articles such as:
15 Types of Clients and How to Handle Them Properly
4 Agencies Creating Case Studies That Seduce Prospects
How Agencies Are Investing in Innovation
What Brands Can Learn About Marketing to Millennial Males From Late-Night TV
Complete the Form to Subscribe by Email Today
Or subscribe via RSS.