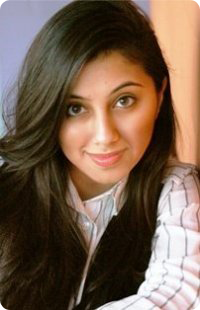 Shama Kabani joins us for another exciting episode of Inbound Now, HubSpot's social media and inbound marketing podcast !
Shama is the author of The Zen of Social Media Marketing . She was on the Top 25 Under 25 Entrepreneurs in America list by Businessweek, and she's been named an Online Marketing Shaman by Fast Company. Shama runs her own web TV show over at Shama.TV .
In this episode, we chat about:
Why Google+ will matter to marketers
Using Google+ for market research
How much time you should spend on Google+
The Google +1 Button and its future impact on SEO
Why Google+ Matters
"Because Google is the king of search engines and rules a lot of traffic online, Google+ is going to play a big part in that."
Google+ is very different than other social networks because it was built by the king of search engines, Google. You want to be an early adopter of Google+ because it will play a roll in social interaction going forward.
If you do nothing else with Google+ right now, go in and set up your profile . People with profiles are coming up in Google searches. You should also maximize the description you can add beneath your name.
Using Google+ for Market Research
"Just in general, right now the engagement level is a lot higher on Google+."
Right now is a great time to ask questions on Google+ because the most active users are there. Over time, Google+ will get diluted with people (like Twitter and Facebook), and the engagement will be lower.
The Hangouts feature on Google+ is a good tool to use too. It's a way to video chat with small groups of people informally. You can certainly do research and educational things using it.
How Much Time Should I Spend on Google+?
"You don't have to spend a lot of time on Google+, is what I find."
With any new social media tool, it's important not to abandon ship too early. Consistency is important. You have to do it for a while. Put the time into Google+, but don't get rid of your fan pages or leave your Twitter account .
If you have a personal brand, or if you're the social media spokesperson for your company, you should get involved and set up your profile. Use the right links to link to your website. The most important thing right now is just setting it up correctly, even if you're not devoting a lot of time to it right now.
If you have the time and resources and it fits into your strategy, you should be on multiple social media sites growing your network.
If you don't have the resources to constantly maintain everything, start with Facebook , and build a good community there. But also be sure to get your profiles on the other sites to protect your brand.
Should You Wait to Sign Up for Google+?
"From a cost benefit analysis, and a very rough cost benefit analysis, it will take you like 20 minutes or less to set up a profile. Do it."
It won't take you much time. It's free to do. The difficult thing won't be getting followers now. It will be maintaining followers as we move forward. (Currently, you cannot create a business profile on Google+, but according to a Google spokesperson, this feature will be available in a few months .)
The Reasoning Behind Circles in Google+
"You can essentially create multiple mini-social networks within Google+ and then share things with them specifically. You can characterize what you want to share with each group and maintain those relationships differently. Facebook also allows you to do this with lists. I just think Google+ is a lot more intuitive to do this."
Google's thought process behind this is that people live their lives in layers. We have a layer of professional friends. We have a layer of close friends. We have a bunch of different layers. Google+ lets you create different circles and share things with specific people based on your relationship and by dragging and dropping them into a circle.
Also, people don't know exactly which circle you add them to. They're just notified that you added them to a circle in general.
The Google +1 Button
"Google's gotten a lot of flack over time in terms of the quality of its search results. They're a smart company. They know this. So the only way to really fix this is to make search smarter. And you make it smarter by making it relevant, and you make it relevant by letting people 'plus one' it."
Google has added the Google +1 Button . By putting it on your site, it allows visitors to "plus one" it, thereby recommending it as a good article, page, etc. This is going to make search more social and play a part in how Google ranks websites.
Connect With Shama Online
You can follow Shama on Twitter @Shama , on Facebook on her page , and on Google+ by searching for Shama Kabani . Don't forget to check out her web TV show and The Marketing Zen Group . Also, grab a copy of her book, The Zen of Social Media Marketing .
Would you like to see a particular marketing mastermind on the show?
Inbound Now is currently in booking mode for upcoming episodes! Is there a certain topic you would like covered or an expert you would like to see come on?
Contact me on Twitter @DavidWells or drop me a line on our contact page .