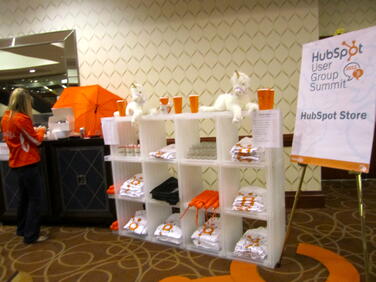 The main attraction of any live event is (or should be) the content. At HubSpot's upcoming INBOUND event, for example, we have 60 breakout sessions and 6 keynote sessions designed to attract thousands of attendees.
But sometimes, it's the little things that make an event go the extra mile. The special surprises the coordinators throw in. The prizes companies hand out. The contests that take place. You know, the free swag! Really cool event swag can make an event truly go that extra mile -- but truly lame swag can make your attendees grumble and look for the nearest trash can.
So to help all the conference coordinators out there, we've collected examples of the best and worst swag we've come across at conferences to help inspire you to make an awesome swag bag, and leave behind all the lame trinkets that ultimately end up in the dumpster.
Good Swag: Mobile Chargers
Everyone is on their phone at conferences. Whether they're tweeting, checking their email, or trying to meet up with other attendees, their phone is most likely going to be at 50% battery life by lunch time. Giving out mobile chargers as event swag is the best way to fix that problem, and make every attendee love you and learn your name. Not only will attendees be pleasantly surprised when they see such practical and thoughtful swag, but they will be able to engage even more throughout the conference via their mobile devices -- something every conference coordinator wants. Furthermore, a mobile charger is something that will be used way after the conference is over. And what does that mean? That means your logo will be visible long after your conference ends!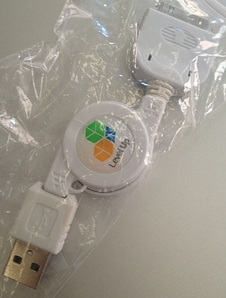 Bad Swag: Keychains
It used to be cool to get a keychain in your swag bag. But then ... well, everyone started to give out keychains. Pretty soon after that, it became widely accepted among event coordinators as one of the least effective ways to get attendees to remember your brand.
Some companies have adapted the keychain so that is has other functions, such as doubling as a bottle opener or whistle. Alright, I guess that's a little better; but ultimately attendees don't want a keychain with your company's logo on it. If they like that adapted version of your swag, it's because they need a bottle opener or a whistle (although I can't imagine such a dire need for whistles sweeping our nation). Furthermore, if you are giving out keychains, so are the other conferences and vendors. Not a great way to stand out.
Good Swag: Seasonal Items
Everyone likes unique gifts in their event swag bags. What makes an item unique? Well, one way to stand out is using seasonal items. Most companies don't give out seasonal items because they're looking for gifts that can be used year round. But that fact alone makes these items even more special!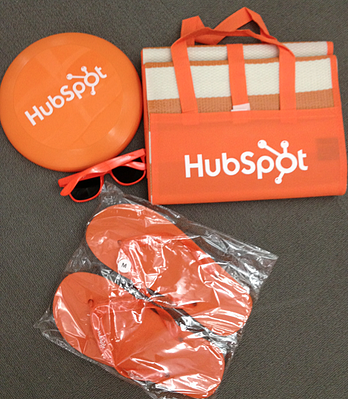 If you're hosting a summer conference or an event in a beach location, for example, giving out items like beach towels, flip flops, and frisbees goes a long way, because they cater to activities attendees can partake in during the event. Think another step ahead, and consider when and where your items will be used, too. Beach items and outdoor sports paraphernalia will be used in public places where other people may ask, "Where did you get that?" or "What company is that?" That way, your company's exposure will go far beyond the conference's attendees!
Bad Swag: Pens
Sure you can always use a pen, but I mean ... come on. A pen? Giving out a pen at a conference is the oldest of old school. First, we're smack dab in the middle of a this giant mobile movement; people aren't relying on pen and paper as much as they were 10 years ago. Additionally, the pens given out at conferences are known to run out of ink pretty quickly and be of very low quality. If you are willing to spend a substantial amount of money on higher quality pens, it may be worth it, but you could also put that money toward a more unique and memorable experience for your attendees with a better swag item.
Good Swag: Moleskines
That doesn't mean all paper-related swag items should be out of the question, though. Whether you're at a conference or back at the office working, it's important to have something to write on. In a time when everything is done digitally, moleskines have still remained the most popular item for people to use when you just need to write something down on paper. They also aren't the cheapest item, so if your company gives them out as event swag with your logo branded on it, you can be sure that it will be used by almost all of the attendees. When considering what swag to purchase, keep in mind that the more your audience will use it after your conference, the better the swag is. In this case, moleskines will be used way after the event is over.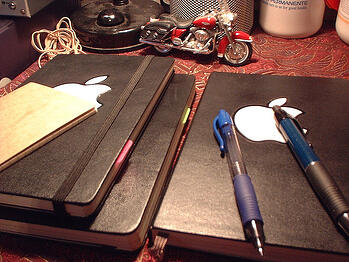 Bad Swag: Large Items
This is a bit of a broad "item," but critical to remember when purchasing your swag. A lot of conference attendees travel a long distance to come to conferences, many of them flying in to the conference location. When deciding on what event swag to purchase, consider the attendees who are coming from these faraway places. They may often not have a lot of extra room (or carryon allowance) to pack larger items of swag and, as a result, will leave them in the hotel room or throw them out. If you want your swag items to last and keep your brand top of mind long after the conference, make sure they're a manageable size.
Good Swag: Reusable Water Bottles
It may sound like a simple idea, but a reusable water bottle is one of the most valued swag items to give out at a conference. With the recent emphasis on conferences going green, reusable water bottles are a great way to help the environment while also providing a lot of convenience to event attendees. Instead of grabbing a glass of water, having to hold onto the glass, or putting the glass of water on the floor risking having it spill, attendees can just fill up their water bottles and carry them in their bags. Plus, the water bottles will also be used long after the conference is over. When HubSpot went to Dreamforce last year, we gave out thousands of reusable bottles which were soon spotted all over the city!

Bad Swag: USB Flash Drives
USB drives are bad event swag? Seriously?! Well, a few years ago, I would have said this is the perfect item to give out at an event. You can put the session presentations on it. It's small and easy to carry. It's the perfect item! But not so much anymore. Not only do the reasonably priced flash drives not have a lot of storage, but they often break. Also, with the recent emphasis on storing documents in the cloud, there is less appeal to having storage on a flash drive. Using programs like Google Drive or Dropbox and sharing these folders with attendees at conferences is far more appealing and forward-thinking than handing out a flash drive.
Good Swag: Umbrellas
You can never predict what the weather will be. Trust us, we're from Boston. Unexpected rain can be one of the most frustrating annoyances at a conference, but having free umbrellas for your attendees to take will make their overall conference experience better. It will also get your attendees talking about how amazing your company is for prepared for any given situation.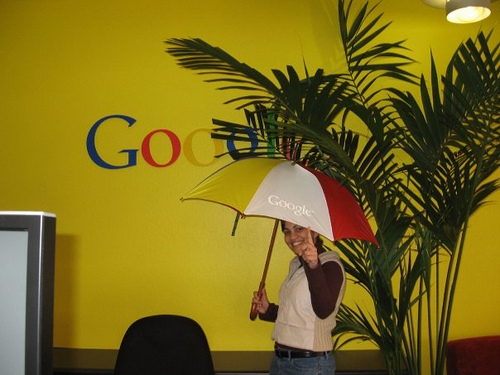 The other thing about umbrellas is that everyone needs an extra umbrella, so you can be sure your swag (with your logo on it, of course) will be used and seen long after the event ends. HubSpot's orange umbrellas with the HubSpot logo not only stand out because of their bright color, but they have also started a bunch of conversations about what HubSpot does!
Bad Swag: Paper Weights
The one piece of swag that breaks every rule in the Good Swag Rulebook (note: not an actual book ... that we know of) is a paper weight. Not only are they dated, but they're heavy and bulky -- two things that traveling conference attendees don't want to deal with while going from session to session and traveling home. When thinking of what conference swag to purchase, pick out something that's light, useful, and easy to travel with.
What's the best or worst swag you've seen at a conference?
Photo credit: jalpeshc, tech_uber