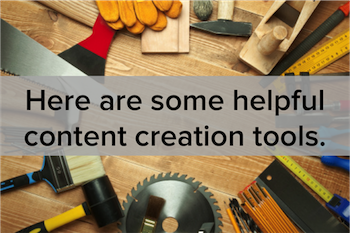 About two years ago, while on vacation from my job prior to HubSpot, a friend sent me an Instagrammed photo captioned, "Meet Content Bot 3000!" The picture showed a cardboard box upside down in my desk chair back at the office, a face drawn crudely on one side with duct tape and marker.
For the rest of my vacation, I received one photo a day of Content Bot trying to do various parts of my job. From writing a blog post, to brainstorming for clients, to, I think at one point, drinking coffee from my mug (how dare you, Content Bot).
On the final day of my trip, I got one last picture of Content Bot ... exploded into flames. The lesson, as always: The robots haven't replaced the writers. Not yet. Not anytime soon.

For me, I love that. I love creating content -- and that automation hasn't replaced what I do. Heck, I'd create content on the side if it wasn't my day job. Am I nuts? Maybe. And I'd understand you thinking as much given content creation is a huge challenge facing most businesses.

So, no, there's no Content Bot that can replace the need for actual people (that means you and me) to commit time, energy, and resources to creating content. However, plenty of tools and apps exist that can turn you from a mere mortal marketer into a virtual cyborg of content creation excellence (with your human heart in the middle -- after all, content needs some soul to it!)

Below you'll find a list of our favorite tools on the HubSpot content team. We just had three criteria for our list:
The tools are free (or the bulk of their functionality can be accessed for free).
They help you physically create content (not distribute or measure it).
They aren't cardboard robots (wait, double-checking ... yup, no robots listed).
So what are you waiting for? Read on to discover some amazing resources that can ultimately help you create some incredible-looking content.
16 Awesome Content Creation Tools and Apps
(Note: HubSpot has no affiliation whatsoever with these companies unless otherwise stated.)
Photos, Images, and Screenshots
This Chrome extension allows you to capture three sizes of screenshots: the visible part of a page, the entire page (even below what you see on your screen), or an area you select. That's not bad, but the real power of the tool is what comes next: cropping, adding notes and callouts, and the ability to print or save to your desktop or Google Drive.
I'll be honest: I had a little too much fun using this tool. It allows you to upload an image and add little icons that appear upon hover. Readers can interact with these icons, which range from images and videos you embed to links and messages you can create. You can also embed or share the image.
Two subtle but awesome features to add: First, you can embed without needing to mess with code to resize it. It gives you a simple sizing option. Love that! Second, after embedding, it seems to add a little "source" link in the bottom right, so you get proper attribution when others use your work or share it.
Below is one I created using a photo from a HubSpot scavenger hunt. (Note: I encountered some issues with the image on iOS, but some readers later told us the image worked fine on mobile.)
PlaceIt serves a very specific purpose: It allows you to upload images of your site or product into real-world environments of people holding phones, tablets, and laptops.
For example, here's one of the HubSpot website that I added onto an image of someone holding a phone, which PlaceIt provided me. The tool automatically altered the image to make it appear natural with the angle of the phone's screen (which saved me time learning and/or editing in more advanced software to get the angle right).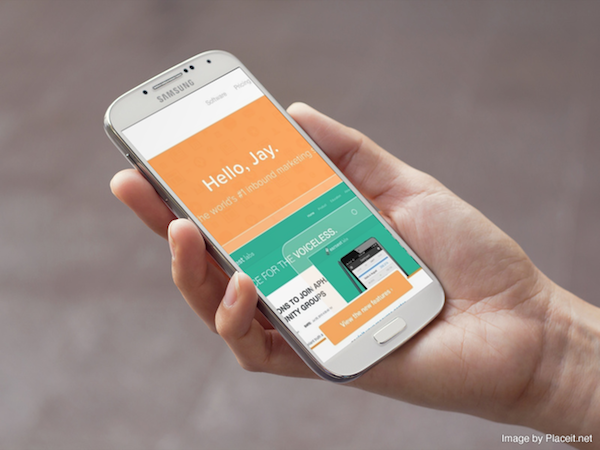 It's important to note that you'll have to pay per image to get really large or high-resolution versions (though I found the above image just fine for blog and product page content). The paid downloads also remove the PlaceIt watermark from the bottom right.
We created these because we as a content team found searching for and buying stock imagery to be a huge pain in the butt, as was the challenge of deciphering legalese for different use cases. I have a liberal arts degree. Shakespeare and Nietzsche were easier to read than whatever legalese stock imagery companies give me. All I want to know is whether to cite or not cite a stock image of a laptop. Does that need to be this hard?
Anyway, with our stock photos, you can find free resources to bolster your content marketing efforts -- whether it's a unique image needed for an ebook or that perfect photo you want to attach to a blog post. (And if you want some for your holiday campaigns, oh boy do we have you covered.)
Skitch is a free app that helps you communicate more visually. It lets you mark up images, digital assets, PDFs, and other files with arrows, callout boxes, text, and more. Although it's free, it does require you to open an Evernote account, but that's also free (and a great tool to use).
Skitch proved to be incredibly powerful because you can do it all in one place. (I work for HubSpot. I like all-in-one things, apparently.) In this example, I opened the program on my desktop and used the "Screen Snap" button to easily take a screenshot of the HubSpot home page, which opened right in Skitch for editing and exporting without needing to use other tools.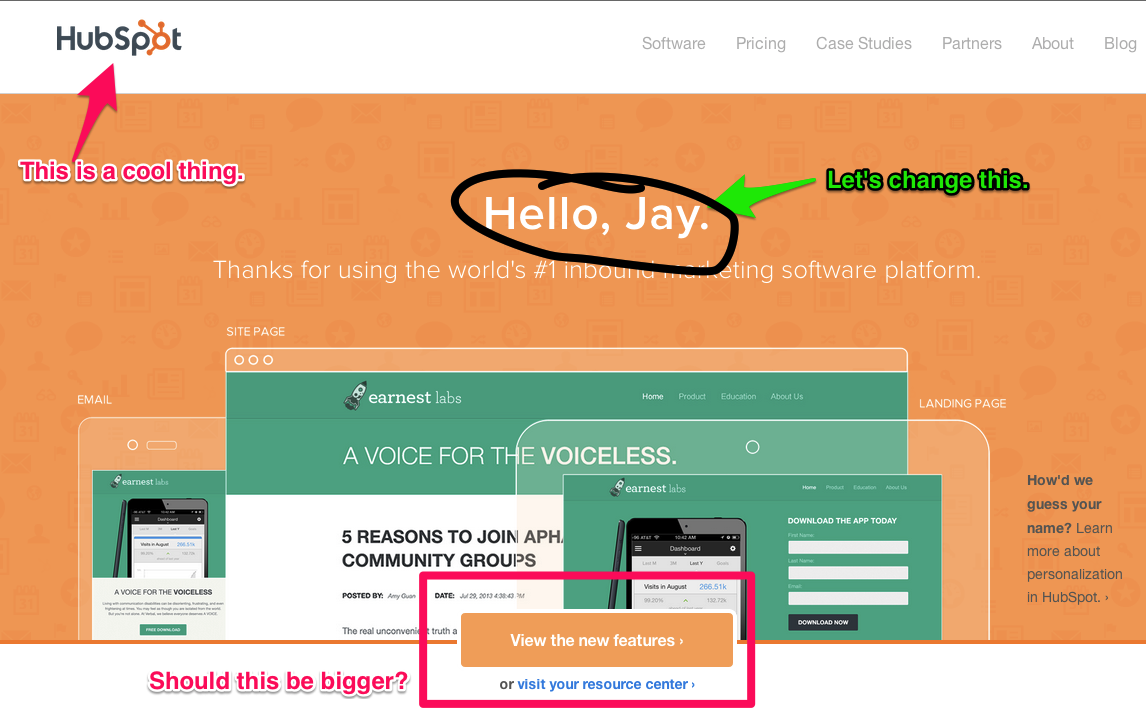 Writing and Fonts
If you like drafting blog posts in programs like Microsoft Word, Evernote, or Google Drive, this tool can be your best friend. Why? Because apparently the CMS software execs all got together years ago and decided that drafting anywhere but inside their tools would lead to formatting madness for writers when you paste in your text: paragraph breaks come through too large or totally absent, font stylizing is gone, and, for some reason, your copy keeps turning bold and huge when you delete the line before it.
I kid, of course, but this tool is still awesome. Simply paste in your draft, click one button, and then copy the resulting HTML straight from the tool. When you paste that into your CMS (most will have buttons reading "HTML" or "</>" in their tool bar above your draft), it will appear nice and clean. No hair pulling or swimming through code needed.
Great for grabbing new and different fonts to spruce up your site pages, presentations, ebooks, and more. These are two sites worth bookmarking. Nice and simple!
Design Help and Assets
Oh, how I love Canva. The time and resources it takes to learn design and/or pay for design assets and/or get inspired to create beauty from scratch can be really difficult when you're staring at a long list of to-dos. Canva, which launched earlier this year, offers a library of pre-made templates and assets that you can manipulate while also adding your own imagery.
Here's a quick example I created in almost no time: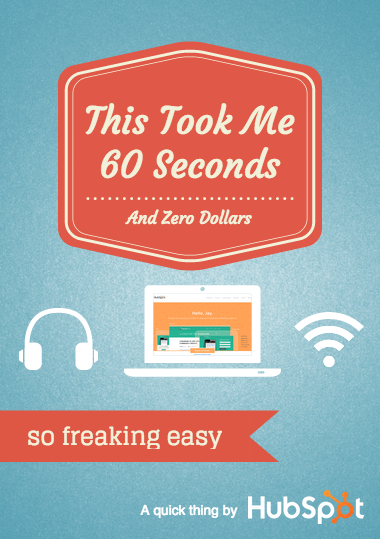 Canva charges you $1 for more "premium" assets and graphics found through their image search, but they have so much to choose from, there's plenty of value for free. (Besides, designing important assets would cost you much more than a few dollars through other means.)
This tool is similar to Canva but focuses more on infographics and data visualization in those graphics. And, in keeping with our theme, it accelerates your content creation process and helps you circumnavigate the larger, more complex design programs. (Up next, they're apparently planning to launch "the world's first video infographic creator.")
They also offer compatibility with Microsoft Excel through Infogram Charts, and their infographics are responsive with mobile and tablet screens. (I can sense all of you nodding vigorously. I am too.)
Incredibly, the world is now turning PowerPoint presentations into compelling, beautiful content. While SlideShare and its distribution power has a huge role in that transformation of boring old slideshows, Haiku Deck actually helps you create them. This is a great tool for when you need quick, simple layouts, some big, beautiful images, and some font and typography help.
The only caveat I'd add is this: If you need to create very detailed slides, this may not be the tool for you. It's wonderful for telling stories and creating speaking aids, but the board may not appreciate the beauty behind the big stock images and sexy, modern layouts and fonts. Just a thought!
Another challenge we face on the content team, just like with stock photos, is searching for elegant icons that resize without getting all fuzzy. So, because we're sorta nuts like that, we created a collection of 135 of them.
Free icons? To that I say: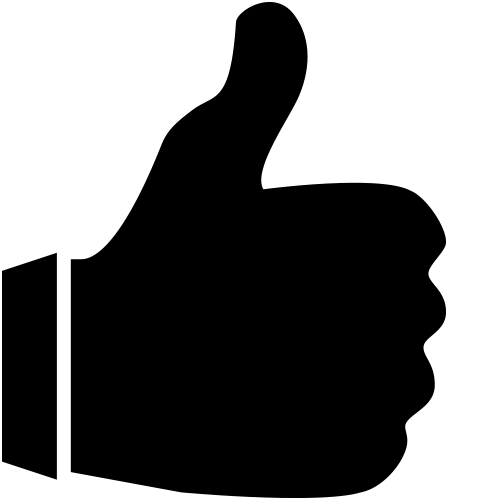 And also:
Because I can. Because I have free icons.
Creating ebooks can help you add more value to your audience while also moving them further along the buyer's journey. But they can be significant time investments and require not only a solid idea, but the ability to both write and design.
But, if you've read this post closely, we enjoy taking something hard and making it easy :) So, naturally, we created a free sampling of customizable templates for your PDFs.
Using them saves our team the time it takes to start our designs from scratch, and because the templates are customizable, we can make each one unique and improve our reader experience each time.
Other Helpful Tools
Storify's claim to fame has long been embedding Twitter conversations or individual tweets into your blog posts. However, you can create a ton of content easily and without much time needed by pulling in posts from most major social networks, plus links, videos, GIFs, and more.
It's a great way to (literally) frame a conversation, then embed that onto your blog or site.
For example, let's say I wanted to pull in a conversation about the hashtag #inboundmarketing. I just search under the Twitter option in Storify, drag and drop the tweets I want to include, and -- presto -- content curated in very little time:
This is more of a handy tool than it is a prolific content generator. Nevertheless, it helps you quickly and easily create tweetable links and text comments.
Remember the statement I opened with? "Robots haven't replaced the writers." Maybe I'm hoping it's a tweetable quote that gets people to share my post. But rather than hope and pray you copy that text, open Twitter, compose a new tweet, and paste the phrase, I can just make it easier for you by doing something like this:
"Robots haven't replaced the writers." (Tweet this quote.)
Setting this up took all of 30 seconds. On the Click to Tweet site, select "Basic Link" and type out the text you want people to tweet, then add your post's URL. I recommend shortening the URL with a service like bit.ly or goo.gl so you can both save characters and track clicks to your link.
Click to Tweet will generate a link for you that you can then add into your post however you like. In my example above, I decided to write out that copy and hyperlink the last part. If you can hyperlink text, you can use Click to Tweet.
The last resource I use often is a visual guide to several quick but useful hacks a non-developer can use in their work. We created this along with Codecademy, which aims to make learning code easier and simpler for all.
The hacks listed detail how to make small changes to HTML like altering headers and spacing, creating text in block-quote form, and inserting social share links. (My personal favorite is the hack to change font colors.)
It's Not the Wand, It's the Wizard
We started with robots -- why not end with wizards? The phrase above is important to take to heart. The tools you use can help you create, but that's all it is: help.
The person at the controls still determines the quality and success of the content created. You still need to know your customer incredibly well, understand what challenges they face that your product or service solves, and create content that helps them address those challenges in a similar way.
The brains and heart behind the content creator trump the code behind any tools and technology today, and that's a good thing for succeeding in marketing today ... unless you're Content Bot 3000.
For our full list of content marketing hacks, download this guide of 34 here.
What other tools or apps do you use to create content more easily? Leave them in the comments so we can extend this list right here!