As a child, I used to run down the stairs on Christmas morning. While we waited for our parents, the first thing my siblings and I did was look in our stockings. Here's what I'd find year after year: a toothbrush, socks, and a tangerine.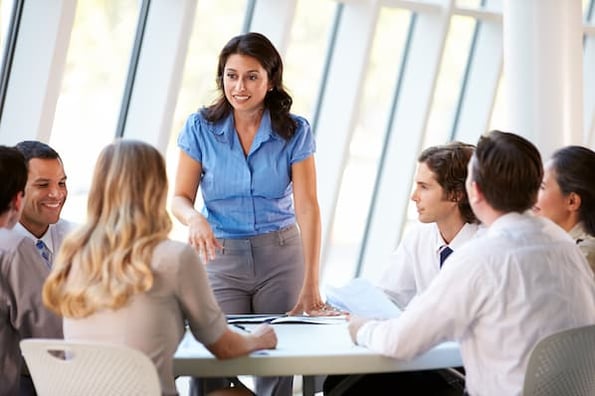 These are all fairly low-demand Christmas products. Yet, they were something my siblings and I looked forward to every year. Having said that, my parents unintentionally set a tradition and always had to have those items in our stockings come holiday season.
This is a small-scale example of long tail marketing — essentially, my parents "sold" us many low demand products to "make money." Simply put, my siblings and I were the consumers and my parents were the marketers.
Although my parents didn't make money — instead, they swapped gifts for their children's happiness — this concept still applies in the marketing world today.
Below, let's review what long tail marketing is and how to use it in your content strategy.
What is long tail marketing?
Long tail marketing is the strategy of selling large amounts of popular products in addition to low amounts of niche products or services in niche markets. The theory is that the combined profit from low demand product sales will be similar to that of the popular products. A greater variety of products could generate more sales and reach more customers.
The long tail is like the Force (yes, as in Star Wars). It permeates everything you do online and binds all facets of your internet marketing. Well, perhaps that is a bit farfetched, but it's a very important concept and relevant for anyone trying to create an online presence for themselves or their business.
For those who came in late, the term "long tail" was coined by Chris Anderson to describe the business strategy of e-tailers such as Amazon that sell a high volume of thousands of popular items (the head portion in the graph below, in red) and low volume of hundreds of thousands of niche or unique items (the mustard tail portion in the image below).
According Anderson's long tail blog, over the course of time if you grow the tail portion of the graph, "the potential aggregate size of the many small markets in goods that don't individually sell well enough for traditional retail and broadcast distribution may someday rival that of the existing large market in goods that do cross that economic bar." The tagline of his book is aptly termed "Why the Future of Business is Selling Less of More."
Long Tail Marketing Examples
Long tail marketing is a strategy that's typically used by online companies, such as Amazon and Netflix.
However, the same theory can be used for content strategy. For instance, when coming up with your list of target keywords, you could include many long tail keywords with smaller monthly search volumes in addition to the higher monthly search volume keywords. This way, the combined traffic of the lower monthly search volume keywords will add a nice cushion to your views.
Below, we'll review some top examples of long tail marketing in action:
Netflix: While Netflix carries many popular shows and movies, it also carries just as many (if not, more) less popular titles. It has just over 4,000 movies and 1,500 shows. The less popular titles contribute to the overall watch time and attract niche visitors.
Amazon: Amazon sells more than 350 million products. I'd be willing to bet that the number of low demand products is equal to or more than the high demand products.
HubSpot's Blog: Not only does HubSpot target long tail keywords in order to gain traffic, but it also produces a lot of content in order to attract more unique visitors.
Now that you know a bit about the long tail, here's how you can leverage it in various parts of your content strategy:
1. Optimize your site for tons of keywords.
SEO is an important part of your inbound marketing strategy and you should optimize your site for hundreds, if not thousands, of keywords, especially long tail key phrases. For example, "internet marketing for lead generation" would be a good long tail key phrase, compared to just inbound marketing.
Long tail key phrases may drive a low volume of traffic but as you can see in the graph above, the combined traffic of all the keywords in the tail portion matters. Also, in my experience, visitors to your site from long tail key phrases tend to be better leads as they're searching for something very specific.
Avinash Kaushik, an analytics guru, recommends that you use SEO to tackle keywords in the head of your long tail graph and use PPC to drive traffic for long tail keywords. Here's a gritty but awesome article by him.
2. Create a lot of content.
Is it a surprise that sites with the most content also attract the most visitors? Craigslist, ebay, and Amazon are great examples of sites providing a huge variety of content that help them attract millions of visitors.
Above is a snapshot of popular pages from the HubSpot blog. The blog home page and a couple of articles that made it to the Digg and Reddit home pages continue to drive a lot of visitors.
But look at how many page views we get for all the other pages over time. Even towards the far end of the long tail, the last 20 or so content sources drove more than 1,000 page views.
3. Grow your followers and fan base.
Part of your strategy should be to gain more followers and fans on various social networks and sites. In the example below, Dan Zarrella shows us this incredible distribution of retweets per follower.
Here you can see that there's a core group of most engaged followers (the head) that does a lot of retweeting. At the same time, the sum of the retweets by people who only retweet occasionally is also a force to reckon with. Please bear in mind that the key to getting retweets is more about engaging people on Twitter and sharing valuable content, and less about gaining sheer numbers of followers.
4. Invest in a link building strategy.
Now I don't mean that you should go out and pay a bunch of people to link to your site. What I sincerely wish is that everyone actively works on trying to publish good content so other people link to your site.
Some of those sites will drive you a lot of traffic and visitors. But as you can see above, there are scores of sites that can drive you a little bit of traffic every day and if some of those sites drive quality leads ... you can invest time and energy in building a relationship with them so you can grow that funnel.
5. Spread your content around.
In the first graph below, you can see the traffic HubSpot gets from all the social media sites where we actively share or upload content. If we didn't share content on all the sites in the tail, our site stats would be lighter by at least a few thousand visitors.
Taking that a step further, below are the leads we generated from the above sources. What would you give to get an extra few hundred leads?

6. Maximize your website footprint.
HubSpot offers a lot of free tools while spending time growing the traffic on those sites. It's like investing in real estate for investment purposes. Over time HubSpot's portfolio of web properties grows.
Agreed, it is not easy for everyone to build lots of tools and manage multiple sites. But you could invest in a blog and you could build microsites that serve a similar purpose. The result of such an activity is the graph below — each site driving qualified traffic and leads back to your main hub.

Long tail marketing isn't just a strategy for online retailers. It can also be used to broaden your content strategy. You can maximize your opportunity by writing content for niche areas and sharing it widely. By diversifying your keywords, content, and web asset portfolios, you'll yield better results.
Editor's note: This post was originally published in May 2009 and has been updated for comprehensiveness.