As your business adapts and grows, your tech stack will change as you seek to maximize efficiency and lower costs.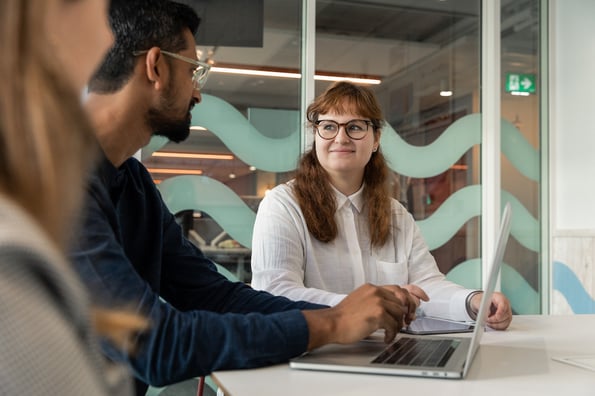 Adopting the wrong tools — or continuing to use ineffective tools — is a mistake that could cost you millions of dollars in the long term. You lose even more when you don't have a tech stack at all. For instance, if your sales team doesn't have the right tools at its disposal, your reps won't close more deals.
The business impact of technology stacks can't be underestimated. But with so many choices, how do you decide which apps are most fundamental to your business' growth? In this blog post, we'll review how to audit your tech stack and how to build a great one — including examples.
What is a tech stack?
A technology stack, or tech stack, is the collection of tools, platforms, apps, and pieces of software that a company uses to build its products, carry out its business operations, and monitor its performance metrics. A tech stack can also include coding languages.
No single piece of software or tool can accomplish everything a business needs. Successful companies leverage numerous apps and build a technology stack to achieve their business goals.
But first, they audit their existing stack, which is an important step before revamping or building a brand new tech stack.
Why is it important to audit your tech stack?
When it comes to your company's platform needs, there isn't a one-size-fits-all solution. Each company has unique goals, offerings, and challenges.
On the flip side, there are new apps and updates being launched every day, which is why we recommend auditing your tech stack on a regular basis. By reviewing the apps your business uses, you may discover ways to:
Save employees' time
Save money on apps
Consolidate apps
Maintain a single source of truth for data
Consider all the tools your business needs to run effectively. This includes everything from the content management system that your website is built on to the social media accounts you use to build your brand's presence.
The apps your employees use should be tied back to your business strategy. As your business grows, its needs will change and expand. You might not need certain apps you used in the past, or it might be time to invest in a new tool.
But as your list of apps gets longer, the law of diminishing returns comes into play, and it becomes more difficult to maintain peak efficiency. This is where an audit can help you revitalize your toolkit.
How to Audit Your Existing Tech Stack
An effective approach to auditing tech stacks focuses on the business processes connected to each app, rather than the app itself.
Start by getting input from all the stakeholders and app users from your business. This might include directors, team leads, IT leadership, and individual contributors who use the apps daily.
Focus on gathering the facts about each app and the underlying business process, while noting down users' views on the effectiveness of each app for analysis later.
Discuss topics like:
What are your business processes?
What are all the apps each team uses to complete daily tasks?
What is the business impact of each app? How does each app impact employee efficiency and the customer experience?
Next, it's time to review each app. On a spreadsheet or document, answer the following questions.
How, where, and when is the app used in a business process?
How ingrained is the app in a business operation? Is it used every day? Or not at all?
How much would it cost to move to a different system?
Does the app have the potential to meet more than one need? If so, which needs?
Tech Stack Audit Worksheet
As you are asking these questions, be sure to record your data in an audit spreadsheet such as this one. Since this is a read-only Google Sheet, you'll have to click on "File" > "Make a copy" to edit it.
Feel free to add additional columns when needed. On your copy of this Google Sheet, you'll be able to remove the first two rows of example data, and start filling in your own data. Once you have listed out the apps you can think of, pass this sheet to the rest of your departments for input, until all apps are accounted for.
You will want to start focusing on the apps that impact the most people, have higher annual spend, and integrate with other apps. On the tab marked "Reports," you'll be able to see bar graphs generated by the data you input into the first sheet, ranking each app by the number of users, annual spend, and integrations with other apps.
Now that you've audited your existing stack, it's time to start adding other tools or replacing existing apps.
Tech Stack Tools
To help you get started, here are some of the different types of tools you might need for your marketing, advertising, sales, ecommerce, and service functions.
Marketing Tech Stack
Your marketing tech stack should have tools for attracting, building, and retaining an audience. The stack could include:
Email automation software
Chatbot software
Analytics tools
CMS (Content Management System)
SEO tools
Lead generation tools
Example: A firm might use Marketing Hub for chatbots and SEO, while building their website on CMS Hub.
Ad Tech Stack
A more specific type of marketing tech stack would be an ad tech stack. This type of tech stack would include every tool you need to manage search engine ads, display ads, and social ads.
You could include:
Programmatic advertising software
Asset creation tools such as Canva or Adobe Creative Cloud
Search engine marketing tools
Social ad management platforms
Example: An advertising team might use a platform such as AdRoll to place their advertisements on other websites, while using Google Ads to manage their search engine sponsored ads.
Sales Tech Stack
Your sales tech stack should empower your sales team to sell confidently and prospect effectively. For example, you could include the following:
CRM (customer relationship management) software
Business VoIP or call tracking software
Data management software
Sales enablement tools
Meeting scheduling software
Video recording tools
Example: A sales team might use HubSpot for customer relationship management and meeting scheduling, while using Vidyard for sharing videos with prospects and AirCall for outbound and inbound calling, and Coda for collaborative account planning and keeping sales teams and leadership on the same page. To make sure all systems are working in tandem, you would integrate Vidyard, AirCall, and Coda with HubSpot.
Ecommerce Tech Stack
If you're primarily in the ecommerce space, you'll need specific tools to help you manage your product lists. You could include the following:
Online catalog software or plugin
Ecommerce-ready CMS
Payment processing software
Inventory management or dropshipping software
Example: An ecommerce business might use Shopify to power their website and take payments, while using a dropshipping tool such as Alidropship.
Service Tech Stack
Your service team tech stack should allow team members to take care of customer issues quickly and effectively. For instance, you would invest in:
Ticket management software
Help desk software
Knowledge base software
Live chat software
Survey software
Call center software
Example: A firm's customer service team may use SurveyMonkey to send NPS surveys to their customers, while using HubSpot's ticketing software to manage incoming customer queries. You would integrate the two tools for greater efficiency.
Not sure what this can look like? Let's take a look at an example tech stack diagram.
Tech Stack Diagram
Now that we've covered the basics of tech stacks, including the types of tools you'll need, let's go over how you can pick specific tools for your stack.
How to Pick Tools for Your Tech Stack
To pick apps and software for your team, you'll typically take the following steps.
1. Audit your existing tech stack.
We've already briefly covered this, but it's important to repeat it: You need to know the tools you use before adding new ones to your team's workflow. Use an audit worksheet such as this one to account for all the apps and tools your team is currently using.
2. Preliminarily identify gaps in your current tech stack.
Next, you'll want to identify gaps on a preliminary basis. For instance, is your marketing team missing an SEO tool? You'll want to jot that down as one of the tools you'll need to buy.
This process is preliminary because you should be able to tell at a glance what you're missing. Gaps should be clear from looking at the list alone. If you can't find gaps because you don't even know what you need, no worries; move on to the next step to find out.
3. Survey team members to find out their needs and challenges.
Your company's individual team members will likely be using the tools in your tech stack. You therefore want to find out where they run into trouble or what they feel could be streamlined. Choosing your tech stack will revolve around resolving their challenges.
In this situation, individual team members are the subject matter experts. They'll have an idea of the tools they need based on their industry knowledge.
Make sure they align each tool to a business-wide process or strategy. For instance, if your sales team has trouble prospecting, then purchasing prospecting software would be the natural choice. A team-wide Spotify premium subscription, however, isn't attached to a strategy and thus shouldn't be purchased. (It could be offered as a perk, but it wouldn't be part of your tech stack.)
4. Have team members brainstorm software options and take free trials.
Your team members probably know the names of the apps they'd like to try. If they don't, prompt them to carry out research. Have them jot down the possibilities on a spreadsheet, including key features and pricing information.
If applicable, tell your team to initiate free trials to see which tool is most effective. That way, they can begin to discard tools or establish favorites.
5. Establish a budget.
Next, outline a budget for the tools. Monthly, quarterly, or yearly budgets would work here; you can also establish a budget per team. No matter what, you want to make sure your tech stack is affordable in the long term.
Forward the budget to the team manager. From there, they'll be able to choose the tools that they most need and that fall within the budget. You can also gather everyone together and choose the tools that most make sense for the business.
6. Pilot your new tech stack tools.
Your tech stack is far from finished, because you'll be adding products as time goes on. But once your team decides on a tool, it's time to pilot it. Have everyone take the time they need to understand the new product.
Keep in mind that the piloting process may take months. For some tools, such as CRMs, the adoption phase may take a while. For other tools, such as a grammar checker, the adoption process will take mere seconds. Give each tool a fair chance before gauging its usefulness.
7. Measure the tools' business impact.
What business results are you seeing after adopting the tools? Now that your sales team has prospecting software, are they capturing 30% more leads than they did previously? Now that you have a grammar checker subscription, has your social engagement increased because of better copy?
Gather your team managers together and ask them about the positive changes they've seen. If a tool seems like it won't benefit the business or the team in the long term, discard them, and start from the top once more.
You know how to build a tech stack now, but you might not be sure what one can look like. We've got you covered with top examples from the biggest brands today.
Tech Stack Examples
Airbnb Tech Stack: Amazon CloudFront, Google Analytics, Braintree, Twilio, MixPanel
Uber Tech Stack: Zendesk, PayPal, Twilio, Optimizely, MixPanel
Netflix Tech Stack: Oracle, Amazon SES, Airship, Falcor, GitHub
LinkedIn Tech Stack: Oracle, Google Analytics, Adobe Experience Manager, Okta, Unbounce
Twitter Tech Stack: Oracle Dyn, Fastly, HackerOne, UserTesting, Campaign Monitor
Pinterest Tech Stack: Amazon CloudFront, BitBar, Zendesk, SparkPost, Amazon Route 53
Facebook Tech Stack: BitBar, Campaign Monitor, Confluence, Framer, Stetho
Google Tech Stack: App Annie, Bazel, Android Studio, Kubernetes, EarlGrey
Spotify Tech Stack: Amazon CloudFront, Google Analytics, Optimizely, Twilio SendGrid, Lookback
Below are tech stack examples from popular brands. We created a summary of usage for each tool; however, the actual usage may differ at each company. These lists are not comprehensive.
Airbnb is a vacation booking platform where you can rent other people's homes. Airbnb's tech stack includes:
Uber is a ridesharing platform where you can get rides from drivers in your city. Uber's tech stack includes:
Netflix is a show and movie streaming platform. Netflix's tech stack includes:
LinkedIn is a social media platform for professionals. LinkedIn's tech stack includes:
Twitter is a social media platform that's known for its short-form posts. Twitter's tech stack includes:
Pinterest is a social media platform where users can "Pin" images from other boards and from external websites. Pinterest's tech stack includes:
Facebook is a social media platform that includes other products such as Instagram, WhatsApp, and Facebook Messenger. Its tech stack includes:
Google is the world's most popular search engine. Its products include YouTube, Android OS, and Waze. Google's tech stack includes:
Spotify is a music streaming platform that has both web and mobile apps. Spotify's tech stack includes:
Build Your Tech Stack to Grow Your Business
Having an optimized tech stack is critical for you to see positive and lasting changes at your business. With the right tools and apps, your team can work more efficiently than ever before, empowering you to grow better.
Editor's note: This post was originally published in April 2020 and has been updated for comprehensiveness.