At INBOUND this year, HubSpot Co-Founder Dharmesh Shah announced a new tool called HubSpot Conversations.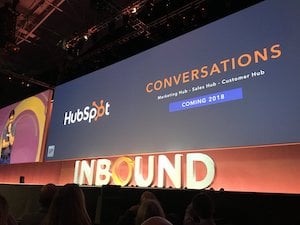 This is an exciting product for HubSpot, but how will it help you accomplish the goals you have for your team and your business?
Think of the conversations you have daily with leads, customers, and even evangelists. Where do they take place?
These everyday conversations are becoming more fluid and portable. And if this is what consumer behavior is showing, how can you create a strategy around conversations?
What is HubSpot Conversations?
There are many different types of conversation tools on the market today: Facebook Messenger, Slack, live chat, email, and more. Each of these serves a different purpose for the type of conversation you're looking to develop with a lead or customer.
Dharmesh Shah, co-founder and CTO of HubSpot said, "Whether it's between two humans, or a human and a bot, one-to-one messaging is the future of communications. Messages are simpler, smarter, and truly essential for creating an amazing customer experience."
So what is HubSpot Conversations, and what can you expect from the product? HubSpot Conversations will be different from the other conversation tools on the market today. The key difference is that you're going to be able to tie all of these conversations directly to your CRM.
Multi-channel:

Conversations unifies conversations from Facebook Messenger, onsite chat, social media, email, and other messaging outlets into one shared inbox.
Tied into a CRM:

Rooting messaging into a CRM enables companies to have the full context of past interactions wherever and whenever they may have taken place.
Scaleable with chatbots:

Conversations will enable companies to build chatbots without needing technical skill and scale responses to match high volume inquiries.
Don't have the HubSpot CRM yet? It comes free in your HubSpot Academy account.
These aspects of Conversations help you connect with your contacts in one shared inbox to ensure you're not losing any information on them. Take a look below at what HubSpot Conversations will look like.
Are conversations the key to contacts?
In the article "The Future of Messaging Apps," author Thomas Husson said, "Messaging apps will introduce a paradigm shift for marketers where interactive and contextual conversations will replace ad broadcasting. New conversational interfaces will drive deeper relationships between consumers and brands."
In the first article in this series, I defined what a contact is and why they're the heart of your marketing and sales strategies. Let's review.
What is a contact? A contact is anybody your company markets to, sells to, partners with, engages with, or employs. As you continue to educate and inspire these people, they're represented by their own story in each step of the inbound methodology.
If these contacts are what's representing a story in each step of your funnel — from the attract to delight stages — then the conversations you're having with them are going to be what drives your success.
But what happens when all of these conversations get lost? Take, for example, a conversation around chatbots that Dharmesh started around his chatbot, GrowthBot.
"One of the problems with the abundance of communication channels today is that they have a tendency to shift around. Send someone an email and they respond in Slack. Chat with a company on their website, and a different salesperson will follow up on email. Facebook message a friend and they'll send you a text."
This type of behavior isn't going anywhere.
The conversations you have each day are continuing to expand to different platforms and the relationship you're trying to build can get lost. By creating conversations that are easily accessible, you're helping your contacts find solutions no matter where they are or what device they're using. This is powerful stuff, and it isn't just a new, shiny business strategy — it's the future.
So how can you start preparing your team for these conversations? Let's take a look at the inbound messaging framework:
Connect

Understand

Deliver

Refine
Connect
When you connect with your contacts, it's the beginning of a conversation. It's the first impression your contacts will experience with your brand. You want to be available to solve the contact's problem via the messaging app or whatever form — to solve their problem wherever they are. Use a a conversational tone and existing contact record information from a CRM to add context as you begin to develop a relationship with them.
Understand
In the understand phase, you'll design a conversation to understand the user's intent and what your business can do to help them solve a problem.
Deliver
Next, you'll deliver the solution. As you engage in conversation, you need to be able to provide your contacts with the solution they're looking for, ideally without leaving the messaging platform they are in.
Refine
Just like all other marketing and sales actions, you need to refine the actions you took in conversation with your contacts based off their feedback. Looking at user interactions and continually optimizing the experience for them will add value and encourage them to come back.
This is a framework for the conversations you can start having today with your contacts through the many messaging apps out there. And now, with HubSpot Conversations, your shared inbox for all this information will live in once place to ensure you're not missing the leads who need your attention.
What to expect in 2018 with Conversations.
Gartner predicts that by 2020, 30% of our interactions with technology will be through "conversations" with smart machines. Let's get started in 2018 with inbound messaging — meetings your contacts where they are and delighting them with those interactions.
In 2018, focus on building these highly effective conversations and bringing all of that information into your CRM to ensure no information is lost.
Starting in 2018, HubSpot Conversations will be available as part of HubSpot CRM Free and will be one of the first platform-level features available in the soon-to-be-released HubSpot Customer Hub.
"With Conversations, we're going beyond a single solution, like site chat, to build something that centralizes all of a business' communications with customers and prospects into one collaborative environment." — Dharmesh Shah