One month into 2018 and you can hear the distant rally cry that email marketing is smarter, stronger and going to be a popular topic throughout 2018 (and in the years to come).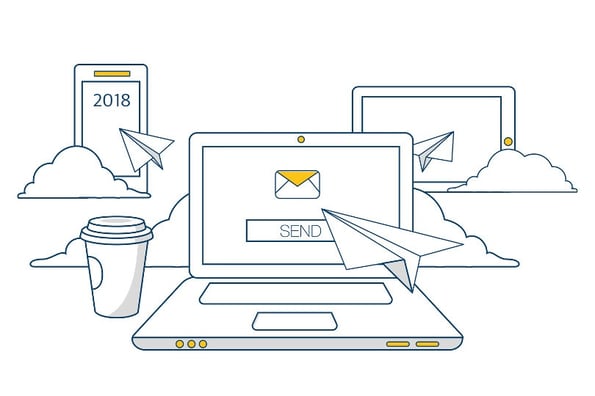 Email marketing continues to be one of the top performing tactics that inbound professionals have in their toolbox. Each year is a new opportunity to be human, helpful, and holistic with your email marketing strategy.
In 2018, email is going to continue to improve and evolve. With GDPR launching in May, multi-channel conversations, and new technology always on the rise, there is a lot to be excited about and get prepared for.
While email marketing is not getting a new definition or changing it's core purpose, it's now blending with other channels more than ever before and developing to help you and your business grow better.
Let's review email predictions for 2018, how HubSpot is here to grow your email strategy, and discuss the GDPR.
Email Predictions for 2018
At the start of every year most email industry leaders make their predictions for the next 12 months. Last year, there was a lot of discussion around what was going to happen as messages took off, the shift to data-driven email, and a focus on new email designs.
In 2018, you're going to need to focus on your email strategy more heavily than last year.
The three key predictions for you to focus on in 2018 are going to be:
Omni-channel experience
Full funnel focus
Customer experience
Multi-channel experience
The omni-channel experience with email being a key contributor is going to be at the center of this year. The conversations that you have with your users will not be tied off on one channel or another. Creating a strategy that works together through these different channels is going to be the key.
The definition of of an omni-channel experience is a multi-channel approach to marketing, selling, and serving customers in a way that creates an integrated and cohesive customer experience no matter how or where a customer reaches out.
When determining your strategy for omni-channel, you will need to develop a strategy that works closely with several departments in your company to create this strong strategy. Aligning with the key stakeholders that are in charge of the different channels will help you create the best experience for your users.
In 2018, omni-channel will be a big player and something to dive into as you get started with your email strategies.
Want to check out a few companies doing omni-channel today?
Explore them here.
Full funnel focus
The inbound methodology, that drives inbound professionals globally, is still helping businesses grow. But when we look at how to best use the inbound methodology we want to to keep in mind that it is the entire funnel that matters. You don't just want to focus all your email engagement in the close stage, it can live other places as well. While the inbound methodology shows the most ROI on specific marketing tactics there are other places that the tactics live.
With email marketing, the most important thing to keep in mind when designing lead nurturing strategies is that it's your entire funnel that you want to nurture.
In 2018, we will see this becoming a bigger part of all inbound professionals strategies. To get a jump start on your strategy, check out the Master Class by HubSpot Academy where I discussed the tools for Lead Nurturing and Automation in 2018 with my co-worker Marwa Greaves.
Customer experience
When you look at your email marketing strategies for 2018 you will see that a large portion of them are focused on conversations, your full-funnel strategy, and developing a omni-channel experience. These all tie into our last prediction for 2018: customer experience.
In 2018, customer experience will become the focus of strategies from email to every other part of your marketing and sales strategy.
A customer experience (CX) refers to the sum of every interaction a customer has with a business, both pre- and post-sale, and a customer experience strategy defines the actionable plans in place to deliver a positive, meaningful experience across those interactions.
In regards to email, the customer experience is crucial. Think of the amount of daily email you send out. Now think of the customers that have been on your lists and in your lead nurturing campaigns for awhile. They could potentially be receiving more than one email each day, maybe even four or five.
Creating a customer experience around email in 2018 is going to mean one thing: send less email but send it better. This was a strategy HubSpot focused on in 2017 and is going to continue to dive into in 2018.
To find out more about how to create your customer experience strategy check out these guidelines on 'How to Design a Customer Experience'.
These are just a few predictions to what is happening with email in 2018. To check out more Campaign Monitor also teamed up with some industry thought leaders to predict the future of email marketing that you can check out here.
HubSpot, Email, and Your 2018
The email marketing industry is going to have a big 2018. There will be a lot of focus on how messages and conversational tools will integrate with email. The GDPR will create a need to focus on developing a contact management strategy to ensure your database is up to date. And the importance of developing a customer experience that is human, helpful, and holistic.
These are just a few things that will hit the email marketing scene, but what is HubSpot doing in 2018 with email?
Email is going to be a big year for everyone and that includes HubSpot. And there is more email that you send than just marketing emails. As you look closely at creating a customer experience, an important aspect of this is connecting all email you and your company send. This might be looking at your blog emails, newsletter, nurturing emails and even the emails your sales team is sending out. Connecting all of these emails and understanding the communication your users are receiving is a key for 2018.
HubSpot will also be looking to help you and your company grow with all the different types of emails you are sending. There are three key areas already where email has started to shine and help you and your business grow. These three are:
Email snippets
Email threading
Conversations
Email snippets
Email snippets is something that is not only productivity tool but a way to see trends in conversations you are having. While every email you send out should be personalized there are certain phrases or ways you explain something that is common across many emails.
With the snippets tool, you can quickly add commonly used phrases or paragraphs wherever you work. Previously, the snippets tool was available in the CRM; allowing you to add snippets to the notes you write and emails you send from the CRM. Now live, the snippets tool can also be used in Gmail and most versions of Outlook.
Email threading
Marketers send a lot of email. And once they do the goal is to then connect that prospect with a sales rep to continue to communicate with them over email. That is a lot of email communication that is going back and forth and, if lost somewhere, could mean a loss of money for your company.
Now with email threading in the HubSpot Free CRM email conversations are now threaded on timelines in HubSpot --- so all the back-and-forth replies are grouped into a single, easy-to-digest block.
Want to try HubSpot Free CRM today? Check it out here.
Conversations
The last one is the biggest. Conversations. Having a conversation about how you develop conversations for your users is nothing new. You do this every day! But now there is a larger focus on how you develop those conversations with your users that will help them grow and in turn help your business grow.
In 2018, HubSpot is doubling down on this to help you and your users. The new conversations tool is dedicated to multi-channel, one-to-one communication at scale. The conversations tool is not tied directly to the marketing emails you send but it's an important piece in creating your omni-channel experience. The conversations tool unifies conversations from Facebook Messenger, onsite chat, social media, email and other messaging outlets into one shared inbox.
To help create a omni-channel experience you will need everything in one place to show the conversations you are having with your users. This allows you to experiment and see results from these conversations in one place.
Want to learn more about conversations? Check out more here.
These are three areas that HubSpot is focusing on to help you and your teams be more effective. As 2018 is progressing, the team aspect of your email sending is going to be key. Making sure that you have alignment between each team that is sending email and communicating what you are sending. The idea for 2018 is sending less better together.
Pro Tip: Create a team in HubSpot Today!
The GDPR is Coming
Lastly, you cannot talk about email in 2018 without talking about the GDPR. The GDPR is coming and will be here before we know it.
There is a lot that is going to go into preparing for GDPR. You might even feel a little distraught about what is going to happen. But the most important thing with GDPR is that it raises the bar for everyone to send email better and be more inbound.
Respecting personal data will change your email

marketing strategy
The GDPR, General Data Protection Regulation, represents undoubtedly the most substantial change in data protection regulations in the past 20 years, even giving many marketers sleepless night. The GDPR also represents the opportunity for companies to improve the quality of their database and the success rate of their email marketing campaigns.
The biggest question that's asked about GDPR is, "where do I start?". Getting started is usually the hardest part of doing anything and the same goes for GDPR. There is a lot of resource out there for you to get started with GDPR but first let's look at the GDPR in relation to the inbound methodology.
The biggest thing to keep in mind is that the GPDR is your opportunity to send better email and align with inbound.
The GDPR sets out important changes that align with the different stages of the inbound methodology. To help you and your business get started seeing where the impact will occur is the first step.
The GDPR will come and it will help all of us be better email marketers. To best prepare for the GDPR, take the HubSpot Academy lesson today on how to best ready your business for the GDPR.
Create your GDPR Strategy today! Check out the lesson here.