HubSpot customers have been successfully combining LinkedIn Sponsored Content and inbound for years now, using these powerful social ads to get more from their content and inbound strategy. We've had the opportunity to review the results from our customers who utilize both HubpSpot and LinkedIn Sponsored Content and we're excited to share what we've learned.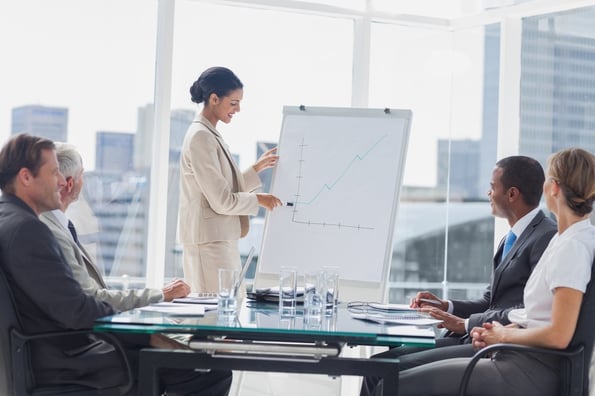 LinkedIn Sponsored Content isn't just for awareness.
Many people think social ads are only good for generating top of funnel awareness and that they can't drive leads and create customers. However, HubSpot customers have been driving a huge amount of conversions from Sponsored Content. On average U.S. customers drive a 6.1% conversion rate from LinkedIn Ads, an impressive number.
For context the average conversion rate for B2B advertisers on Google search is 2.58%. Globally our customers are performing even better. When we look at all regions, customers converted traffic to their landing pages at 9% from LinkedIn ads. It's important to note that the CPCs on LinkedIn are much higher than search and other social networks so you're paying more for this higher CVR. In the US HubSpot customers using ads paid around $5.74 per click on LinkedIn, they only paid $3.35 per click on AdWords. If you break these numbers down even further, our customers paid about 90$ per lead through LinkedIn ads and $125 for AdWords leads. These numbers aren't by any means conclusive and a smart strategy usually involves search and social ads. We think it's safe to put the myth that LinkedIn ads aren't great for conversions, to rest.
Globally HubSpot customers average a 9% conversion rate from LinkedIn Sponsored Content.
AdWords ($1,000 budget)
LinkedIn ($1,000 budget)

CPC Average = $3.35

CPC Average = $5.74

CVR Average = 2.58%

CVR Average = 6.1%

$1,000 / 3.35 = 298 Clicks

$1,000 / 5.74 = 174 Clicks

298 * .0258 = 8 Conversions

174 * .061 = 11 Conversions

1,000 / 8 =

$125 per Lead

1,000 / 11 =

$90 per Lead
Click-through rate is really important.
As you can imagine these larger images perform much better than the simple thumbnail images. They also offer new formats that you can publish in such as Power Point. Make sure to use the new images when building your ads and focus on a relevant image that will help your ads cut through the noise and connect with users.
If you're not testing you're losing money.
When we looked at customers who drove the most conversions with LinkedIn Ads they all had multiple ads inside each campaign. The point was to test different creative options to see which ads drove the most conversions. When they found a winning creative combination, they put more budget towards those ads and campaigns to drive the most leads at the lowest cost. When you launch a campaign try different images, copy and CTAs. All your ads will be targeted to the same audience and lead to the same landing page but little tweaks to the creative can have significant impacts on click-through. It's often hard to tell what a new audience will respond to so get creative and decide what works based on the data you see.
A healthy LinkedIn company page makes great ads easier.
More than a few of our higher performing advertisers had big, healthy LinkedIn pages with lots of engagement. They would often test a post or offer organically on their page first and only sponsor it (turn it into an ad) if it performed well with their organic audience. This helps them ensure they'll get the most out of their budget. This doesn't mean you shouldn't use ads if your page is small, but consider building your organic audience first to at least a few hundred followers before sponsoring content. You can do this through a strong inbound content strategy. Share your best content on LinkedIn and take advantage of the social and viral aspects of the network. Make sure your employees are active and sharing on your LinkedIn page to help give your page a boost.
Make sure to combine ads and inbound for the biggest impact.
All of our top performing advertisers combine ads with inbound. Their ads were part of a holistic campaign. They had remarkable content that they turned into an offer. They used optimized landing pages and simple forms. They promoted their content through their blogs and social channels and they used ads to amplify their best performing offers. This approach is important as B2B buyers often need more than one touch before they buy. This can be short or long depending on your industry but people are doing more and more researching online before they buy and LinkedIn has become an important place where they learn about products and services.