In the famous words of former Intel CEO Andy Grove, only the paranoid survive. As marketers, we love to know what our competitors are up to. It informs our strategy and ultimately helps attract more visitors.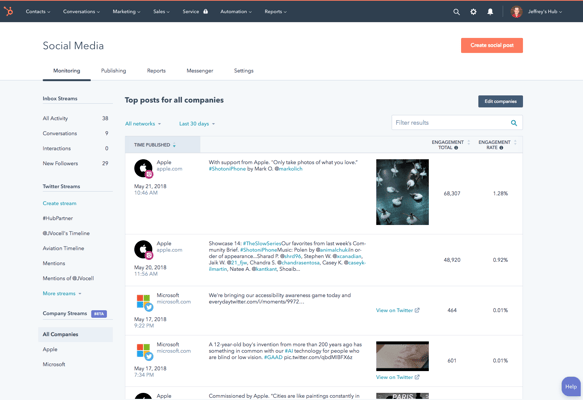 Until now, tracking competitors on social has been a manual process. Oftentimes it meant visiting your competitor's social page, scrolling through content they were releasing, and getting a sense for what content engagement garnered engagement.
Today, we're happy to introduce a new integration with Rival IQ, a leader in the competitive social analytics space.
For Marketing Hub Enterprise customers, this integration means you can track up to three competitors right within HubSpot.
Setting Up Competitive Social Tracking
To start, head into your social media tool within HubSpot and ensure you're on the Monitoring tab. Next, scroll down on the lower-left, and you'll see a new option entitled competitor streams.
Finally, just add the URL of one of your top competitors. The tool will automatically find their social profiles. After you're done adding competitors, just head back to competitor streams, and you'll see a list of all your competitor's social posts.
Within the stream, you can see which posts are getting engagement in two metrics, engagement total and rate. Engagement total is the number of interactions (likes, favorites, etc.) that post had, while rate is the amount of engagement-based interactions divided by the number of followers for that account.
In addition, if we believe a competitor has paid to spread a particular post beyond their organic following, you'll see that denoted within the post with "$ Likely boosted," as shown in the screenshot below. Clicking on the post itself will reveal interaction details and allow you to directly click through to the native post on that network.
How to Use Competitive Social Analytics in Your Marketing
While the analytics themselves are interesting, you should use them to refine your social strategy, drive more leads, and win more customers.
See which content is generating engagement
Ultimately, two of the main goals of your social presence are to generate more awareness of your brand, and start conversations with people interested in a solution. For your competitors that are active on social, you can learn what type of content is generating engagement by using their stream, sorting from most engagement to least.
In particular, pay attention to a few key attributes here:
Networks that are generating a lot of engagement: Does your competitor have a robust Instagram following? Look at the types of content they post to generate ideas for how you can increase engagement or just activity on that specific network.
Look at the hashtags being used across networks: Are there hashtags you're not using which your customers are clearly engaged with? Are there different hashtags on each network that seemingly resonate with your audience?
Volume of content: If your competitors are posting frequently and are generating significant engagement, then they either have really compelling content, or your audience really wants that information. You shouldn't necessarily just seek to match your competitors. Instead, figure out a way to generate social engagement that matches your brand.
See where your competitors are spending money
If you're in a particularly competitive market, your competitors may be spending money to break through the noise and generate awareness. With competitor streams in HubSpot, you can see which content is being boosted to get a better understanding of where your competitor is investing their budget.
Based on this information, you can compete with them for similar positions or develop a strategy to boost your brand organically with some paid to win against your competitors.
Want to start tracking your competitors? If you're a Marketing Hub Enterprise customer, hop into your account, or start a trial to get a peek of competitive social tracking within HubSpot. To do even more with competitive social analytics, including automated alerts, reporting, and tracking for more than three competitors, subscribe to Rival IQ.
How do you plan to use this new feature in HubSpot? We'd love to hear about how you're using this data to drive your marketing strategy. Let us know in the comments.