What happens when you press send on a support ticket? Who inside of HubSpot helps educate HubSpot users?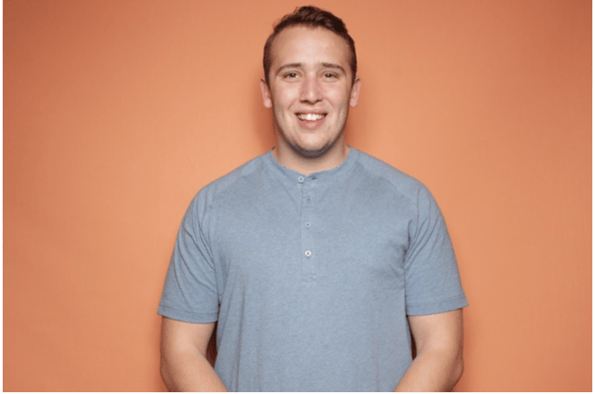 There are many HubSpot rock stars who support you and your business.
One of them works as a bridge between the HubSpot Academy team and the HubSpot support team to ensure you have the most education, support, and information you need to be successful using HubSpot and inbound.
This support specialist is on a mission to help you grow.
Chris joined HubSpot in June of 2016 as a member of the support organization. He soon specialized in the Academy team, where his purpose as the Academy support specialist is to transform support questions into opportunities to learn with HubSpot Academy.
Chris grew up in the flourishing White Mountains of New Hampshire. He's passionate about helping you find your next hike and making sure you're prepared to reach the peak. His goal is to treat each day as an opportunity to advance his digital marketing knowledge, and he looks forward to supporting you.
Let's find out what a day in the life of an Academy support specialist looks like and how Chris helps our users be successful.
What does a typical day look like for you?
I can be seen bouncing back and forth at HubSpot HQ between my two teams: HubSpot's global support team and HubSpot Academy. Between working with HubSpot users through the support inbox and jumping on HubSpot Academy mentoring sessions, I get to spend my waking hours educating and inspiring.
Maybe you've heard my name before because we've chatted on one of the many channels I live in. Here are all the ways you might have interacted with me.
Which HubSpot tools do you use each day to get your job done?
HubSpot forms is my favorite tool. Who doesn't love getting all of the right information collected in one place?
Forms became a big part of my day to day when the CertSwap3000 came to life to improve the certification transfer process. I was tired of seeing customers waste time in support tickets, going back and forth to get their Academy certifications transferred, so I created a support tool where they can transfer their hard-earned certifications when they transition to a new company or change their name.
Need to transfer a certification? Check out HubSpot Academy CertSwap300.
How do you bring Academy resources to the support inbox?
Let's say a customer submits a question to the support inbox about how to make a call in HubSpot.
There's a high probability that this user might not yet have seen the Sales Software Certification, where Academy Professor Kyle Jepson teaches us about How to make use HubSpot Calling.
It's my job to identify that we have Academy content that would help this customer use their investment in HubSpot more efficiently and reply to them explaining how taking their certification associated with the video will push them to grow their business with the software.
What recommendations do you have for HubSpot users?
The Academy graduation cap sits in the top nav in your account because there's always an opportunity to lean into the Academy team to transform your business.
The users who are decked out with certifications who call or submit tickets to HubSpot support are having higher level conversations with our team. They've taken the time to understand the methodologies of the tools they use with the certifications they obtained — and it shows.

When you have free time in this crazy world, turn off Netflix and turn on the Academy certification content.
Want to get certified with HubSpot Academy? Check it out here.
In addition to getting up and running on Academy certification content, here are three tips for being successful with HubSpot.
Chris' Three Tips for Success With HubSpot
Tip no. 1: Adding a video to an email.
PSYCH! Sorry if I got you stoked with the headline, but I swear, I have a solution.
HubSpot does not have the capability to include videos in emails. This is because video playback is not supported across many major email clients (like Gmail) due to spam and security reasons.
Instead, I recommend you insert a screenshot image of your video and link to the page that the video is embedded on.

Here's how to get it done:
Take the screenshot the "fake video."

Insert the image into your email

(bottom of email).

Watch the views skyrocket!

And here's something to keep in mind: Make sure your video is at the bottom of your email so that the contact reads the text before they're distracted with your video.
Tip no. 2: Managing an expiring certification



In Academy support, I'll often get asked, "When does my certification expire, and why do some certifications last longer than others?"
You can find your expiration date on the learning center badge.

Certifications have different expiration dates because HubSpot Academy is committed to keeping our content consistent and relevant to what's happening in the business and technology word. Digital marketing and sales changes at exponential rates, so we need to stay a step ahead. We place expirations on your certifications so that as we update our content, you're in the best position to transform your business the next time you take a certification — and having that badge reflects your level of knowledge.
Here's an easy list to remember how long each certification lasts once you pass it.
Valid for 13 months:
HubSpot Marketing Software Certification

HubSpot Sales Software Certification

HubSpot Design Certification




HubSpot Contextual Marketing Certification
Valid for 25 months:
Inbound Certification

Content Marketing Certification

Email Marketing Certification

Inbound Sales Certification

Growth-Driven Design Certification

Agency Partner Certification
Does not expire:
Delivering Client Success

Developing a Sales Plan

Selling Sales Services

Delivering Sales Services
Tip no. 3: Asking human questions in your forms will result in human answers.
When you finish a form and are about to publish it on a landing page, you could have every one of the submissions look exactly the same, or you could add a differentiating property that allows you to get to know why your lead is clicking "submit" in the first place.

Most customers are hesitant to adapt to adding one of these human questions because they're trying to create "less friction" to click submit. But if your content offer is good enough, strategically place an optional question in your form to use as a conversational topic in their buyer's journey.

Here's an example: A vinyl record shop has a content offer of "Guide to the top ten records of all time." Here are some conversational questions to ask.
What are you normally doing when your vinyl is playing?

What do you expect to see in the top three?

What's your favorite record of all time?
These responses are personalization tokens in a future email, something you can segment your contacts by. It adds a more human element to your interaction, giving you more information for a future conversation or qualification.
You started your HubSpot career in our New Hampshire office, but you recently moved to the Cambridge office. Why the transition?
I started my career with HubSpot at our unbelievable office in Portsmouth, NH. PortSpot was the place where I acclimated to the professional world. The seacoast office showed me that there is correlation between getting to know the "whys" of what motivates your co-workers and the strength of your relationship with them.
Being in the office all day leads to lasting relationships in your professional future PortSpot has my heart, but I knew I wanted the chance to experience something other than New Hampshire in my twenties. After one year, I requested a transfer to our mother ship office in Cambridge and have been learning about the marketing technology industry at exponential rates.
Want to work in PortSpot? We're hiring. Check it out here.
What's your favorite part of being a HubSpot employee?
Our business strategies are designed to help our customers reach their goals. Our software is designed to push the businesses that use it to stand out for all the right reasons.
There's no place I would rather be than here.
Education to transform your business.
Chris King is an example of how education is the key to transforming the way you do business. Chris' job isn't just focused on our users. It's also about creating conversations between the Academy and support teams. And as two teams that work closely with our users, we're dedicated to educating and helping you be successful.
Want to educate and inspire your team today? Learn together with HubSpot Academy.