Last week, I went to a store to buy hiking boots, and I was pleasantly surprised by how helpful and attentive the staff were. Not only did I come out of the store with super comfortable and sturdy boots, I also left with a ton of recommendations for my upcoming trip to Zion National Park.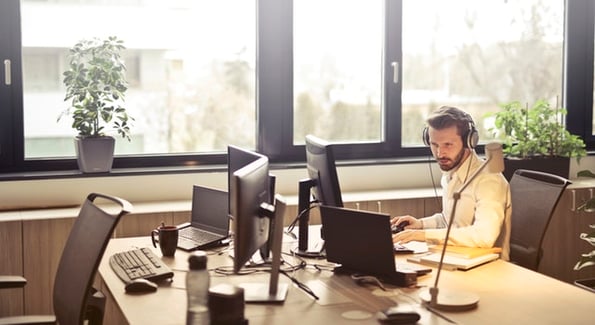 I went home and called my mother to tell her about the great experience and told her to go to this store ASAP to buy her own boots so we can go on hikes together. She scoffed at the idea of a hike, but, nonetheless, she went to buy a sweater and was pleased.
Even though the staff made me feel special, I am, indeed, not. I'm just like everyone else when it comes to sharing experiences.
People love talking about their positive (and negative) experiences, and people love using those experiences to guide their own decisions. In fact, when asked what sources of information folks rely on when making purchasing decisions, 55% of people said through word-of-mouth. For this reason, delighting your customers should always be one of your top priorities.
Luckily, the Service Hub tools are all about delighting customers.
One of the core pillars of the Service Hub tools, help desk, is a system for delivering service to your customers or users. Help desk, made up of HubSpot Conversations, tickets, automation, and reporting, helps your customers get answers to their questions seamlessly and therefore see success with your product or service. Pretty soon, your customers will be telling their mothers to use your product, too.
If you'd like to learn more about setting up help desk, watch the Academy lessons for Conversations and tickets.
Once your help desk is up and running, there are a few ways you can optimize your help desk to make sure you're delighting your customers while making your processes as seamless as possible. The three ways to optimize are:
Auto-assign conversations so you know who you need to talk to next.
Use workflows to automate task reminders and notifications.
Report on what's working and what needs to be improved.
Auto-assign conversations.
With your paid subscription to Service Hub, you're able to auto-assign conversations to agents based on specific logic, or simply round-robin the conversations equally to all agents.
Once your conversations are auto-assigned, you or your service agents can filter to see all conversations, the conversations assigned to you, or conversations unassigned. Having the ability to auto-assign conversations and filter will undoubtedly save you time and potential confusion as to who is working what conversation. Let your help desk take care of the logistics so that you can take care of delighting your customers.
Automate task reminders and notifications.
Assignment isn't the only thing you can automate with your subscription to Service Hub professional and above. Workflows, a tool that combines insights with context to effectively scale your business, can be used to automatically send a confirmation receipt when your customer submits a ticket, auto-create notifications when no one has responded to a ticket, and nudge an unresponsive customer for an update, just to name a few.
To find out more about setting up these workflows, consult this blog here. These workflows will help you solve for your customer as quickly and efficiently as possible.
Report — on everything.
Finally, to grow better you need to know what's working and what's not. Optimize your help desk by implementing reports that give you insights into your current state of affairs.
How many tickets are you averaging per day? Per week?
What's the average time to respond to a ticket?
Answers to these questions may result in the realization that your service department needs to grow by a couple of heads.
What is the source of most of your tickets?
Maybe you need to rearrange how your team operates. How does ticket volume differ month over month?
What happened that month that caused a spike in tickets, and how can we avoid that in the future?
The reporting feature will raise questions and therefore answers to what's going well and how you can improve so that you can delight your customers even more in the future.
Helpdesk is a necessary tool to run any services or support department; optimizing your help desk with automation and reporting, however, is what can make your department stand out. Optimizing your help desk will save you time, energy, and resources, so that you can focus on what matters most: delighting your customers.