Time is one of the most valuable resources we have — that's why efficiency is something so many people strive for. The good news is that there are a plethora of marketing tools available today with the power to help you boost productivity and streamline monotonous processes or tasks — ad management tools are among the many options.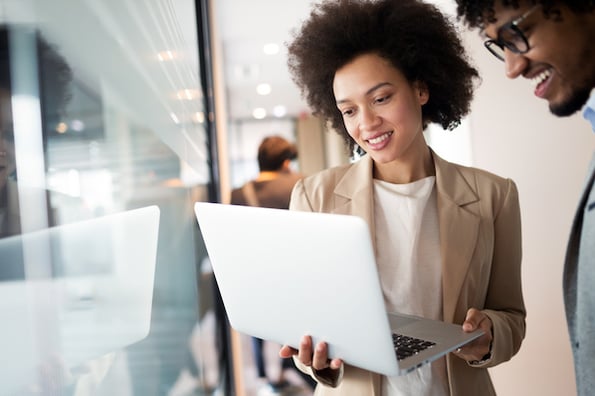 In this blog post, we'll talk about what ad management is, outline high-quality ad management software, and explain why they're beneficial for all businesses.
What is advertising management?
Advertising management is overseeing different marketing activities and responsible individuals to ensure that campaigns are running effectively and target marketings are being reached.
Depending on your business needs, advertising management can focus on various metrics that contribute to campaign success, like ROI or conversions or media placements that make sense for where your target audiences are.
As there is often a lot to keep track of, many teams choose to use advertising management tools, which we'll cover below.
Advertising Management Software
What are ad management tools?
Ad (advertising) management software and tools have the power to streamline and automate different aspects of advertising, including ad and campaign planning, collaboration, execution, sharing, monitoring, and analysis.
Why use ad management tools?
Ad management tools have many benefits. Here are some examples:
Save advertisers and marketers valuable time.
Improve productivity and efficiency.
Make collaboration simple.
Run cross-channel campaigns with ease.
Optimize your campaign structure.
Create insightful and customized reports with powerful analytics and reporting tools.
Visualize your data in a way that makes sense for your business and goals.
Increase the chances of successful ads and campaigns among your target audience.
Now, let's review seven powerful ad management tools, meant for different types of ads, goals, and teams.
10 Best Ad Management Tools
Start Using HubSpot's Ads Software for Free
HubSpot's Ad Management & Tracking software helps you with your inbound marketing strategy and campaigns.
You can run all of your campaigns out of this tool from start to finish — meaning, the HubSpot supports ad creation, management, and reporting across different networks.
Other unique and notable features you get from HubSpot's Ad Tracking Software are:
Automate ad targeting using Lists that will sync your leads and audience for targeting opportunities.
Manage ad campaigns on Facebook, Instagram, LinkedIn, and Google.
Report on ROI and leads from the platforms you share your ads on (e.g., LinkedIn, Google).
Understand audience behavior by identifying which contacts took action and engaged with your ads.
Align ads with your other marketing efforts — this is simple because HubSpot Ads live with Marketing Hub.
Use data from your HubSpot CRM to inform your campaigns and help you determine which ads are most likely to convert contacts into paying customers.
Price of HubSpot Ad Tracking Software
Free, or you can start with/ upgrade to a paid plan depending on your needs and goals.
AdRoll is a platform for ecommerce businesses that focuses on ads, email marketing, AI-based product recommendations, and cross-channel measurement. The platform acts as a home base for all of your business's marketing and advertising activity. Here are some of AdRoll's other notable capabilities:
Personalize dynamic ads using AI-powered product recommendations to target your audience members.
Share targeted videos and display ads to foster emotional connections with your audience.
Create relevant product offers, dynamic ads, emails, and other forms of outreach using data you've collected about your customers along with AdRoll's 1.2 billion shopper profiles.
Use advanced measurement and attribution to identify growth opportunities and determine customer lifetime value (CLV).
Target your audience with paid digital media and account-based ad campaigns by integrating AdRoll with your CRM.
Price of AdRoll
Plans range from $0-$19 depending on your needs.
RollWorks is an account-based platform meant to help you identify target accounts, engage them via ads and various channels, and measure your impact and success in doing so. The tool can identify target accounts, prioritize target accounts, automate various sales tasks, and account-based advertising. Here are some more things you can do with RollWorks:
Reach and engage highly-qualified accounts with ads, lead-gen tactics, and targeted account-based marketing (ABM) programs.
Use account-based ads to identify your target audience and encourage those people to visit your website.
Create retargeting ads to bring leads back to your site.
Integrate RollWorks with your HubSpot CRM to reach contacts that matter most to your business and view RollWorks data within the CRM.
Use dynamic messages to personalize your ads and make them relevant.
Automate your sales emails and follow-ups to save time and increase chances of engagement.
Easily track the success of your campaigns, account-based programs, sales automation sequences.
Price of RollWorks
The Starter plan costs $975 per month, and you can upgrade from there.
Influ2 is a person-based ad platform meant specifically for B2B. With the tool, show your ads to specific people and then measure the success of the ads among those targeted. Here are some other things you can do with Influ2:
Select individuals to see your ads so they're highly-relevant and targeted.
Improve brand awareness and recognition by only displaying curated ads and information to hand-selected audience members.
Connect Influ2 with your HubSpot CRM to sync contacts and targeting efforts with Sales and Marketing.
Use the Name-by-Name Tracker feature to see the names, emails, titles, companies, LinkedIn profiles of the people who interact with your ads.
Determine the best time to reach out to a prospect by tracking their engagement via views and clicks.
Keep your current customers engaged with person-based ads by offering relevant and informative content when they need it.
Price of Influ2
Contact Influ2 for demo and quote.
Adstream is an all-in-one digital asset management and ad delivery solution for broadcasters, publishers, and online services. It's a Connectivity Suite, meaning it integrates and connects all aspects of your marketing including digital asset management and delivery, traffic management, media automation, and analytics. Here are some more notable capabilities:
Use a single workflow across marketing teams for total transparency and easy collaboration while organizing, creating, and sharing digital content.
Distribute your digital content among Adstream's 79,000 global media destinations that the platform can connect you to.
Auto-adjust your content so it suits the different areas it's being shared in around the world.
Add your incoming ads to the Traffic Management Inbox — here, you can easily review those ads as well as make edits, approve, and send them to another individual or team (e.g. Production).
Automate different workflows, or aspects of your workflows, to increase efficiency such as processes related to clearance or usage rights.
Measure the success of your digital campaigns and processes behind them with analytics, real-time reports, and tracking.
Price of Adstream
Contact Adstream for a quote.
6Sense is an account-engagement platform with account-based advertising capabilities. The platform uses AI, big data, and machine learning to help you understand and identify your target audience's buying behavior, prioritize sales and marketing accounts, and create and share personalized and engaging campaigns/ content. Let's look at some more features:
Engage your target audience members at scale with highly relevant, unique, cross-channel messages.
Use account data to create targeted display ads that help you reach key players at target accounts.
Align Sales and Marketing as a single revenue team on the platform to accurately measure your account-based success.
Segment data about your target accounts for insight into the success of your campaigns among those specific accounts.
Use AI to help you predict prospect and account behavior throughout the buyer's journey so you know when to target them with your ads, campaigns, and personalized messaging.
Refer to the platform's Intent Data to discover which accounts are in the market for a product or service like yours with buying signals on first and third-party websites.
Price of 6Sense
Contact 6Sense for pricing information.
Celtra is a cloud-based software that automates creative production. With the platform, all aspects of collaboration will be streamlined and more efficient thanks to its cloud-based nature — team members can design, approve, and share digital assets among markets, campaigns, and more. Here are some more features to be aware of:
Use the Ad Builder's templates to design unique and branded ads without any code — these ads can include ecommerce features as well as video and animation.
Get real-time reports that include over 100 metrics and dimensions to better understand the success of your creative work, campaigns, and ads.
Build user-friendly ad products to help you engage prospects.
Customize your ad products to suit your business with features like shoppable video, product galleries, and text and graphic overlays.
Gain access to Celtra's support team and hundreds of on-demand videos and tutorials to help you achieve your goals on the platform.
Price of Celtra
Contact Celtra for pricing information.
Image Source
Smartly.io is an ad management software for social media advertising. Its automated tool will help you build effective advertisements and experiences for your audiences on the social channels that matter most to your business. Algorithms also help you optimize your creative assets based on audience data, and you can bulk-update your ads in real-time. Some additional features to know:
Algorithms browse through your product catalog and data sources to create custom creative templates with copy variations based on target audience data.
Custom KPIs and attribution windows for tracking performance and obtaining actionable insights that help you make effective decisions backed by data.
Modular creative testing to ensure that you use the right kinds of ads in the right channels.
Price of Smartly.io
Smartly.io offers a self-service plan or a fully-managed plan; both charge a percentage fee of media spend. Contact Smartly.io for specific information.
Marin Software is an all-in-one platform for advertisers to manage search, social, and ecommerce ad spend. Its automated tools help you identify growth opportunities for search ads across major search engines, align your social channels to drive growth, and integrate your product feeds to optimize shopping campaigns. Let's look at some more features:
Measure, analyze, and optimize all ad spend with first and third-party data to help you maximize ROI with informed targeting.
Automated process for position-based bidding in search engines.
Multi-channel advertising insights in one unified dashboard.
The option to use managed services where in-house experts partner with you to drive results.
Price of Marin Software
Contact Marin Software for pricing.

StackAdapt is a self-service advertising platform that digs deep into your business data to get unique insights that help you develop and deliver high-impact campaigns to your target audiences. It's best for creative ad management, as its high-quality creative studio helps you match the most effective creative assets with campaign KPIs on a platform-by-platform basis. Here are some more things you can do with StackAdapt:
Multi-channel targeting for native, display, video, and audio ads
Access to a large ecosystem of media partners and publishers to advertise on.
Preview all ads on desktop or mobile, across 500+ publishers, and 23 different verticals to optimize them before sharing with your audiences.
Machine learning and AI automate performance decisions, so your campaigns are most effective.
Customizable reporting stack to help you obtain the most critical metrics.
Price of StackAdapt
Contact StackAdapt for pricing.
Grow Better With Ad Management Tools
Your marketing team is bound to grow better with an effective ad management tool — don't be afraid to experiment with various options to find the one that meets your needs and goals.