By now, you've probably realized that the bots have us surrounded. If recent success stories like Arby's hilarious pizza slider bot are any indication, the future of brand awareness as we know it just might rest in the little digital paws of chatbots.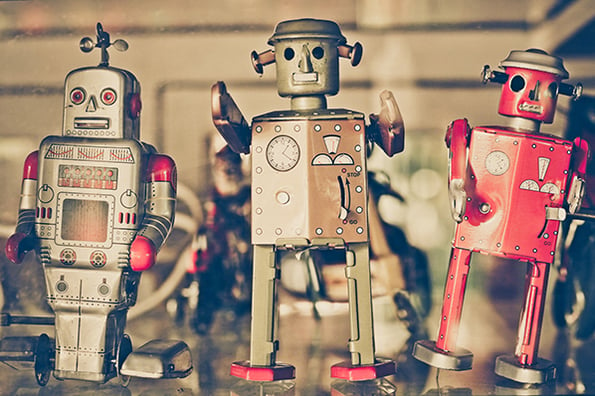 They might seem like "the simpletons of the artificial intelligence world," but chatbots offer marketers from any industry the opportunity to do conversational marketing at scale by engaging with consumers on a personal, direct level -- as long as they can capture (and hold) users' attention with an engaging narrative.
The emergence of accessible artificial intelligence gives us unprecedented access to consumers, but the tech needs to be fed by compelling creative work to be used successfully as a marketing tool.
As AOL's David Shingy writes in Adweek, "The challenge [with chatbots] will be thinking about creative from a whole different view: Can we have creative that scales? That customizes itself? We find ourselves hurtling toward another handoff from man to machine -- what larger system of creative or complex storytelling structure can I design such that a machine can use it appropriately and effectively?"
Some brands already seem to be getting the balance right. A bot needs to capture a user's attention quickly and display a healthy curiosity about their new acquaintance, but too much curiosity can easily push them into creepy territory and turn people off. They have to display more than a basic knowledge of human conversational patterns, but they can't claim to be an actual human -- again, let's keep things from getting too creepy here.
To inspire your first (or next) foray into the weird and wonderful world of chatbots, we've compiled a list of seven brands whose bot-based campaigns were fueled by an astute knowledge of their target audiences and solid copywriting. Check them out below, and start considering if a chatbot is the right move for your own company's next big marketing campaign.
7 Brands Already Using Chatbots for Marketing
1) National Geographic's Genius

Image Credit: Top Bots
Who wouldn't want a little Albert Einstein at their disposal to answer pressing questions about space, time, and the meaning of life?
Back in April, National Geographic launched a Facebook Messenger bot to promote their new show about the theoretical physicist's work and personal life. Developed by 360i, the charismatic Einstein bot reintroduced audiences to the scientific figure in a more intimate setting, inviting them to learn about the lesser-known aspects of his life through a friendly, natural conversation with the man himself.
"Rather than having the campaign speak for Einstein, we wanted Einstein to speak for himself," Layne Harris, 360i's VP, Head of Innovation Technology, said to GeoMarketing. "We decided to pursue a conversational chatbot that would feel natural and speak as Einstein would. This provides a more intimate and immersive experience for users to really connect with him one on one and organically discover more content from the show."
Unfortunately the Genius bot is no longer active, but apparently he had a pretty good sense of humor -- persistent existential dread aside.
2) Whole Foods
Tonight's dinner plans could be just a single emoji send away.
Whole Foods' Facebook Messenger bot -- launched in 2016 at MobileBeat -- lets users search for recipes, products, and food inspiration without leaving Messenger.
The friendly foodie bot was developed by Conversable, and the team plans to expand its capabilities in the near future to include coupons, a saved recipe library, and direct shopping.
If you aren't sure what you're looking for, you can give the bot some details about your dietary restrictions and flavor preferences, and it will serve up some options. And if you're in the mood to embrace every millennial stereotype, you can just send an emoji of a food item for instant recommendations. The future is truly now.
3) Aerie
Image Credit: VB
With a predominantly millennial and Gen Z target audience, it makes sense that lingerie and apparel retailer Aerie was quick to adopt bot technology in their marketing approach.
Available on Kik, the bot helps users select products with an engaging game of this or that: you're presented with two product images, and you select the one that most suits your body type and preferences. After a few rounds, the bot is able to make personalized product recommendations based on your selections.
"We worked closely with the Aerie team, including copywriters, designers, and brand voice to create a chatbot with a distinct persona that celebrates body positivity and promotes confidence in young women," said Lauren Kunze, the CEO of Pandorabots, the company behind Aerie's bot.
4) Harper Collins
Having trouble finding your next read? Harper Collins' Epic Reads chatbot is here to help. With a few simple questions about your past favorites and genre preferences, this powerful little Facebook Messenger bot can find a book that matches your unique literary tastes.
The Epic Reads bot caters specifically to teens, but Harper Collins hasn't forgotten adult readers -- in early 2017, they launched a second book recommendation bot, Book Genie, which offers up a broader range of book suggestions for all ages.
5) Marvel's Spiderman
You might not ever be able to fight like a superhero, but now you can at least chat like one.
Marvel released a choose-your-own-adventure style Facebook Messenger bot to build hype for the summer blockbuster's theatrical release.
The good news is that the bot will give you a cool nickname. The bad news is that the nickname it gave me was "The Wobbler."
Through some urgent back-and-forth with the users, the bot eventually reveals panels of a secret comic. If you share your location, the bot will instruct you to "report for duty" by purchasing the full comic book in stores.
6) Starbucks
Image Credit: GeekWire
Perfect proof that simplicity can be the best route, the Starbucks Barista bot for Facebook Messenger serves a very specific, very important purpose: it orders you coffee.
When you have a desperate need for a java fix with minimal human interaction and effort, this bot has you covered. According to a demo led by Gerri Martin-Flickinger, the coffee chain's chief technology officer, the bot even understands complex orders with special requests, like "double upside down macchiato half decaf with room and a splash of cream in a grande cup."
That's pretty impressive. I, an adult human and problematically frequent Starbucks customer, barely understood that.
7) Duolingo
Image Credit: Duolingo
Learning a new language takes a lot of practice, and if you're doing it on your own, you might miss out on gaining valuable conversational knowledge. Enter online language-learning platform Duolingo's chatbot service.
Available in a wide variety of foreign languages within the Duolingo app, the bot helps language students overcome the fear of embarrassment that often comes with speaking a new language in a conversational setting by providing them with virtual, judgment-free option.
"A very common request that we get is people want to practice conversation," said Duolingo's co-founder and CEO, Luis von Ahn. The company originally tried pairing up non-native speakers with native speakers for practice sessions, but according to von Ahn, "about three-quarters of the people we try it with are very embarrassed to speak in a foreign language with another person."
The chatbot offers the perfect solution: a friendly bot companion to practice with, any time of the day, with no fear of embarrassment. "As far as we can tell," von Ahn told The Guardian, "computers can't judge us."
Which branded bots are you engaging with these days? Let us know on Twitter.