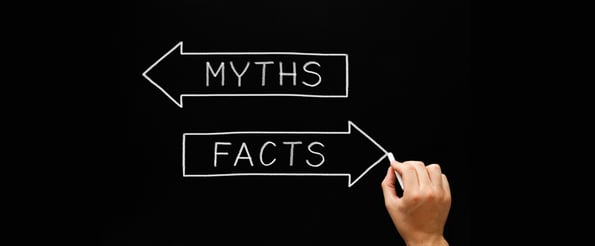 If you were in a room full of inbound marketers a couple of years ago, advertising on Google wasn't a strategy you heard too much about. However, with the ever-increasing competition online, it's becoming a more talked about topic for getting your content in front of the eyes of your potential customers. So, why has it taken so long for most inbound marketers to adopt Google AdWords?
For this answer, let's take a look at the top 3 myths that might be keeping you from implementing a successful AdWords campaign.
Myth #1: People Don't Click On Google Ads
This is the easiest of the myths to debunk. Remember, Google is a publicly traded company and just about anyone can access their financial records with a little bit of digging around.
How much money do you think Google makes in one day on AdWords alone? $1 million? $10 million? Can you believe that Google generates over $100 million in revenue every day from people clicking on their ads? With an average cost per click between $1 and $2 (source: WordStream), that's well over 50 million clicks per day.
So yes, people definitely click on Google ads. Everyday Google experiments with the appearance of their ads to entice more users to click them. After all, why would the most popular search engine want to present you with a free, organic result at the top of the search results page when they could showcase several ads that all generate revenue?
Myth #2: My Competitors Can Just Click On My Ads All Day, Costing Me Money
Google has extremely sophisticated technology in place to prevent "click fraud" and "invalid clicks". This goes beyond tracking the IP address to see where clicks are originating, and involves the analysis of several click pattern factors.
What's more, Google provides very good reports on AdWords campaign performance, and any suspicious activity is quickly exposed. If a business is concerned that they are the victim of click fraud – i.e. if they see that there's an unusual number of clicks from a geographic area that is traditionally not part of their target market, they can contact Google directly to launch an investigation. Any questionable clicks are reimbursed.
Myth #3: AdWords Is An Outbound Marketing Tactic
When most people think of Google AdWords they think of paying for advertising. Advertising is typically synonymous with outbound or traditional marketing. But, AdWords is different; it's designed to showcase your content when potential customers are using Google to search for an answer, information, solution, etc. Unless you have access to Google's ultra secret algorithm, it's the only inbound marketing tactic that guarantees your content will rank high on Google when a user performs a search.
In some cases, AdWords actually delivers a better user experience for the searcher. Example: I have a friend in Southern California that specializes in car wraps. He has a page on his website that talks about removing car wraps. If someone in New York performs a search for "how to remove a car wrap", they are not going to want to ship their car to Southern California to get their car wrap removed. If my friend was using AdWords to promote this page, he could specify that the ad only be shown to searchers within a 60-mile radius of his shop. This keeps the searcher in New York from calling my friend in Southern California, while ensuring that my friend in Southern California doesn't pay for that call.
Integrating AdWords with Your Inbound Marketing Strategy
Now that we've debunked these 3 myths, it should be easy to see how AdWords can be the perfect compliment to inbound marketing if implemented correctly. Combined with your content and SEO efforts, it allows you to dominate the search results and take traffic away from your competition. What's even bettter, HubSpot now makes it simple for inbound marketers to create, measure, and optimize their ads right in the HubSpot Dashboard with their new Ads Add-On Product.
I hope I've been able to give you some insight on how people actually perceive ads on Google. If you're thinking about adopting Google AdWords or would like more information on how AdWords can add value to your overall inbound marketing strategy, please download this free eBook: Why Google AdWords Should Be Part of Your Inbound Marketing Strategy