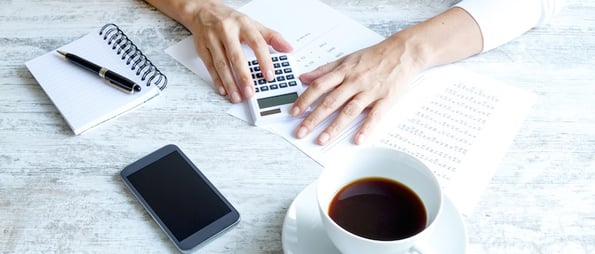 The days of flooding the internet -- and even your own site -- with overly promotional content are gone. While traditional efforts like this may have worked in the past, many businesses are finding them to be less effective in today's increasingly contextual marketing world. As a result, they're turning toward more modern techniques to achieve a high return at a low cost. (On average, these inbound techniques can save you 13% per lead.)
Inbound marketing focuses on earning a person's attention by offering engaging content aimed at improving the online experience while also staying in the forefront of their minds. In terms of the sales funnel, all levels can benefit from this sort of approach, as content marketing helps brands leverage crucial decision-making moments by offering consumers solutions to potential concerns.
Fractl recently decided to take a closer look and outlined how content marketing can increase awareness, build trust, and convert leads -- all important in driving consumers to the bottom of the funnel and ultimately having a positive impact on your bottom line.
3 Tips for Making Content Marketing Work for Your Bottom Line
1) Prioritize on-site content.
For any brand to be successful, it needs to find an established voice. Content marketing is a great way to help your brand distinguish its voice in a highly competitive market, especially with on-site content like a blog. Keep in mind that both visitors and search engines expect content that adds value, so if you deliver, you can expect returning visitors to increase and search engines to index your pages higher -- both huge in terms of driving your bottom line.
A great example of an effective blogging strategy is the growth of KISSmetrics' blog. Last January, the site generated more than 5,000 leads -- exactly 62% of the site's total leads for that month. Note, though, that they did not see these results overnight. Their success required great content paired with effective promotion of said content.
Another benefit to blogging? Your old posts can continue to generate leads long after they're published. When HubSpot looked at their own blog, they found that more than 90 percent of their blog leads came from old posts. In terms of the sales funnel, you're hitting your audience during three key stages:
Awareness. More than 80 percent of consumers use a basic online search to find out more about a brand, and on-site content is crucial if you want to optimize your search engine rankings.
Trust. Providing valuable on-site content will distinguish you as a thought leader within your industry.
Conversion. Demandbase generated $1 million in new business from an on-site bundle that included a white paper, infographic, webinar, and Slideshare.
2) Outline a targeted promotions strategy for off-site content.
When designing a content marketing strategy, you should focus on off-site content just as much as (if not more than) on-site content. Why? Not only will off-site content drive traffic to your site and enhance its overall visibility to search engines, but it's also effective in reaching new audiences. This is crucial in terms of becoming a trusted thought leader and generating new business.
So how do you do this? A great way is through large-scale content marketing campaigns with a strong focus on an often overlooked step: promotion. For your off-site content to be effective, you need to outline a highly focused promotions strategy that targets high-authority sites, specifically those your audience are already visiting. The benefits include the following:
Improved search rankings through inbound links.
Growth in traffic to your site where you can host more highly branded content, which presents a better conversion opportunity.
Focusing on earned reach versus relying simply on natural syndication will ensure you get the desired ROI from your content.
Although most of these benefits assist with the top of the funnel and aim to push conversion events -- like email subscribers -- more than actual conversions, off-site content can have some direct influence on your bottom line. For example, BuzzStream had strong brand recognition within the link-building and SEO communities, but they wanted to reposition themselves as thought leaders to add more value to their brand. By launching a combination of co-branded, research-based campaigns that earned placements on high-authority sites, the off-site links drove audiences to conversion-optimized on-site content. The result: the CRM earned more than 65,000 social shares and broke its record for new subscriber sign-ups.
3) Be patient.
It's clear that a mix of on- and off-site content can attract new consumers, drive traffic, and convert leads, but when can you expect results? A successful content marketing strategy can increase traffic by 850 percent, but some of the more impressive results that directly impact your funnel truly can be felt after a year.
Take, for instance, PR Newswire. They launched a content marketing strategy in an effort to accelerate their sales funnel of more than 25,000 potential consumers. Within a year, the company shortened their sales cycle by 30%.
And whether your focus is on or off site, there are similar KPIs you should monitor for both efforts. These are some common KPIs:
Organic traffic
Unique visits
Inbound links
Social shares
Domain Authority
Increased search rankings
Want to learn more about how to make content marketing work for your bottom line? Review this deck of case studies and check out the infographic below for an even deeper dive:
How has content marketing impacted your bottom line? Let us know your experiences in the comments section below.