In case you haven't already heard, bots are the new black.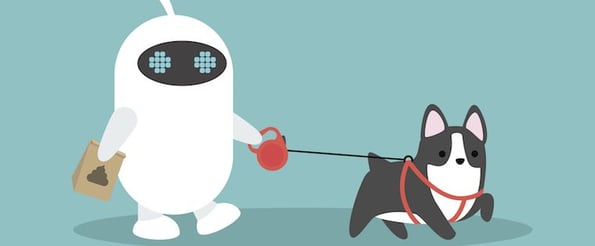 Seriously. The new strategy of providing 1:1, instantaneous assistance to users and customers is proving successful for brands across industries.
And although we've rounded up AI and bot use cases for you as they relate to productivity and marketing, we wanted to round up other cool ones, too -- that anyone can use, even for fun.
So read on to learn about a few neat bots we've enjoyed using so far this year.
5 of the Coolest Bots of 2017
1) Poncho
You might recognize Poncho from the website or mobile app -- it's a friendly "weathercat" dressed in a raincoat, that delivers daily personalized weather reports. But this report goes beyond what time it will rain and if it's sunny or cloudy. Poncho also shares relevant insights like allergen levels, transportation delays due to weather, and a heads up if it'll be a bad hair day.
You'll love the useful details -- as well as Poncho's quirky, sassy voice and daily lifehacks and mantras.
You can start using Poncho's bot on Messenger, Kik, Slack, or Viber.
2) ResistBot
Have you ever wanted to send an angry message to one of your U.S. Congressional representatives? Or, do you love what they're doing and want to send them a thank-you note? ResistBot makes it quick and easy to send messages to your representatives -- without having to actually send a letter. Simply text "Resist" to 50409 (or drop them a Facebook Message), and Resistbot will walk you through a series of prompts to confirm your identity and representatives.
You can start using ResistBot on your native SMS messaging app or on Messenger.
3) Domino's AnyWare
Domino's Pizza made a name for itself with its 24-hour availability and delicious pizza. Now, hungry diners don't even have to log onto a site or call to order delivery -- they can just use Domino's AnyWare (a.k.a., a bot for pizza.)
You can start using the bot, affectionately known as "Dom," on Messenger, Amazon Echo and Google Home devices, or via SMS message (by texting a pizza emoji to 88607).
4) Kayak Travel Hacker
Kayak, a travel booking site, unveiled Travel Hacker to make finding and booking affordable trips even easier. The bot gives you insights on the most affordable times to travel, updates you on travel plans in real-time, and lets you plan and book travel with ease during a 1:1 message exchange. You can even put in filters for specific requests, like "nonstop flights only" or "four-star hotels."
You can start using Travel Hacker on Messenger, Slack, or Amazon Echo.
5) Foxsy
Foxsy is a matchmaker bot -- but not the kind you might think.
Foxsy leaves the romance aside and matches people together to help them find and chat with new friends. So if you're looking to add a new member to your crew, start answering Foxsy's questions so they can get to know you.
You can start using Foxsy on Messenger or Viber.
Editor's note: HubSpot has acquired Motion AI, which enables everyone (developer or not) to build bots. Learn more here: HubSpot Acquires Motion AI.