No other B2C industry has thrived on Instagram quite like the fashion industry.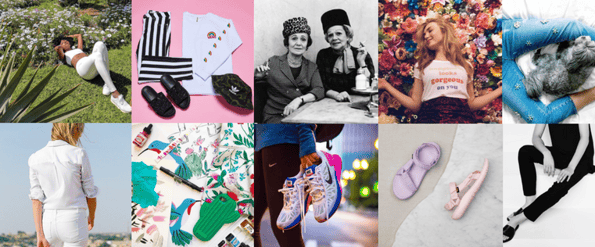 Between their carefully curated photos, expertly targeted ads, and decisive adoption of Instagram Stories, fashion and beauty brands have become masters of consumer engagement on the visual content platform. And brands from any industry could learn a thing or two from these inspirational feeds.
Back in 2015, business intelligence firm L2 found that fashion and beauty brands were growing their community size and engagement rates on Instagram at a rapid rate.

Source: Digiday
The L2 report also found that among fashion and beauty brands, Instagram had firmly become the social media platform of choice -- far outranking Facebook and Twitter.

Source: L2
Today, the industry's love affair with Instagram isn't showing any signs of slowing down. Digiday recently checked in with a number of fashion and beauty social media insiders at SXSW's Decoded Fashion and Create & Cultivate events, confirming that Instagram remains a top priority in their digital marketing strategies.
"Instagram is always a priority for us," Rosi Sanchez, a social media strategist at Fossil, told Digiday. "We have more reach and a larger new follower group there, so it leads to more conversions. Until we get to 1.5 million or 2 million followers, it's going to be our number one priority."
Fossil isn't alone. Social media strategists from more established brands like L'Oréal USA, Shopbop, and Murad also indicated that Instagram was their top social media priority for the foreseeable future.
Brands from any industry looking to level up their visual storytelling chops should keep a close eye on fashion brands for inspiration. To help get you started, we've compiled a list of 15 fashion accounts -- both big and small -- who are crushing the Instagram game. Take a look below, and start planning your next big Instagram push. For a deeper dive on how to build a presence on Instagram, check out our complete guide to Instagram marketing.
15 Fashion Brands to Follow on Instagram
While Everlane's account has no shortage of beautiful product imagery, they also feature photos of their customers wearing Everlane clothes, inspiring travel photography, and tips on food and art destinations in different cities around the world.
The behemoth athletic brand has enthusiastically embraced video content, and can be regularly found sharing clips with their impressive 7.1 million follows on Instagram. Their feed features a motivational mix of professional athletes and regular, everyday fitness enthusiasts.
Teva's Instagram feed is perfect proof that it's possible to give your brand a modern update without losing the spirit of what made you successful in the first place. Their feed includes customer-generated photos of their sandals out in the wild, as well as sleek product shots highlighting their new styles.
Zara has made a name for itself by emulating the marketing of more expensive, luxury brands, and their Instagram feed is no exception. Their account looks like a high-fashion magazine, with professional editorial shots of their men's and women's styles.
If you like photos of neatly organized items, then Fossil's Instagram is definitely for you. The accessories brand curates an impressive feed of food, fashion, and celebrity influencers like Kristen Bell.
Despite being a well-established label, Kate Spade's Instagram has a distinct personal touch that sets it apart from similar brands. Their social media manager shares daily outfit pictures, snaps from around New York, and behind-the-scenes shots of the design process at the Kate Spade studio.
The Instagram feed for Swedish outdoor apparel brand Fjällräven is less about their products, and more about the adventurous spirit that has defined the company for almost 60 years.
Apparel brand Madewell is known for their relaxed, classic styles, and their Instagram clearly reflects this aesthetic. With bright, sunny images of their latest products and collaborations with brands like Vans, their feed is a fashion lover's delight.
Another account that focuses less on their products and more on visual inspiration, The Row features vintage photos of art, architecture, and fashion -- only occasionally sharing images of their actual products.
British online fashion and beauty retailer Asos keeps their feed updated regularly with colorful and bold product images and editorial snaps from their latest campaigns.
Scrolling through Aerie's Instagram feed is like taking a tropical beach getaway. The lingerie and bathing suit brand has been applauded for their commitment to unretouched photos in their print ads, and they continue the effort on their Instagram account by celebrating a diverse range of women and body-positive messages.
Eileen Fisher keeps the emphasis on their quality materials and environmentally friendly production processes Instagram presence. By featuring images of women from all walks of life, they prove that style is truly ageless.
With colorful close-ups of their brightly patterned styles, Anthropologie's feed is a visual smorgasbord of inspiration. We especially love the travel shots featuring their clothes around the world.
This leggings startup has yet to even officially launch a full collection of clothing, but they already boast an impressive 60.2k followers on Instagram. Thanks to a free leggings promotion they advertised earlier this year on Instagram and Facebook, the brand has enjoyed explosive social media growth. Their feed keeps customers engaged with stunning product photography of their minimal styles, and screencaps from inspirational movies.
J.Crew has mastered the art of follower engagement on Instagram. With daily-updated Stories and regular contests to select new styles for clothes and accessories, their vibrant feed keeps customers inspired and interested.