The days remaining in 2013 are few, and 2014 is just around the corner -- things you undoubtedly know already. But here's something you may have forgotten about: There's not much time left to finish up your holiday shopping. (Gasp! We know.)
Maybe you're a marketer and looking to complete your wish list. Or maybe you've got a team of marketers you want to make smile. To help you out, I've searched the internet far and wide (it's kind of what I do) and found you some of this year's best gifts for marketers.
Without further ado ...
1) Tweet a Starbucks Coffee
I tried this for the first time earlier this season when Emily Maxie, director of marketing for SIGNiX said something nice about our social media tool. I was really thrilled and just wanted to do something nice in return. Tweeting a coffee is an easy, hassle-free way to surprise co-marketing partners, customers, or others. Plus, it's almost instantaneous, so it's a savior for last-minute shoppers.
To tweet a coffee, you have to have a Starbucks account set up, but you can use the same account you use for your own personal Starbucks card or pay-by-phone app.
Where to get it: Starbucks
Cost: $5 (but be careful -- it's addictive).
2) "Makers Gonna Make" Notebook
This is among a handful of notebooks we really love. It's a reminder that marketers can create some truly exceptional things. It's small -- about the size of a passport -- and could fit in your back pocket. So it's perfect for jotting down ideas for blog posts or content on the fly. The notebooks come in packs of three or more. Get them for your entire team or as a stack for one great content creator.
Where to get it: Makers Gonna Make
Cost: $12.99 for three notebooks
3) Blogging Fuel Mug
As comedic writer Dave Barry once explained, "It is inhumane, in my opinion, to force people who have a genuine medical need for coffee to wait in line behind people who apparently view it as some kind of recreational activity." This mug is just big enough to keep your favorite marketer away from the refill line long enough to finish today's post.
Where to get it: HubShop
Cost: $12.95
4) "For the Love of Marketing" T-Shirt
This is a pretty great gig we all have. Sure, there are seemingly unattainable lead goals and endless writing deadlines. But think about it for a moment: Every day, we get to get up and figure out how to capture people's fascination. It's an amazing job.
This shirt summarizes that sentiment nicely. Oh, and it's really comfortable for blogging.
Other items of note in the HubSpot Shop:
Where to get it: HubShop
Cost: $20
5) "But First, Coffee." T-Shirt

It's best to wear your priorities on your sleeve ... er ... torso. This cozy T-shirt puts your working style out in the open. In fact, it may double as a signal for the best way to bribe you for extra work.
Don't work in a jeans-friendly office? Nothing a blazer and nice pants can't fix (she writes as if she has actual fashion sense.)
Where to get it: Skreened
Cost: $29.99
6) Mophie Smartphone Case
A group of HubSpotters got these cases while working long hours at the INBOUND conference earlier this year.
Mophie is a smartphone cover that also doubles as extra battery life. They're a little clunkier than the standard phone case, but they can extend your phone's life by 100% or more. If you know a marketer who is often working from the road
Where to get it: Mophie
Cost: About $100, depending on variety
7) Book Cover Laptop Case
Rumor has it writer Jorge Louis Borges used to sleep surrounded by books. He'd crawl into bed with stacks of them on either side. His last scent before sleep would be that of open pages and intricately worded lines.
This isn't quite as poetic, but it's close.
This laptop cover would be a good fit for the bookworm on your team.
Where to get it: TwelveSouth
Cost: About $80
8) Subscription to Pandora, Rdio, or Spotify
Okay, so music may not make you smarter, but it does make you happier. And isn't delight what we're after here?
Many marketers already listen to streaming music while they work, but without a subscription, that streaming music is typically limited or interrupted by commercials.
Buying your marketing friend a subscription to Pandora, Rdio, or Spotify can get rid of all the commercial interruptions and just leave them with good working music. We're inbound marketers -- thus, we hate commercial interruptions.
Pandora One Cost: $36, and it's nice because they make it easy to gift subscriptions
Rdio Cost: $60 a year for web listening ($5/month)
Spotify Cost: $120 a year ($10/month)
9) @TwitterName Necklace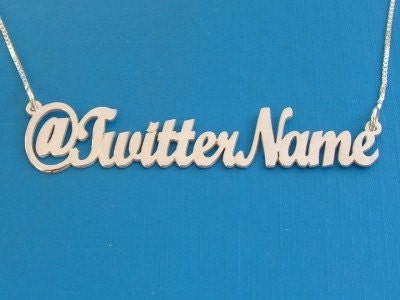 It might be a bit excessive, but it's also kind of awesome. Here's a gift for the social media strategist who has single-handedly grown your company's Twitter following from 15 to 500 and beyond.
If jewelry isn't the right gift, there are also social media coasters ($14.99) for Facebook, Twitter, Pinterest, and Blogger.
Where to get it: Etsy
Cost: $43.99
10) 1Password
Welcome to secure accounts on the internet. Your password must be 15 characters long with at least two capital letters, three symbols, two numbers, and at least one variation of the jabberwocky poem. Nope, that won't work. It can't be the same as any password you've used since junior high school.
If you could spare the marketer in your life this frustration, wouldn't it be a happier new year? Take a look at Agile Bits' 1Password app. It will create and store all of your passwords securely and enable you to log into your accounts with one click.
Where to get it: Agile Bits
Cost: $49.99
11) 99U Essays: Manage Your Day-to-Day
One of my favorite books of the year, this collection of essays from 99U, focuses on how to develop a habit of creativity in your work and personal life. It gives you tips on how to put your creative work first and fend off a stream of endless emails, texts, and other interruptions.
Reviewed highly (average 4.5 stars) by more than 250 reviewers, this book offers concrete ideas for getting more out of your daily routine and finding the right moments for creative, complex work.
Where to get it: Amazon
Cost: $8.97
12) Freelancer From Writers Access or Zerys
While they don't do gift cards, you could get your marketer a day off by funding a freelance writer from Writer Access of Zerys. Create a gift certificate yourself and wrap it up in a bow: Good for one day of reprieve from creating content.
Where to get it: Zerys or Writer Access
Cost: Varies
13) Premium Versions of Their Favorite Productivity App
Marketers use all sorts of freemium tools to organize their time and plan campaigns. Find out what online apps your marketer uses to make their day-to-day easier and get them access to all the bells and whistles for a year.
Here's a breakdown of some popular ones:
Evernote: Evernote is a repository for just about anything: ideas, articles, documents, photos, marketing examples. You can use the tool on your phone, desktop, and tablet, so it goes where you go. The big benefit of Evernote is how searchable it is. You can search documents or even the words in a picture to quickly retrieve your content again. The premium version gets you more storage, better search, and an interesting presentation mode. Cost: $45/year
Dropbox or Box: We all could use a little space. Help your marketer out by upgrading their Dropbox or Box accounts to a pro version. Cost: Varies
Feedly Pro: When Google Reader closed its doors, Feedly was widely adopted as the replacement RSS reader. Feedly Pro is a more powerful version of Feedly with one-click integrations, custom sharing URLs, and full support. Cost: $45/year
14) Noise-Cancelling Headphones
Can you really put a price on peace and quiet? Turns out, Bose can: It's about $315. Yikes.
If you can get over the price, this is an amazing gift for anyone who needs to focus throughout the day. Noise-cancelling headphones put your marketers in their own cozy and uninterrupted lead-generating world.
Whether they listen to Mozart or Modest Mouse, these headphones give marketers a chance to block out everything but the work ahead of them.
Where to get them: Amazon or your local Bose store
Cost: $315, though some less expensive versions are available.
15) Class Reimbursement
For intellectually curious marketers, think about giving them the combo-gift of classes plus the time to learn a new skill.
There are a number of low-cost and free online classes and tutorials out there for people looking to code (Codecademy), design (Skillshare), or acquire other relevant skills. The trouble is finding the time.
If you really want to thrill a marketer on your team this season, give them the classes plus an approved block of time each week to dedicate to the lessons. Wrap it up in one package.
Where to get it: Check out Code Academy and Skillshare, plus your local continuing ed classes. Then, figure out what you need to move around to make the class time possible.
Cost: Varies
16) INBOUND 2014 Tickets!
While they're not quite available for purchase yet, you can surprise the marketer in your life with a promise to pre-order tickets for them in January. INBOUND is a conference like no other. Of course, I would say that because as a HubSpotter it is the center of my life in August and September, but it turns out others think so too.
Darby Tinch of Mohawk Home said, "This was by far the best conference I've attended in a very long time. Not only was it the recharge I needed professionally but also on a personal level. It has been a long time since I've been this excited about my career. I cannot wait until INBOUND 2014!"
Where to get it: Inbound.com Early Reminder
Cost: Tickets will be available at a special early bird price in January.
17) Donation in Their Honor
If none of the above seems like a fit, consider a donation in your marketer's honor. Donations are a personal thing, so be sure you have a sense of the issues your marketer cares about. But once you do, a gift in their honor can be really meaningful.
Where to get it: Because the donation should reflect the gift recipient and there are so many nonprofits we care about here at HubSpot, I'm going to leave the door open here and not make any specific suggestions. Talk to the gift recipient and see what they care most about.
Cost: Whatever amount you see fit.
There's your starter list. There are dozens more ideas out there: subscriptions to magazines or journals, lunch from a local restaurant, or a plethora of other gift certificates anyone would love.
Let's keep it going: What gifts would you most like heading into the new year? List them in the comments below -- reasonably priced or otherwise!
Originally published December 18 2013, updated November 22 2017