The holidays are typically a rough time for marketers. While everyone else is dreaming of cranberry sauce and warm fireside chats with family members from around the country (and pie -- can't forget the pie), you're in fits because it's a short week and your campaigns aren't in order (and the only pie you're thinking about is the kind reserved for stress-eating).
A small piece of advice for these pros, from one marketer to another: breeeeeaaathe.
The great thing about inbound marketing is that you can schedule a lot of your marketing in advance (it's awesome, we know). So, plan ahead for the rest of this week and the beginning of next week by employing the tips outlined below so you can actually enjoy your Thanksgiving holiday.
1) Get all caught up with email.
First, plan your emails and newsletters in advance. If you're a B2B marketer, keep in mind people will be away from work Thusday and Friday, if they're in the U.S. And if you're a B2C marketer, keep in mind they'll probably be on mobile much of that time. That means that you're better off sending a top-of-the-funnel, shareable message (for example, "101 Awesome Marketing Quotes"), and save a more in-depth offer (such as "How to Optimize Email Marketing for Conversions") for the following week.
In addition, make sure you optimize the little things in your email, such as the plain-text version and image alt text. This is a great way to get more people to click your emails, and it can also boost your lead generation numbers (a pretty good bonus, given how slow the holidays can be for lead gen).
2) Write a holiday blog post or two.
Thanksgiving weekend is a time for feel-good family fun, the aforementioned pie, and plenty of football. Thus, it may be wise to newsjack the holiday and create a post that ties back to your own blog.
For example, as a marketer at HubSpot, I might write a post titled "10 Reasons Inbound Marketing Is Like Pie" (reason #3: People come to you, not the other way around. Pies don't need to disruptively advertise how good they are. They present themselves well and draw you in.)
If you're experiencing writer's block or just in a hurry, try one of these blog post templates -- they will help you organize ideas and put together a quality post in practically no time.
3) Create a call-to-action for your posts.
Just as you likely do for many other blog posts, tie calls-to-action to your holiday posts to generate leads. These should correlate with what your post is about.
To save you time, we made these helpful calls-to-action templates. It's important to leverage your blog to drive new more traffic to landing pages, where you can turn visitors into leads, or to incentivize them to share your content so you can get more leads.
A couple quality examples of appealing calls-to-action: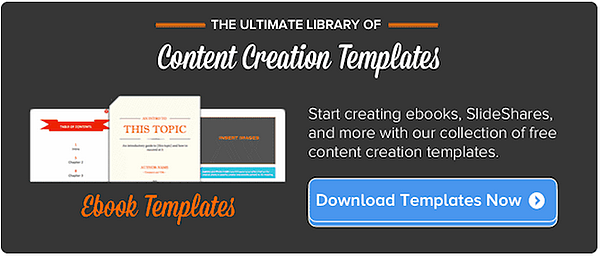 4) Schedule social media posts.
Facebook, Twitter, LinkedIn, Pinterest, Google+ -- which ones are your biggest channels? Prioritize which of these social platforms to focus on based on how much traffic and interactions you get on each -- you're on a tight schedule, after all.
Once you've narrowed down which sites to focus on, plan what information and which offers you want to promote -- to have everything in one place and ready to go, use this social media publishing schedule template.
Be sure to align the content you're promoting with your blog post(s) and email sends to get the most out of each day. Also, it may be best to intersperse lead-gen posts with fun posts related to Thanksgiving.
Expert Tip: Use holiday-specific keywords and hashtags to increase your social presence when it's feasible to tie your post's content to it: Thanksgiving, turkeys, pie. Also, utilize events that get a lot of social media love -- the Thanksgiving morning parade and pro football games that day, for example -- by scheduling posts to launch during that time. Again, make sure to tie it back to your content.
5) Set up your vacation responder!
I'm sure you know how to do this by now, but to help you out (and ensure everyone knows you're out of the office), here's a screenshot from Gmail showing how to set it up:
By following these steps, you can take the stress out of marketing for the week and enjoy your Thanksgiving break!
How are you preparing your marketing for this Thanksgiving holiday? Let us know in the comments below!
Originally published November 26 2013, updated November 22 2017