At your company, you have multiple teams, dozens of tools, thousands of customer touchpoints, and new challenges every day. And through it all, your customers have much higher expectations than they did 10 years ago.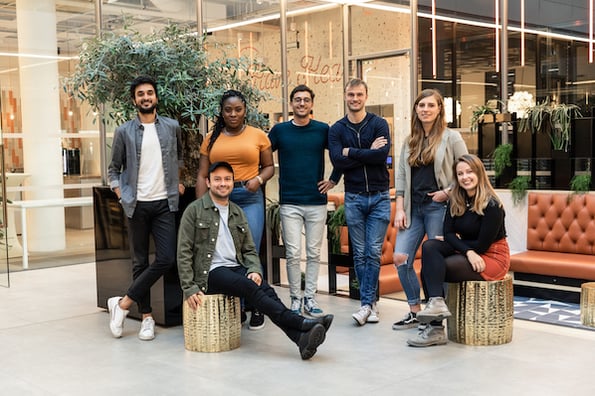 Customer experience is now the main factor driving referrals, sales and lifetime value. Because of that, your customer needs to be at the center of your entire business. Regardless of where your customer interacts with you, they need to have a delightful experience.
One tool can't do it all for you.
Keeping your marketing strategy customer-focused requires using more than software to build your business. You can integrate your software with apps and use service providers (typically an external business who is an expert in the help you need) to tackle business needs alongside with you. Trying to manage the experience across the entire customer journey can involve juggling a lot of different channels and tools.
Christopher Martin, Digital Marketing Manager at FlexMR, says that he amassed a large number of tools during his first few weeks on the job -- including Constant Contact for emails and Hootsuite for social media. But simply launching more tools didn't get them the results they needed. "They weren't integrated, so we couldn't track leads or calculate ROI," Christopher says. "We spent much time manually entering data to ensure the information was accurate."
To create the customer experience you want, these tools need to be supported by a backbone. Bringing all these tools together (along with experienced partners) creates an ecosystem that supports your business. Without this ecosystem, it's impossible to manage every touchpoint effectively.
This is why it's so important to use more than software to build your business -- integrate your software with apps and use service providers to tackle business needs alongside with you.
Using a Software Ecosystem to Help You Grow
It's hard for one company with one software subscription to deliver the experience that customers are looking for today.
Instead, businesses need to surround themselves with connected tools that keep the customer front and center. There are three tools that can help you keep your customer at the center of your flywheel and drive growth:
Service providers
Access to an app marketplace
Creating a single system of record
Service Providers
Marketing technology spend is now higher than the advertising spend for companies.
Hiring an external service provider to work with you and your team can be a great resource. They can help with tool expertise, training, management, implementation, ongoing support, and more. Service providers can help marketers optimize their investment by providing hands-on assistance, training, and knowledge.
According to HubSpot research, 86% of businesses who work with service providers say it has benefitted their business. People have cited the following and more as benefits of working with service providers:
Extra help to achieve your business goals faster
Achieve highly specialized projects and tasks
Ability to achieve a broader scope of projects
Ability to do more with the technology that you're using
External perspective and expertise
The reliability and accountability of working with an outside organization
Not feeling limited by your internal resources
Faster growth for your company
When you hire folks who are extremely familiar with the software than runs your business, you get more value out of your technology. Service providers are an extension of your business, and they allow you to get more work done with fewer full-time staff. Who doesn't love a pair of helping hands - especially when those hands are attached to a ton of specialized knowledge?
App Marketplace
As we mentioned earlier, marketers need a lot of tools to make the magic happen. But these tools shouldn't exist separately. Integrating them together can make it easier to work across different channels and automate your customer experience.
An app marketplace makes it easy to bring all the tools you use into one place (and it can help you discover new tools, too!). Software with a strong ecosystem includes access to a wide range of apps that make your platform even more powerful.
Skirmante Bikaite, Marketing Executive at Hatch, says that before taking advantage of the HubSpot ecosystem she was using one tool for sending emails, another for checking how the website was performing, and so on. This large number of tools that Hatch used delayed its ability to set up campaigns and results in a more complicated marketing process.
When they were able to pull all of their social media apps together, they could coordinate campaigns and reporting across channels. "We're now able to see the source where leads come from, when they convert to an opportunity and when they change towards a sale down the road," says Skirmante. This kind of coordination is only possible when you're supported by an ecosystem.
Melissa Miller, Marketing Fellow on the Marketing Operations team at HubSpot, agrees with the importance of integrations: "At HubSpot, we've been able to leverage integrations to build on top of HubSpot's existing tools. These integrations serve a range of functions and enable our operations teams to build solutions that support internal stakeholders across the business. Ultimately these integrated solutions empower our marketing, sales, and services teams to provide a better experience for our customers."
Single System of Record
Most marketers are familiar with using a CRM to store customer data. But not every team is taking advantage of all the customer data their entire company has available. From customer satisfaction data, to survey responses about preferences, to past purchases - combining all this information into one single system of record opens new doors for your marketing team.
Books Tell You Why, a rare bookseller, uses their CRM to personalize their marketing campaigns for each reader. "As an eCommerce operation, email nurturing and targeted messaging are key ways for us to win repeat business," says Andrea Koczela, VP of Marketing, "Knowing that 'Joe' collects James Bond literature will allow us to send messages tailored to his interests instead of horror book newsletters, for example. Not only does this approach increase our open rate and click-through rate, but it also builds goodwill with our contacts. They can trust us to send relevant emails and not clutter their inbox."
Using all of the data at your disposal to curate a personalized and targeted customer experience turns your marketing pipeline into a growth engine.
Not only that, but bringing all your data together into one system means that your teams collaborate better. Sales and marketing are working from the same context, which helps generate more conversations that can go deeper into the customer's needs.
No Marketing Team is an Island
Why should your software be one?
Instead of thinking of software as individual tools, it's critical to consider the overall ecosystem your tools exist in. A service provider can help you grow in ways that you've never thought of before, from discovering a new integration to developing a new automated leads pipeline. When you lean on a strong ecosystem, you're more equipped to meet your goals.
Using all these pieces together empowers you to provide an excellent customer experience across all touchpoints.
HubSpot is more than software, it's a growth platform designed for you to customize with an entire ecosystem of education, apps, and service providers all available to you at the click of a button. Whether it's strategies, services, or software, the HubSpot ecosystem has everything you need -- so you don't have to grow it alone.
More than just software, HubSpot is an ecosystem of professionals ready to create custom strategies, solutions, and software for your business. You already know how to grow better -- and with the HubSpot ecosystem, you don't have to grow it alone. Check out our App Marketplace, Solutions Directory, or learn more about the HubSpot ecosystem.