"Hold on, let me just confirm the solution for you," the service rep responds as she scrambles to look up the answer to a customer's question.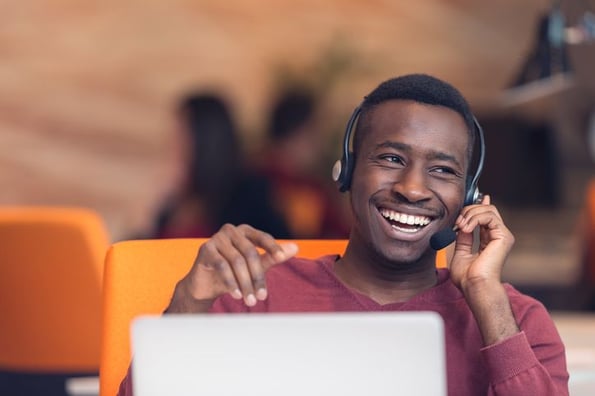 It's the corporate equivalent of a retail employee wandering aimlessly down each aisle when you ask where a certain product is, like you couldn't have done that yourself.
Customers will eventually stump customer service (a department sometimes known as customer success, if it's more focused on proactive goal-setting than reactive troubleshooting) with a question they ask over the phone or in a live chat window. And that's okay; it's hard to always have all the answers at the ready.
What's not okay is when this becomes a pattern -- customer success employees seeming puzzled by the same problems or questions every time their clients bring them up.
Does this sound like the situation at your company? Consider tapping your marketing department to fill those knowledge gaps.
You may have heard the term "smarketing," which describes the ideal alignment of Marketing and Sales through shared goals and direct communication. What if I told you the same alignment could benefit Marketing and Customer Success, too?
There's a critical opportunity for both Marketing and Customer Success to help each other better serve their common audience. Here are six ways Marketing can help customer success managers (CSMs) and service reps transform the client experience, and the benefit Marketing can receive in return.
6 Ways Marketing Content Can Support a Customer Service Team
1. Distilling Marketing Content Into Monthly Digests
Customer Success might already receive their company blog's newsletter, but their conversations with clients can benefit from more tailored recommendations.
A dedicated roundup email just for these employees -- offering a digest of the most product- or customer-focused material from the previous month or quarter -- can ensure the team is always tuned into the issues Marketing knows their audience is most interested in.
A good place to start? Identify the latest ebooks, how-to articles, and data sheets your website is offering for download, and highlight the key points across each piece in this recurring email. Also known as "middle-of-the-funnel" content, this type of content can be hugely helpful to a customer success team because it reinforces product and value proposition comprehension.
Putting this material in client-facing hands ensures their remarks to customers are consistent with what people are reading on your blog or website.
2. Creating a Content Library on the Intranet
An internal wiki or intranet for sharing resources with coworkers is the perfect space for a content library. According to CMO Council, 40% of salespeople's time is spent looking for content that Marketing has created. Because Customer success talks to customers just as often as Sales does, it stands to reason they do the same thing.
Rather than letting your CSMs Google everything Marketing has published -- and potentially sending a dreaded "unusual traffic" signal to Google if they search too much -- repost this content as links on an intranet page created just for Sales and/or Customer Success.
Sort the relevant articles and offers by common customer queries: An article on good email subject lines, for example, might be appropriate bucketed under the topic "how customers can stay out of their own clients' spam folders."
3. Reporting on Social Media Interaction
What do social media and community managers have in common with customer success managers? They see lots of customer complaints -- but in a Twitter post or Facebook comment, rather than over the phone or in a live chat window.
And yet customer service experts at Sparkcentral suggest only 8% of marketing and customer service employees work together on social media. This is a missed opportunity.
If the internet has taught us anything, it's that people are more willing to be honest about their feelings and experiences from behind a computer screen than they are in person or over the phone. That means Marketing could be sitting on a goldmine of feedback from social media followers that the folks in customer success hasn't seen.
Want to help them serve your customers better? Open a line of communication with Customer Success to report on the latest interactions with followers of the brand's social media accounts on a regular cadence. This should include both public comments and private messages, allowing CSMs to see how Marketing talks to users and diagnoses problems their clients may not be revealing directly.
4. Joining Kickoff or Implementation Meetings
Customer success departments that also onboard new customers are sometimes thrown broad questions about the industry during initial calls.
For example, in the marketing industry, a customer might ask, "what content should I publish?" versus or in addition to, "how do I integrate my content management system (CMS) with your product?" The first question may go beyond the product issues that service reps are trained to handle.
Luckily, industry best practices are marketers' bread and butter, making them excellent wingmen during these kickoff meetings. Including just one marketing employee in this process can help keep the customer thoroughly educated in the early stages of a business relationship.
These kickoffs can take place frequently, though, and it's important to be respectful of the marketing department's time. If your marketing employees are separated by industry specialization, consider rotating them into kickoffs for clients that fit their area of expertise.
If their workload simply doesn't allow for it, having marketing's leadership staff (such as the CMO or VP of Marketing) take this responsibility may be in the best interest of the rest of the team.
5. Reporting on Chatbot Conversations
Chatbots and similar chat tools powered by artificial intelligence (AI) aren't yet ubiquitous in marketing, but for companies that have deployed AI-powered chatbots, these transcripts are invaluable to your customer service team.
(Skeptical about the AI hype? Research shows you may already be using AI and not realize it!)
Chatbot technology allows companies to talk to customers via messaging apps -- or natively as a feature of their website -- with an automated "bot" programmed to answer common questions about their services.
If your company hosts a chatbot on, say, HubSpot Conversations (get it for free here), it was likely set up to handle quick-answer queries so client-facing staff can spend time solving more complex problems for the customer. A smart move, no doubt about it.
However, this might also mean a log of some very interesting dialogue between a prospect visiting your website and a robot who speaks on the company's behalf is going unseen by employees who can learn from it.
This chatbot might be designed to lighten the load of questions normally posed to a human service rep, but don't let the automated conversations go to waste. Go a step further and examine how people are interacting with the chatbot.
People tend to lean on chatbots for open-ended, educational needs rather than technical issues, so examine your transcripts for trends in what users need the most information on when perusing your business' website.
For example, you might baffle Customer Success with how many people ask the chatbot about a third-party integration your product offers relative to how little detail your website or CSMs provide on the subject themselves. Time to create some informational middle-of-the-funnel content ...
6. Using Their Insights to Make Your Marketing Content Better
Like in Smarketing, the role of Marketing to Customer Success is a two-way street. Customer Success can offer valuable client insights right back to Marketing, which allows marketers to improve their content so it's addressing the questions Customer Success typically needs help answering for clients.
Just as marketing teams have the opportunity to distill their content into an internal email specifically for service reps (per section 1 above), Customer Success likely keeps transcripts or recordings of their conversations with clients. Consider working with your Customer Success peers on a simple report that highlights call FAQs. Who knows? The company blog or website may be neglecting your customers' most burning questions.
In addition, brainstorming sessions shouldn't always be exclusive to the Marketing team. Everyone at the business can bring valuable content suggestions to the table, and Customer Success in particular has a breadth of on-the-job experience with clients that could make for a great how-to article or video.
Don't hesitate to invite them to your next idea meeting.
Companies with the best customer experience share information across every department, and Customer Success is no exception. By keeping this department informed on what Marketing does all day, you equip them with the answers they're expected to have and offer a more stable buyer's journey to everyone the company works with.