According to a recent survey from Lawless Research and Factual, marketers are spending an average of 43% of their ad budget on Google and Facebook, with Amazon not far behind.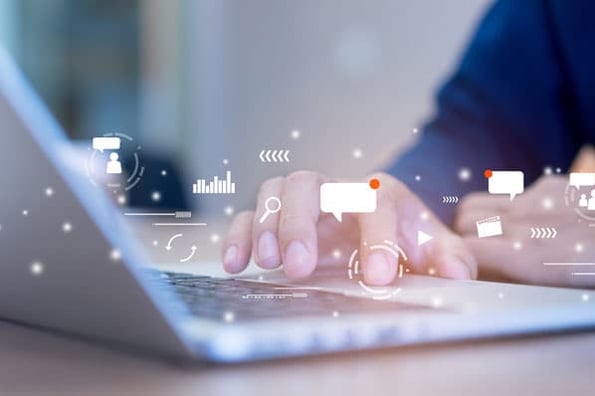 Regardless of business size, online advertising strategies are similar. In fact, 46% of marketers working for agencies and brands with an ad budget of $50 million or higher report say they spend up to 60% of it on ad programs from the three tech giants.
These programs also include ad offerings on sites owned by the oligopoly, such as YouTube (owned by Google) and Instagram (owned by Facebook).
The chart below compares how companies with differently sized ad budgets spend their money on platforms owned by Google, Facebook, and Amazon:
Source: Lawless Research and Factual
But although Google, Facebook, and Amazon have been heavily adopted, marketers are still worried that these platforms will grow even more powerful and dictate their advertising options in the future. When asked to rate their level of concern that the oligopoly would limit their advertising options, 78% said they were somewhere between concerned and very concerned.
As we continue to see innovation and growth in online advertising, could this area be disrupted by ad alternatives?
Yes. In fact, marketers are hoping for new advertising options. Although most marketers and agencies spend huge chunks of their budgets on Google, Facebook, and Amazon, 65% of them want alternatives. The Lawless and Factual study even revealed a few platforms that participants were already using, including YouTube, Instagram, and Twitter.
Interestingly, the study suggests that participants using YouTube and Instagram as alternatives did not realize that they were paying into the oligopoly. The report concludes that this shows the true power of the tech giants.
To help you keep your eye out on options other than the oligopoly, I'll walk you through some of today's most prominent advertising alternatives and show you a few examples of brands that use them.
5 Alternatives to Facebook, Google, and Amazon Ads
Google-Specific Alternatives
Microsoft Advertising
Yes, Google still monopolizes the search market, but you might not want to write Microsoft search engine options off as an alternative.
Microsoft Advertising, formerly known as Bing Ads, is similar to Google in that you can create, optimize, and track PPC ads that show up in searches on Microsoft Search Network platforms, including Bing, MSN, and Yahoo.
If you're thinking, "But, everyone exclusively uses Google," think again. Microsoft claims that 5.5 billion monthly searches occur on its search network.
Microsoft Ads is also less competitive because it isn't as heavily used as Google. Because so many advertisers are bidding, optimizing copy, and competing for precious slots in search engine results, the prices of PPC ads and the cost of wasted spend, can be quite high.
According to WordStream, Microsoft Advertising clients see cost-per-clicks that are 35.5% lower than their Google ads. WordStream also notes that its clients report higher placement on search result pages due to lower levels of ad competition.
Like Google Ads, you'll still want to familiarize yourself with PPC strategies to properly monitor your budget and wasted spend. You'll also want to brush up on keyword research and other SEO strategies to make your ad show up higher than other sponsored search results. To learn more about this, here's a how-to post on launching Bing-based ads.
Social Media Alternatives
LinkedIn Ads
LinkedIn's advertising and content promotion offerings are very similar to Facebook's in that you can create native ads or promote visual or text-based posts in LinkedIn's newsfeed. Like Facebook, you can also designate ad objectives, like web traffic or lead generation and target your content to specific demographics, such as age groups or locations.
If you haven't already seen what promoted content looks like on LinkedIn, here's an example:
Like Facebook and other social media ads, paid content on LinkedIn also been seen to boost traffic and lead generation, especially in the B2B world. In fact, 80% of B2B leads come from LinkedIn, while 94% of B2B marketers use the platform.
While LinkedIn Ads are very similar to Facebook, the platform's nature is slightly different from Facebook or Instagram's because it embraces professional networking and career growth. This makes the platform especially good for brands that want to sell products or services to professionals or other companies.
Want to learn more about how to successfully generate leads on the platform? Check out this recent blog post that features tips straight from LinkedIn's VP of Marketing.
Twitter Ads
Twitter Ads are similar to Facebook Ads in that you can pay to promote tweets or launch native ad-styled campaigns.
While promoted tweets show up higher in the feeds of target users with a "Promoted" sign on them, campaigns might show up on Twitter feeds or sidebars with images or video content linking to a website.
Here's an example of a promoted post from Gold Peak:
Like Facebook, you can also choose objectives -- or goals -- for Twitter Ads. These include tweet engagements, video views, app installs, web sessions, and other common objectives that you might have on other online ads.
Aside from providing similar options to Facebook Ads, Twitter Ads are getting more affordable and more effective each year. Twitter says that engagement with paid ads has increased by 50% year over year. However, the cost per engagement decreased by 14% in 2018.
Reddit Ads
Reddit is a community-centric social network that encourages users to contribute to discussion-based threads called subreddits.
Although the platform is very unique, it's still gained more than 330 million monthly active users, mostly within the millennial and Gen-Z age groups.
While brands have tested out multiple strategies that involve contributing to discussions and starting their own subreddits, many have also taken advantage of paid promotions on the platform.
When it comes to paid promotion, you can consider sponsoring your posts to ensure that they are placed higher on threads, subreddits, or feeds of targeted users. Here's an example:
If you're less familiar with how to engage people on the platform, but sell a product that Reddit users would like, such as media, a technological gadget, or video games, you can also consider a native ad that will show up on Reddit feeds or on Reddit's sidebar.
One important thing to know is that Reddit has been seen as one of the trickiest platforms for marketers to crack. Although you can promote content, users on the platform primarily respond to content that values them or adds to conversations on the platform, rather than branded language. However, Reddit is reportedly making more efforts to become more brand-friendly -- so it might be worth keeping on your radar.
If you do want to advertise on Reddit, you should still do a bit of research to learn more about the audience, what they'll respond well to, and what topics they don't care for. To help you learn the ins and outs of Reddit and see examples of brands that have succeeded on the platform, check out this blog post.
Pinterest Ads
If you're selling products, like home decor, or lifestyle experiences, like travel bookings, you definitely shouldn't forget about Pinterest.
While it's not the most prominent social media platform, Pinterest still has over 300 million monthly active users, is photo-friendly, and encourages people to pin images and products they like to inspiration boards. This might be why big brands, like Target, have embraced the platform and its aspirational nature.
Here's an example of a pin from JCPenney which links to a holiday line of products on its website:
While bigger businesses have leveraged Pinterest, small businesses have also leveraged the platform's advertising tools to launch ROI-generating ads. Want to learn more? Here's a great blog post from a PPC consultant on four tests that are proven to boost Pinterest Ad conversions.
Navigating Ad Alternatives
With the growing number of advertising options out there, it can be hard to determine which is right for you. While we gave you a quick rundown of a few major alternatives in this post, it's important to do a bit more digging on each.
Make sure to pay into platforms that your buyer will actually be on in the first place. Then, determine what ads are most interesting to them. If you decide that you want to zone in on social media marketing and ads, check out this blog post to learn about which platforms consumers use most to discover new products.
Still interested in leveraging PPC or want to improve on your strategy? Here's our Ultimate Guide to Google Ads.