According to 2016 data from Econsultancy, only 22% of businesses are satisfied with their lead to customer conversion rates.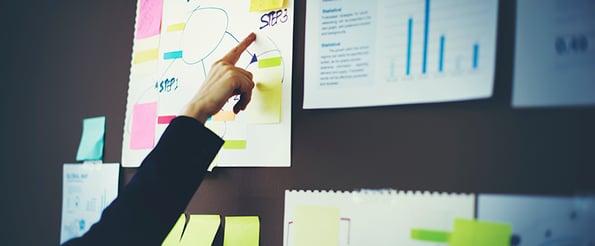 That's bad news for a marketing agencies with retainer clients. How many times has your agency generated the agreed amount of high quality leads, but still lost clients because the client's sales team didn't close those leads?
When your clients don't see a visible revenue return on marketing efforts, they might begin to view agency retainers as unnecessary spend.
Offering sales support services in addition to more traditional content strategy helps agencies deliver tangible ROI to their clients throughout the sales funnel. In fact, sales enablement services are often so effective, agencies are able to increase client retainers.
To improve client retention and ROI, there are three core sales support packages every agency can offer: sales and marketing alignment, CRM implementation, and sales enablement. Read on to learn how to start implementing these services at your agency.
3 Sales Support Services to Offer Clients
1) Sales & Marketing Alignment
Businesses with tightly aligned sales and marketing teams generate on average 208% more revenue from marketing than companies with disjointed teams. But if strong relationships between sales and marketing departments are so important, why are they so hard to achieve?
Here two service offerings that agencies can implement to better align their clients' marketing and sales departments:
Define a Common Language
The first step to aligning any sales and marketing organization is to develop a common understanding of the client's ideal customers: buyer personas. Marketing needs to target the same individuals that sales wants to prioritize.
When developing a client's buyer personas, conduct interviews with key stakeholders on both marketing and sales as well as the client's current customers. Make sure both teams agree on the target demographics, pain points, values and goals for every persona.
Once sales and marketing agree on a set of ideal buyer personas, take time to clarify -- and revise, if necessary -- the client's marketing and sales funnels. Establish a definition for marketing qualified leads (MQLs) -- leads that are ready to pass from marketing to sales -- and specify a clear handoff plan for these contacts.
Create an SLA Between Marketing and Sales
Once both teams are speaking the same language, it's time to create a sales and marketing service level agreement (SLA). An SLA is an agreement between marketing and sales where marketing commits to generating a specific number of leads (or MQLs), and sales agrees to specific follow-up procedures for those leads.
Crafting a meaningful SLA requires an understanding the historic lead-to-customer ratios, the current sales team's capacity, and the percentage of total revenue for which marketing will be held responsible. More details on calculating a SLA agreement between marketing and sales can be found here.
To remain relevant, SLAs should be revised at least every 6 months. By regularly updating your client's SLA, you can account for factors like new product offerings, time of year, and new sales headcount. From a technology standpoint, agencies can also build custom SLA reports and dashboards in a client's CRM.
2) CRM Implementation
A 2014 study by Nucleus Research found that for every $1 spent on customer relationship management (CRM) software, a company saw a $8.76 increase in revenue. Yet, less than half the 140K respondents to the 2016 State of Inbound report use any CRM software. That means agencies have a major opportunity to increase their value proposition by offering CRM implementation services.
Technical complexity and a lack of resources (employees and time) for the initial setup are common blockers to CRM adoption -- this is where your agency comes in.
Initial CRM Setup
Setting up a CRM for a client requires a complete understanding of their sales process. Conduct interviews with individuals at every level of the sales organization to clarify what information is important to each cohort, and then customize the CRM's contacts, companies, and deals stages/objects to fit these needs.
Perhaps the biggest anxiety for clients is losing important historical data during the transfer to a new CRM. You can ease these concerns by being transparent with clients about the steps to importing their data into the new system.
Once a client's historical information has been successfully uploaded into the CRM, the final step is making this information relevant and accessible to every individual in the sales organization. To do this your agency should build:
Custom lead views for sales reps.

Pipeline forecasting dashboards that help managers anticipate monthly revenue.

Rep productivity reports for that show managers:

Lead work rate - The percent of marketing leads touched by sales.

Lead response time - The time it takes a sales rep to reachout to new leads.

Total volume of leads worked per rap - The total number of leads worked.

Opportunity to customer rate - The percent of deals that close into customers.
Building these custom features into your client's CRM leads perfectly into an ongoing retainer-based offering of CRM maintenance. If you're looking for a free CRM to get clients started, you can try out HubSpot's free CRM here.
Ongoing CRM Maintenance
With so many sales reps and managers working within the CRM daily, it's easy for things to get cluttered -- fast. Custom objects, new deal stages, and a slew of unique reports can clog the system and make it difficult for employees to find exactly what they are looking for, quickly.
At large corporations, CRM audits are typically run in-house by a sales operations team. However, many small and medium size businesses don't have dedicated operations departments. This a huge opportunity for marketing agencies to swoop in for a retainer-based service offering for CRM maintenance.
3) Sales Enablement
Imagine a world where a marketer creates a landing page on Monday. On Tuesday morning, a sales rep walks into work with four calls already booked on their calendar from prospects who viewed that landing page. That world is today.
Automate Sales Prospecting with Meetings Links
Numerous applications now enable prospects to book time directly on sales reps' calendars. Your agency can easily run a content audit of the client's well-trafficked, bottom-of-funnel existing web pages, and find opportunities to allow direct bookings with sales.
On pages likely to attract eager buyers -- for example, the pricing page or a 'Contact Us' page (see the example screen shot below) -- replace existing CTA buttons with a link to a sales reps calendar.
Meetings booked through a landing page cut down a sales rep's prospecting time, and links direct ROI to your agency's efforts. It's a win-win.
Prospecting Email Template Creation & Optimization
It's a common assumption that the marketing team produces the majority of content at a business. It turns out this simply isn't true: According to Ducurated's 2016 State of Sales Enablement report, marketing typically produces about 30% of company content, while Sales is responsible for about 40%.
So what kind of content is Sales creating? Sales reps produce hundreds of email templates each year, including emails for these use cases:
Connect email

Bringing a decision maker into the conversation

Scheduling a demo

Asking for a referral
Good templates radically improve prospecting speed, while poorly crafted templates quickly destroy credibility. Chances are, your client has both good and bad email templates floating around their sales teams.
Conducting a review of sales email templates and surfacing the highest performing content to all team members can quickly improve the efficiency of a sales organization.
When creating and auditing sales templates, use a software that provides open and click-through rates data of individual emails. Look for copy trends among the highest performing content.
Email trends change significantly over time. Agencies should set up a retainer-based service with clients to review email template performance every quarter.
What sales services does your agency offer? Let us know in the comment section below.