Hold on to your hats, marketers, because we've got some exciting news that's going to transform the way you use Twitter Ads.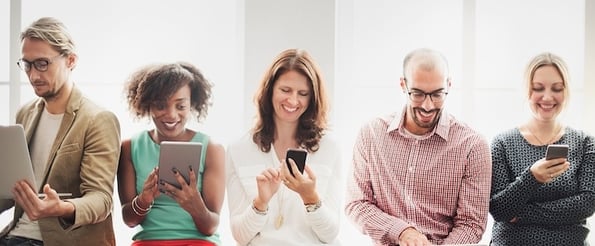 A little background first: Back in June, Twitter rolled out Twitter Cards, their name for the multimedia you sometimes see in expanded tweets on Twitter.com, Android, and iOS applications.
Fast forward to today: Twitter released the Lead Generation Card, a new type of Twitter Card that will allow marketers to collect leads directly within the tweet. Users don't even have to fill out a form -- their information (Name, email, and username) is already pulled into the card. They literally just have to hit "Submit" on the Card's call-to-action. The Lead Generation Card is exclusively available as a feature of Promoted Tweets (a paid feature of Twitter Ads). For now, Lead Generation Cards are only available for managed clients, but it soon will be available for small- and medium-sized businesses.
Here's what it looks like, courtesy of the Twitter Advertising Blog:
So cool, right? We can think of tons of ways you could get the most out of this new feature ... but we're getting ahead of ourselves here. First, let's show you how to get Lead Generation Cards in the first place, then we'll give you some marketing takeaways.
How to Create Twitter Lead Generation Cards
Want to get set up a Lead Generation Card for one of your Promoted Tweets? Follow these steps:
1) Set up a CRM end point integration.
The first time you want to collect information through Twitter Cards, you're going to need to set up an end point integration, which will allow you keep track of your Twitter leads from Lead Generation Cards within your CRM.
Twitter has a whole list of CRMs that will work with Lead Generation Cards. For more information on the end point setup, check out Twitter's support article.
Once you have the CRM integration set up, you're ready to start creating your Cards. Unlike creating other types of Twitter Cards, you won't need to make changes to the HTML or CSS on your website for the Lead Generation Card to appear.
2) Create a new Card.
To start creating your Lead Generation Cards, you'll need to go to the Twitter Advertising Interface, located in the drop-down menu in the top right corner of your homepage screen.
Once you're in the Ads Interface, click "Advertising" in the top left, then select "Cards."
Once you're on that page, click the "Create New Card" button in the top right.
3) Create content for the Card.
Once you're in the New Card interface, you'll need to select the content to be featured in the Lead Generation Card. Here's what you'll need:
Card Image: Make sure to choose a compelling image that Twitter users can't help but click on. Keep in mind it can't be larger than 1 MB, maintains a minimum of a 4:1 aspect ratio, and is at least 600px wide.
Short Description: Include a sentence here about why your offer is so great. It's just like your landing page title -- short and punchy, yet descriptive. Remember, this can be no longer than 80 characters.
Call-to-Action (CTA): Here, you can specify the text on the CTA button at the bottom of the Lead Generation Card. Make sure the text is action-oriented and tailor the language to the offer. For example, if you were promoting an ebook, you'd make the CTA text: "Download Ebook Here."
4) Set Technical Settings
After you've decided what the Lead Generation Card will look like, you've got to make sure it actually works the way it's supposed to in this section. Here's what you need to fill out in the section:
POST/GET Dropdown: This is how the information is sent from Twitter to your CRM. Typically, POST sends information to your server, while a GET retrieves it. If you're not sure which to choose, check with your development team or a technology-fluent friend for a little guidance.
Submit URL: This is the URL your leads are submitted to -- it should be the endpoint to your CRM system.
Fallback URL: If users click through on a Lead Generation Twitter Card on a non-supported platform, they will be taken to this link. It's a good idea to make this a landing page so you still have another opportunity to convert the visitor into a lead.
Privacy Policy URL: All Twitter Lead Generation Cards must include a link to your privacy policy so users can see what data is being collected and how it's being used. According to Twitter, "The privacy policy must also be posted on the same page where the information is collected." If you are collecting sensitive information (credit card or bank account numbers, for example), you must also have a secure server (https://).
After you've filled out the above information, you can customize the user information fields to match up with your CRM field. For example, Twitter may automatically label emails as "Email Address," whereas you may label emails as "Email" in your CRM. To make sure the Twitter leads are properly registered and organized within your CRM, you should make sure to double check the key names here.
After you are done, you click "Create Card" and you are ready to start promoting your Lead Generation Card!
5) Run Campaign With the Lead Generation Card
Last, but certainly not least, you will need to run a campaign to get your Lead Generation Card in front of Twitter users and start collecting leads. Need help running a Twitter campaign? We have a basic guide to help you get started.
What Marketers Should Know
We're really excited about this new feature -- it's a great way to connect Twitter ads with your bottom line through quality content. Besides being an awesome new way to collect leads, this new feature has a few implications for marketers:
In-app conversions could increase conversions rates.
With every click they have to make, more and more users drop out of the conversion process. By making it super easy for users to hit submit on a form (seriously, that's all they have to do), many more people will be coming into the top of your marketing funnel. Though these leads may not be the same quality as those who fill out a longer form, you'll be getting more leads in the door. The in-app conversion allows your content -- and your ad dollars -- to work harder for you.
Visuals are more important than ever.
I swear we sound like a broken record here, but it's true -- visual content is essential to your success on social media. In the Lead Generation Cards, you've got 240 characters (the tweet, description, and CTA) and an image to convert someone. That's not a lot. If you aren't making the most of your Lead Generation Cards, the larger conversion rates I mentioned above won't happen, period. Don't worry if you're not a designer -- you can easily create visual content in PowerPoint.
Make these leads count with sweet lead nurturing campaigns.
The Lead Generation Cards don't capture much information -- just name, email, and Twitter handle. Can you really qualify the person as a lead with this information? Probably not. If you want to make sure your Twitter Ads efforts are paying off, you'll need to start a lead nurturing campaign to get more information from your leads and work them down your marketing funnel.
Will you be using Twitter's Lead Generation Cards in your inbound marketing strategy? Share your opinion with us in the comments!