Forty-two percent of salespeople report that prospecting is the part of the sales process they struggle with most. But as a sales professional, consistent prospecting efforts are arguably your most important activity. And these days, email is an essential part of an effective prospecting campaign.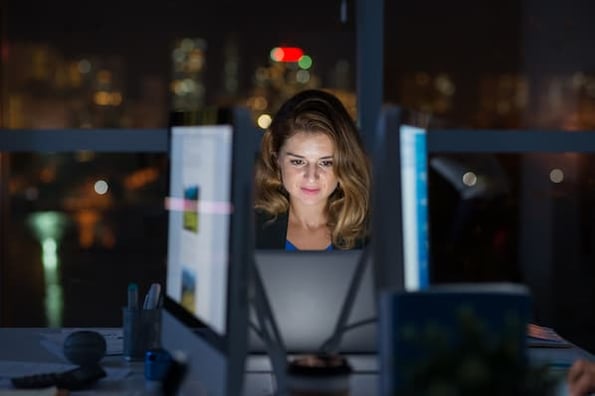 The hardest part of email prospecting? Efficiently making the right amount of high-quality attempts to each prospect with the right amount of time in between. The average rep only makes two attempts before giving up, yet the average sale requires eight attempts.
It's no wonder most salespeople are failing at their jobs. They simply don't make enough attempts to connect with each prospect.
However, sending more of the same emails isn't the answer. The reps who are making multiple attempts often send the same message to each prospect over and over again. Or worse, they forward their original message and attempt to guilt trip prospects with lines like "Have you seen my previous emails?" Not a good idea.
To strike the right balance, salespeople need to plan what to say as well as how to say it, and vary their approach. It's not that hard to make the appropriate number of creative outreach attempts if enough effort is put into creating reusable, quickly customizable email template sequences. And by automating the right parts of email prospecting, you can speed up your sales cycle too.
To inspire you to step up your game, I asked Matthew Iovanni and Holly Berrigan, respectively CEO and former director of accounts at FullFunnel, to share their formulas for success.
Using a process like the one below, they've helped clients such as Innovation Asset Group achieve 400% growth in their pipeline. As a Platinum Level HubSpot Agency Partner, they've also helped many HubSpot customers produce similar results.
Follow the process below to make more meaningful connections with more of the right prospects.
Automating Emails
To prospect effectively, you need to gather data on prospecting, create content targeted to the buyer's needs, write and test email templates and corresponding call scripts, leverage the right prospecting software, codify a research process and provide training to the sales team. Automating emails should come after, and only after, you've taken all of these preliminary steps.
Effective prospecting campaigns require planning -- and lots of it.
"Most companies take a haphazard approach to prospecting, arming their salespeople with a handful of templates, an email address, and a login to the CRM," Iovanni says. Here's how not to do that.
1. Use sales software to schedule multiple attempts at once.
FullFunnel uses the HubSpot email sequences to deploy their prospecting campaigns. Sequences leverages sales automation to enable a rep to automatically personalize and schedule a series of emails at pre-defined intervals for each prospect. Once a buyer responds, they are un-enrolled from the sequence and no further automated emails are sent.
"This process saves our clients' salespeople a lot of time because once we schedule a set of emails to send, we don't have to worry about which email to send next or when to send it," Berrigan says.
Sequences users can also schedule tasks for the salesperson, prompting them to make a call before or after an email is scheduled to send, follow and/or interact with prospects on social media, or simply check whether prospects are opening emails or not.
Of course, FullFunnel doesn't stop there. Over the years, they've refined their approach to crafting messages. Let's start from the top and work our way down the anatomy of a perfect sales email.
2. Use intriguing subject lines to maximize open rates.
Subject lines seem like such a small thing, but they're incredibly important -- and you should obsess over them more than most salespeople do. If a prospect doesn't find the subject line interesting, they won't read your email.
"Recipients are more likely to open emails with intriguing subject lines, so be sure to include personalization, exclusivity, and questions," Berrigan says.
Below are a few subject lines that have worked for FullFunnel's clients. Customize them to fit your product and persona.
Personalized subject lines:
[Name], interesting piece of advice.
Your profile is impressive, [Name]
Exclusive subject lines (note: only use these if you actually have an exclusive offer):
Invite Only -- [Event Name]
Secret sauce for overcoming [challenge]
Question subject lines:
What do you think of X?
How do you do X?
3. Personalize and customize to demonstrate interest in your prospect.
We've all received un-targeted emails from salespeople. At best, it's annoying. At worst, it pisses us off.
"No one likes to feel like they're getting a generic email," Iovanni says. "A potential customer wants to be recognized as the unique and individual snowflake that they are."
Follow these three steps to effectively customize your messages:
Personalize. Use personalization tokens in your emails to automatically populate messages with your prospect's name, company, title, and any other distinguishing information you have about them. "Just make sure your CRM information is accurate," Iovanni says.
Use a persona. Make sure your recipient matches your target persona. Specific personas (or types of buyers) will have common pain points, so share content related to those pain points with prospects who fit the persona.
Research. To maximize response rates, do research to find something unique about the individual you're contacting. Incorporate this research into your messages, or even focus your entire first message on your findings.
4. Write short messages with the right tone to hit home.
In addition to personalizing and targeting your messages, you must write engaging and concise copy. Customization won't matter if your email is poorly written. By focusing on your message's tone and keeping it brief, you'll significantly increase engagement.
Many salespeople make the mistake of putting their product's full value proposition in every email rather than something (anything!) about their prospect. FullFunnel uses Sequences to test bite-sized messages, which are more likely to get read precisely because they're short, according to Berrigan.
"There's no need to cram everything you want to tell someone in an email," Iovanni points out. "People want to know how your product or service will benefit them, not how it works."
In addition, try experimenting with tone in your emails. FullFunnel's reps have seen success keeping their language familiar and friendly, but your ideal tone might be different depending on your target personas.
Below is a mock example of an email FullFunnel uses to market their service. The message this is based on achieved a 33% open and 11% clickthrough rate.
You'll notice that the email doesn't go into the specifics of what FullFunnel does. Instead, it shows the potential benefit to the recipient's company. And most importantly, the email is written in the fun and friendly FullFunnel voice.
5. Test images to increase relatability.
In the example email above, you may have been drawn in by the simple graphic. FullFunnel uses images such as these in their emails in several ways.
"Educational infographics work when you want the prospect to come to the same conclusion you're proposing, while funny images can quickly break the ice," Iovanni explains.
Here's an example from FullFunnel client VOIQ, a provider of on-demand sales calling services. Who doesn't love a little classic Burt Reynolds? (Once again, this is a mock example without any customization based on the individual recipient.)
You can even include animated GIFs, which are supported by almost all email clients.
"Humorous GIFs are great for attention-grabbing messages to difficult-to-reach personas such as those in IT, or for very social personas like those in sales or recruiting," Iovanni told me.
6. Use content and a clear call-to-action to encourage engagement.
Following the advice above should help you increase your email open rate. But that's all for naught unless you can get prospects to reply or re-convert on your website as a result of your email.
The content and call-to-action (CTA) you choose to include in your messages will vary significantly on the stage of the buyer's journey your prospect is in. Below are the guidelines FullFunnel recommends their clients follow when choosing content and CTAs:
Include links meant to generate website conversions. Use simple action words such as "click here," "discover," or "download" to make it clear exactly what you'd like the reader to do.
For contacts who are less familiar with your company's offerings, include a link to a landing page with relevant educational offers.
In the event that the lead is aware of the company's offerings and likely to be interested, link to a meeting scheduler so the prospect can immediately book time with a rep.
For messages that fall late in the sequence or leads that have expressed interest through repeat website visits, email opens, or website conversions, include a link to a case study.
FullFunnel also uses progressive profiling to capture more information about a given lead every time they complete a form. Progressive profiling automatically hides form fields if the information is already known for that prospect, and presents a new field to complete instead. This keeps the form short, while enabling companies to capture more information about leads each time they convert. The additional information collected as prospects complete more fields is used to send increasingly targeted offers, which in turn helps move leads farther along their buyer's journey.
7. Create reusable sequences for different personas to maximize efficiency.
FullFunnel also considers which target persona a specific lead matches when determining which email sequence to send them.
"For each persona, we recommend creating five or more emails [per] cadence," Iovanni says. "Each message should hit on pain points your persona may struggle with and present proof that you can help eliminate the problem."
Save each series of emails as a HubSpot Sales Sequence to automate your prospecting touches without sacrificing personalization.
In Email Prospecting, a Little Planning Goes a Long Way
Ever feel like a little piece of your soul dies when you send the same spammy message to the same prospect over and over again? Ever get frustrated that so many of your prospects ignore you or tell you to back off? With a bit of planning, some content, and the right tools, you can stop feeling this way -- for good.
Create email templates that include content tailored to the persona and buyer stage of each contact, write engaging subject lines, add images where they make sense, keep it brief, and follow through with multiple, creative attempts.
Next, use technology to store these customizable email template sequences and automate the repetitive parts of prospecting by scheduling multiple attempts at once. But don't go overboard with automation -- use your newfound time to do more research and customize each message for each prospect even more.
By quickly accessing and scheduling reusable email templates with CTAs to content proven to convert, you can achieve higher response rates more efficiently. Keep creating new templates and sequences for different stages of the buyer's journey and different personas, and you'll build a prospecting machine that puts quality opportunities into your funnel at an ever-increasing rate.
Email Prospecting Software
Price: Starter, Free; Basic, $32/month/user; Professional, $100/month/user; Enterprise, pricing available upon request
About: Apollo offers automated or manual email sequences, calls, and tasks. Plus, they have click-to-call dialing, recording, transcription, and CRM-logging tools. Create rules that take instant action based on prospect activities, stages, or triggers. And integrate with LinkedIn, Gmail, Outlook, and your favorite CRM.
About: Ready to send personalized emails faster than ever before? Create customized email campaigns full of smart variables that keeps you from sending emails with missing values (i.e., that dreaded "Hi "). Their software can also determine between actual replies and out of office replies. And they flawlessly format your emails using their modern email templates.
Price: Available upon request
About: Wish you had software that combined calling, texting, email, and social media to reach buyers where they most want to be contacted? Outreach.io can help. Auto-populated variables, open and click tracking, inbox integrations, and more make this a solid email prospecting option.
Price: Available upon request
About: Use SalesLoft's templates to personalize your emails where it counts -- even embedding customized videos or attachments. You can also A/B test automated messages to find out which content serves your prospects best. OOO detection, an email deliverability checklist, timezone detection, and engagement triggers are just a few of the other features that will streamline your email prospecting with this software.
Price: Individual, $55/month/user, $70/month/user, or $90/month/user; Business, $200/month for 3 users, $300/month for 5 users, $500/month for 10 users; Enterprise, pricing available upon request
About: Send personalized, automated emails to your prospects, from onboarding to re-engagement. Then, track the performance of those emails with comprehensive statistics on deliveries, opens, and clicks. Oh, and you'll be able to use their template library, of course.
Email automation doesn't have to be cold, monotonous, or spammy. Follow these suggestions and choose the right prospecting software, and you can enrich the buying experience for your prospects -- and for your career.