The importance of good real estate photography when it comes to property marketing and promotion is higher than you may think. Whenever a person stumbles upon your listing, the first thing they'll look at are the photos before doing any further research.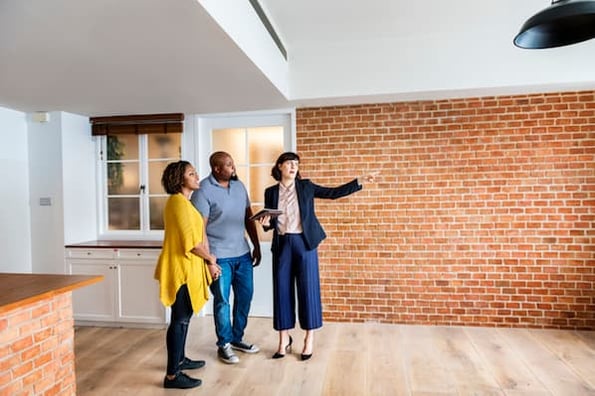 The real estate rental and buying markets are highly competitive, and to be able to showcase all the benefits of your listing, it's crucial to work on your photography skills take excellent before you list your rental to attract as many people as possible. Below, we've prepared a detailed real estate photography guide to guide you through the step-by-step process for taking great real estate photos without needing the expertise of professionals
What You Should Do Before Shooting Real Estate Photos
1. Standardize the list of required photos for each shoot.
First, you need to standardize your work and make it more cost and time-efficient. Do your research and try to work out a work pattern that can be applied to each property depending on the type of property. The fundamentally-required photos for real estate listings usually showcase:
Living room: Because this is the room where people will spend most of their time, it should look and feel relaxing and comfortable. Find the necessary angles to show how homey it is to make the prospective tenant or buyer feel the vibe of this place.
Bedrooms: Bedrooms should be clean, cozy and showcase the size and arrangement of necessary furniture items, like a bed, bureau, and lighting.
Kitchen: Functionality and cleanliness in the kitchen must be showcased in real estate photos. Make people imagine how easy it is to cook something in this kitchen, or to feed a family, to help them imagine themselves working in there.
Bathrooms: Too many listings include bad bathroom photography, but it's arguably one of the most important rooms in the house. These rooms are usually small, so they should be spotlessly clean, well-lit, and shot using the right angle to show it all off.
Exterior: Real estate photos are an example of judging a book by its cover. People love it when their home represents their aesthetic and looks cool doing it. To make sure you get the best shots, try shooting exterior during sunrise or sunset hours.
2. Prepare the gear.
When it comes to commercial photography of the real estate objects, you've got to be prepared for lots of shooting angles and settings.
To do that you've got to prepare your gear in advance. Don't forget your:
Camera
Lenses (a few options)
Tripod
Flash
3. Make sure you have enough time for each property.
Even the best professionals will deliver lower-quality pictures while working under the pressure of the short time frames. Make sure you think through your photoshoot and have enough time to shoot everything you need. Otherwise, you'll end up with bad real estate photos like in the examples below.
Bad Real Estate Photography Examples
Bad real estate photography nowadays became some sort of a meme, and you can find the compilations of the worst property shots on the internet. However, let's take a look at the few examples of how you should never do.
1. The Awkward Bathroom Photo
It's hard to understand how the entire room looks. We see the toilet paper, so it's a bathroom. But is it, really? Where is the toilet itself? The prospective tenant or buyer won't be able to understand what they're looking at in this photo, which is confusing and off-putting.
2. The Boring Office Photo
This is the most boring room in the universe. An office space should be one that inspires creative thinking and problem-solving, and this photo does the opposite of that. With nothing on the walls and no real furniture, it's hard for a prospective tenant to imagine themselves sitting down at that desk.
3. The Poorly-Positioned Photo
The biggest mistake made with this photo is that it's not wide enough, and it was taken from the wrong angle. It's impossible to understand where is this room located in the house from this photo, and it doesn't highlight the fireplace, which should be the star of whatever room this is.
Good Real Estate Photography Examples
To contrast, let's look at some well-composed, beautiful real estate photos:
1. The Stunning Bathroom Photo
This is how you shoot a bathroom. The prospective tenants or buyers can see how big it is, that it contains a beautiful, wide window and a nice fireplace, and that the appliances and floors are clean, cozy, and in good condition.
2. The Sitting Room Photo
The wide lens used to take this photo did a great job here. In one shot, you can see the size of the room, the balcony doors, and around the corner into the next room, proving that the home is clean, airy, and well-light.
3. The Sun-Soaked Exterior Photo
Here you can see a clear difference between the photo taken at sunset and the photo taken on a regular day. The photographer planned out their strategy and used the right moment to showcase the beautiful, big windows.
How to Take Real Estate Photos
To take amazing real estate photos, walk through the house before shooting the plan the right angles, compose the photo properly, set up the right lighting, use natural and artificial light, bring different flash and exposure options, use a tripod, and edit the photos afterward to make them website or pamphlet-ready.
Taking real estate photos is not an easy job, but being well-educated for this matter can make a difference when it comes time to rent or sell a home.
1. Walk through the house before shooting.
As a real estate photographer, you're in control of the light, camera location, and composition in the room.
To make sure you're ready to showcase the best features and amenities of each room, do a walkthrough to choose the best angles to highlight the home's features. Try out different camera positions, play with the curtains for better lighting, and move objects around to achieve better composition. Then, you'll be ready to start shooting excellent photos.
And don't forget to ensure that your property is clean. Take down the magnets from the fridge, clean the tables, hide the dish soaps, sponges, toothbrushes, and dirty towels. Put down the toilet lids, clean the mirrors and windows, and get the home as close as possible to perfect condition.
2. Compose your shots properly.
Below is a brief primer on photo composition for shooting real estate:
Choose the proper height for your camera position.
Test out different camera positions to figure out which camera height best showcases the most fully-composed shot of each room.
Make sure the most important elements are in the frame.
When you look at the shot, you should try to place yourself in a prospective tenant's shoes. Can you see all of the features, benefits, and amenities of this room on the shot? Make sure you can place the most important room elements in one frame -- like the shower, tub, and toilet in a bathroom shot, or the sink, appliances, and countertops in a kitchen shot.
Choose the angle with the best lighting.
There is nothing more boring than a room with no light. Prospective buyers want to see a brightly-lit room they can imagine themselves in, so make sure you find a point in the room where you can get the best lighting options with artificial and natural light.
3. Blend exposures to create the perfect light.
Some homes may have perfect natural lighting for showcasing the wooden floor. But sometimes, when you want to show the other elements of the room, the floors can reflect the lighting and make it look horrible.
One of the tricks that you may use when it comes time to edit photos is called blending exposures. Make a few photos with different lighting and exposure options. Then, go into your photo editor of choice, and mix them together with the help of the pen tool. Using a mix of natural and artificial light can help create the right color you want, too.
4. Use a tripod.
Make sure your camera is stable. Blurry images are one of the most popular mistakes in real estate photography listings, and tripods can help you achieve photos that are perfectly sharp.
5. Bring different flash options.
We've already discussed the blending exposures, and to be able to play with the exposure and lighting, you've got to take multiple photos with more than just one flash option. This is one of the things that you've got to prepare along with the gear the night before the photoshoot -- pack different lenses and use different flash settings on your camera to get different options.
6. Shoot using wide angles.
Wide-angle lenses help you to capture the entire space and show more details of the room. This is essential in the real estate photography because wide shots provide photos with more depth and detail.
7. Take lots of images so you can edit effectively.
Being able to get along with your gear and have good photography skills is not enough. Invest in your editing skills and make sure you can complement your great shots with great editing. Learn how to use the Adobe Lightroom, Photoshop, or any other similar software for playing around with the exposure, saturation and other details of your shots. (Here's a beginner's guide to Photoshop.)
You won't be able to master real estate photography skills overnight, but it's something you can learn to do well. To learn more about advertising homes effectively, read about how to host a great real estate open house next.