With the hectic daily schedule of a real estate agent, it's difficult to find time to wind down and spend time learning about new industry information and strategies. If you're always on the go, I've compiled a list of the top real estate podcasts to help motivate you and grow your skills.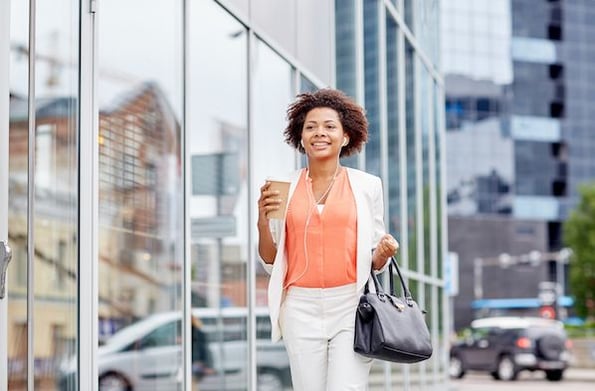 Many of these podcasts feature interviews top-performing real estate agents who share their secrets to success. Ready to expand your real estate knowledge, improve your business, and grow your sales? Here are 17 podcasts to get you started.
Top Real Estate Podcasts
Real Estate Today Radio
YES Talk
Super Agents Live
Real Estate Coaching Radio
Coach Tom Ferry
Real Estate Rockstars
The Brian Buffini Show
Keeping it Real
Real Estate Success Rocks
GSD Mode
Real Estate Realities With Robert "The RebelBroker" Whitelaw
Onion Juice Podcast
Top Agents Playbook
The Honest Real Estate Agent
The Commercial Real Estate Show
Agent Caffeine
Caravan Confessions
This podcast was created by the National Association of Realtors (NAR) and award-winning broadcaster, Stephen Gasque, is the host. Learn about selling homes, real estate trends, how to increase home value, and more.
Top Pick: How to Sell a House
Host Kevin Ward is a real estate success coach and author of The Book of YES: The Ultimate Real Estate Agent Conversation Guide. In his podcast, he provides training on strategies, skills, and scripts for realtors that will help you that will help you on your way to success.
Top Pick: First Steps for Brand New Agent
This podcast features the techniques and strategies used by top producing real estate agents like Tom Ferry and Brian Buffini. Toby Salgado, a multi-millionaire entrepreneur, conducts the interviews with these top producers.
Top Pick: How To Close 50 Deals In Your First Year - Deborah Spence
Listen on: iTunes | PlayerFM | Stitcher
Hosted by real estate coaches Tim and Julie Harris, this podcast features industry news, advice for realtors, and interviews with real estate professionals. It's an incredible resource for all agents, whether you're a seasoned pro or just starting your career.
Top Pick: 5 Things to Say to Master First Impressions
Listen on: iTunes | PlayerFM | Stitcher
Tom Ferry, the #1 Real Estate Educator, is the host of this podcast. With new episodes each week, he creates training sessions for realtors to learn about strategies to improve their marketing, selling, and general real estate skills.
Top Pick: How to Increase Lead Conversion
Listen on: iTunes | PlayerFM | Stitcher
Pat Hiban, a billion-dollar agent and best-selling real estate author, runs the show and shares tips to make more sales and earn higher commissions. Notable guests include Barbara Corcoran, David Osborn, and Robert Kiyosaki.
Top Pick: Niche Down and Up Your Real Estate Income with Christopher Lochhead
Listen on: iTunes | Stitcher | YouTube
Brian Buffini was one of the nation's top realtors and has added entrepreneur, author, speaker, and podcast host to his impressive resume. This podcast "explores the mindset, motivation, and methodologies of success" to help you in your real estate career.
Top Pick: The Mindset, Motivation, and Methodology of Success
Listen on: iTunes | GooglePlay
If you're a real estate broker, this podcast is for you. D.J. Paris, President of Sales and Marketing at Kale Realty, hosts the show and knows how difficult it is for new brokers to find mentors. He interviews successful agents so they can share their stories and successes.
Top Pick: Michael Mandile -- 73 Transactions in First Year
Listen on: iTunes
Patrick Lilly, the founder of Real Estate Success Rocks, hosts this show. It covers everything from marketing and selling strategies to professional development tips.
Top Pick: Managing Clients' Emotions With Roger Hall
Listen on: iTunes | Player FM | YouTube
Realtor, coach, and entrepreneur Joshua Smith is the host of this podcast where he talks to top performing real estate agents and entrepreneurs about their secrets to success. He even features his interviews with top realtors on his YouTube channel.
Top Pick: "The Sale Isn't Everything, it is the Only Thing! Learn to DOMINATE with Sales" -- Luke Acree
This podcast covers real estate industry news. Robert 'The RebelBroker' Whitelaw, is the host of the show -- and the show's purpose is to provide information for real estate entrepreneurs to achieve their goals and grow their business.
Top Pick: Home Buyers Are Stepping Back From The Market!
The goal of The Onion Juice Podcast is to help agents grow their businesses. If your real estate business is struggling or you just need some quick advice, this podcast is for you.
Top Pick: A Mixed Bag Of Marketing Tips For Real Estate Agents
Ray Wood is the host of the show, an entrepreneur, and founder and CEO at Bestagents, a real estate marketing group. In his podcast, he interviews top agents to learn their secrets for gaining more business and excelling their careers.
Top Pick: The Tech Future Of Real Estate, an Interview with Craig Rowe
The show is hosted by Mario Jannatpour, the author of the best-selling book, The Honest Real Estate Agent. In this podcast, he explores lead generation ideas and tips for agents to run their businesses with honesty and integrity, two characteristics sought after by real estate consumers.
Top Pick: Most Important Sales Skill
Catch up on the latest real estate industry news with host Michal Bull. He interviews analysts, economists, and more, and they share their insights into commercial real estate related topics.
Top Pick: Crowd Funding for Commercial Real Estate
Listen on: iTunes | PlayerFM | Stitcher
The focus of this podcast is real estate innovation, technology, and best practices. It's hosted by entrepreneur, Kelly Mitchell, and while she's no longer producing new shows, each podcast contains a wealth of timeless and engaging real estate content.
Top Pick: The Zen of Real Estate with 'REAL' author, Dave Crumby
If you're in need of some comedic relief, this podcast has you covered. Eric Simon of The Broke Agent hosts real estate professionals on his show and asks them to describe their craziest real estate experiences.
Top Pick: Everything Happens for a Reason
The advice of a mentor or advisor is one of the best ways to learn and grow, and podcasts allow this expert knowledge to be shared to all. If you're looking for more ways to grow your business, check out these real estate marketing ideas next.