How to Craft an RFP Response
Identify whether you already have a relationship with the RFP issuer, consider if you have an RFP "Swat Team" ready to go, and don't let excitement fool you into thinking the deal is yours. Consider whether this is truly a qualified lead, and be willing to walk if it means saving valuable time and resources.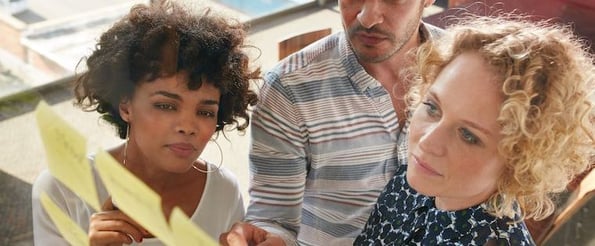 Many salespeople become giddy when they see an RFP (Request for Proposal) that falls within their sales area. Because it looks like there's strong alignment between what a company requests and what they sell, the deal is as good as done.
Not so fast! Let's look at this more closely and examine your chances of success with RFPs -- and how you can enhance them.
Are RFPs the Perfectly Qualified Sales Lead?
One of the first things reps are taught is the importance of qualifying new leads. A qualified lead stands a good chance of being won, but an unqualified lead may cost you days, months, and sometimes years of wasted effort.
What is a qualified lead?
The prospective buyer must have a clearly articulated need
There must be a purchasing timeline
The purchase must have an allocated budget
The buying process and its participants must be defined
The question is, how should you treat an RFP? An RFP is a document issued by a purchasing company to a select group of vendors they believe can meet their company needs. The qualification criteria listed above is typically in place. And, on the surface, an RFP appears to be a perfectly qualified lead.
But is it really?
What Is a Request for Proposal?
A request for proposal is a document issued by a company asking select vendors to submit proposals for their consideration. Vendors are usually required to submit timelines, budgets, company information, and even a project. The RFP issuer then reviews all proposals and selects a winning vendor who is awarded their business.
Is the Deck Stacked Against You?
How many times have you and your fellow reps reacted with excitement when an apparently winnable RFP hit your desk? How many hours did you spend assembling a team to write a proposal, gather information and data, answer the questions, revise and review, and finally submit the RFP, believing it would bring you a windfall? And how many times have you failed?
For example, one day, I received a call from the head of sales at a large manufacturer. He had read a piece I'd published online and was interested to learn if my company could help him define a new sales strategy for his team.
Over the next several weeks, my team defined the scope of work, created a project plan to help his sales force, assigned resources to the effort, and selected a kick-off date. Prior to the kick-off date, however, I received an alarming call. He'd been informed the project must be put 'out to bid' to at least two other vendors, because its total cost exceeded $500,000.
Apparently, our "slam-dunk" would have some competition. A vendor-selection committee had been formed, and we were not invited because, "There's no need to worry," said the head of sales. "We're still going to do this project with you."
Despite my protestations and sense of panic, my contact assured me, "Just sit tight. Give me two weeks, and then we'll pick up where we left off." True to his word, we were back on the telephone two weeks later rescheduling the project kick-off meeting.
What happened during those two weeks?
Our client had issued an RFP and received proposals from three consulting firms. Even though we were not the lowest bidder, we were the successful bidder because, in the words of my contact, "It was your project. I just had to jump through some hoops to make it work internally." In other words, the entire RFP process was essentially a sham.
This is a great story if you're the beneficiary of these shenanigans, but not if you're the loser. The other three consulting firms had entered an imaginary contest to win an unwinnable project. Imagine the time, energy, and resources expended by all in these two, short weeks.
Before Submitting Your RFP Response, Remember These Lessons
1. RFPs are hard to evaluate. RFPs might have a defined need, timeline, budget, and buying process -- but they're much harder to evaluate than regular leads.
2. RFPs might look like highly qualified but, often, they're not. When presented with an RFP, try to talk yourself out of responding to it, rather than automatically assuming you should. Win rates are usually against you. "Losing" the RFP by failing to bid can be a gain, because you've not wasted precious resources.
3. No existing relationship with the issuer? You've probably already lost. And you've definitely lost if the RFP response you send is the first time the purchaser is seeing your name.
4. Your company's online presence and thought leadership is vital to successfully influencing purchasing decisions. Successful content marketing is key to influencing decision makers, most of whom are already halfway through the decision making process before receiving your response.
5. Create an in-house RFP process and RFP response "swat team" to quickly and efficiently respond to requests without causing an unnecessary drain on internal resources.
6. Don't expect a successful sale. It might seem like the stage is set for a successful purchase. But it's not necessarily set for a successful sale. Don't let the excitement of an inevitable purchase fool you into believing it's your inevitable sale.
I'm not saying you should never submit an RFP proposal, but I am saying there's no golden ticket in sales -- and that extends to RFPs. Consider whether this RFP is a realistic goal, and whether it's the best use of your team's time before crafting a response.