Tony Robbins is an author, speaker, businessman, and life coach. He's written six best-selling books, coached everyone from former President Bill Clinton and Oprah to Serena Williams and Aerosmith, acted as a founder or partner in more than 30 companies (with combined annual sales of $5 billion), and presented to more than four million live seminar attendees.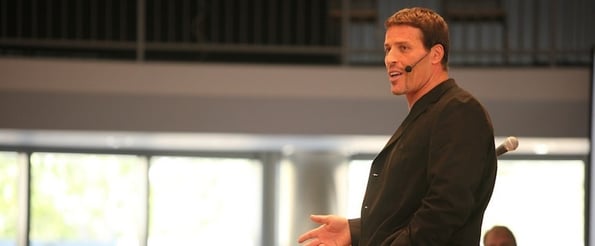 To learn more about Robbins, read through the following mini-guide. You can also visit his official website.
Who is Tony Robbins?
Robbins was born in 1960 in Southern California. When he was seven, his parents divorced. His stepfather, a semi-pro baseball player turned salesperson, had trouble providing for the family, and his mother could be abusive.
"I had to become a practical psychologist to figure out how to protect my brother and sister and to protect myself," he told Fortune in 2014.
Robbins found inspiration in books. After learning how to speed-read, he finished one book per day -- learning about famous leaders and self-improvement principles.
When Robbins was 17, he permanently left home. Soon he found a job with motivational speaker Jim Rohn. This launched his career in personal empowerment.
Robbins published Unlimited Power in 1986. This book laid the foundation for his current status as the top life and business strategist in America.
Tony Robbins' Books
If you want to learn Robbins' philosophy on success, money, emotional and mental health, and self-empowerment, his books are a great way to start.
Although Robbins was just 25 when he wrote Unlimited Power, its principles are still highly relevant. The book explains how you can improve both your personal and professional lives. It's described as a "fitness book for the mind" and includes lessons on:
Discovering your true motivation
Overcoming fear and phobias
Building genuine rapport with people
Recreating others' success
This book is designed to help you achieve financial freedom. It's divided into seven sections: Getting into the proper mindset, understanding financial rules, making a plan, deciding how to invest, creating a lifetime income plan, getting inspiration from billionaires, and enjoying your life.
If you want more investment advice from Robbins, pick up this guidebook. It delves into the fundamental concepts and processes of the stock market. Lessons include the six biggest mistakes investors make and how to avoid them, how to navigate crashes, and optimizing your retirement plan.
Robbins doses out some cold, hard truths in this bestseller. After you figure out what you'd like to achieve, he will walk you through what you need to do to get there.
There are a couple different exercises to help you implement Robbins' techniques, such as the Ten-Day Mental Challenge and the "Seven Days to Shape Your Life" program.
When you need a pick-me-up or dose of motivation, go to this short book. It's just 103 pages, meaning that you can finish it in a few hours. Robbins interweaves real-life examples and anecdotes with tangible points. Some readers say many of the same messages from Robbins' other books can be found here in condensed form, like the "Cliff Notes" version of his insights.
Tony Robbins Inspirational Quotes
Looking for a quick dose of motivation? This infographic, which we created with 24Slides, presentation designers, lists 15 quotes perfect for sales reps.
Selling Insights
The 6 Basic Needs
According to this LinkedIn post by Robbins, there are six fundamental human needs. Our first need is certainty and comfort. Humans want to understand what the future holds so they can prepare and avoid risk. A person's risk tolerance is directly equivalent to how little certainty they need: The higher their tolerance, the less mental security they require. Determine how risk-averse your prospects are, then tailor your pitch accordingly. If they're not willing to take a big risk, you might offer a free trial before they buy. However, if you sense they're comfortable taking chances, consider giving them a great price in exchange for a 12-month contract.
The second need is for variety. Robbins says unexpected events -- whether bad or good -- give us opportunities to grow. Without these problems or surprises, we'd never develop resilience. In sales, answer this need by providing fresh or unexpected opportunities for prospects to grow their business.
The third need is significance. Every person wants to feel like they're valuable, different, and/or necessary. Your prospects might fulfill this need at work by landing a promotion, getting recognition for an achievement, or taking on a high-profile project. Show them how your product can make them more significant, and you'll increase your win rate.

The fourth need is love and connection: We naturally seek out communities and relationships. Incorporate this into your selling strategy by treating your prospect like a human and asking about their life, using humor, creating rapport through empathetic statements, etc.

The fifth need is growth, which leads to true fulfillment. As a salesperson, how are you continually learning and improving? If you can't answer that question, you probably won't feel satisfied. It's also worth pondering how you can help the buyer grow. Will your solution somehow make them better at their role? Can you teach them something new?
The last need is contribution. As Robbins puts it, "What's the first thing you do when you get good or exciting news? You call somebody you love and share it. Sharing enhances everything you experience." Make sure your solution improves your prospect's professional relationships -- either by helping them hit their goals or collaborate with their team members.
The Selling Mindset
Robbins stresses that your performance isn't dependent on your ability -- it's based on your mindset.
To put yourself in the right mode, he says, "You've got to develop an emotional sense of certainty that what you have to offer is worth 10 times more than what you are asking for in return."
As a salesperson, it's easy to forget the impact your product and your insights have on your customers. After all, you're usually spending most of your time and energy with them while ROI is still hypothetical.
Remind yourself of your solution's value by:
Checking in periodically with customers to see how they're doing and what results they've gotten so far. (This is also a great opportunity to upsell and cross-sell them.)
Reading customer case studies.
Talking to your customer success team.
These actions will strengthen what Robbins calls your "core sense of certainty" that you have a compelling offer.
Robbins also believes most salespeople unconsciously set limits on themselves. They believe they're not capable of landing huge deals, holding their own with C-level executives, or persuading the prospect to switch from their competitor.
To reach your true potential, stay alert for these self-imposed restraints. When you resist moving forward with a deal, ask yourself, "Why am I resisting?" Then challenge those beliefs.
You'll probably find many of your insecurities stem from a fear of rejection. Sales is filled with rejection -- so it's critical to develop a healthy attitude to it.
Consider what a "no" from a buyer actually means.
Here's what your emotional brain might translate "no" as:
I'm not good at selling.
This prospect doesn't like me.
My inexperience is obvious.
They think I'm wasting their time.
But 99% of the time, Robbins says "no" really means:
The prospect is nervous about change.
They're not confident enough to stake their reputation on an unproven solution.
They're not sure they're technical or sophisticated enough to use your product.
Do you notice the common theme? "No" is typically caused by your prospect's shortcomings, not your own.
That doesn't mean you're powerless to avoid "nos." If the buyer fears change, show them why sticking with the status quo is more harmful in the long run. If they're hesitant to risk their internal capital, provide them with case studies showing how beneficial your product is. If they're insecure about their ability to use it, give them training options or self-education resources.
The point is, don't associate "no" with "I'm not good enough." Instead, think of "no" as a sign you need to creatively help the buyer overcome their mental roadblocks.
This mental shift will make you more confident and less impacted by setbacks.
Source: SalesLoft
Tony Robbins' Morning Routine
Few people in their mid-fifties could consistently put in 12- to 14-hour workdays -- especially workdays consisting of speaking to 5,000 to 10,000 people and getting in a marathon-number of steps. Robbins credits his morning routine for much of his stamina and energy.
He starts the day with a short swim in his cold plunge pool (kept at 57 degrees Fahrenheit), a river, or a cryotherapy unit (if available).
Then he spends 10 minutes doing a "priming" ritual. There are three parts.
First, Robbins takes 90 deep breaths. Then, he reflects on three things he's grateful for. One must be relatively minor, like his son's smile. Finally, Robbins spends three minutes concentrating on good events for his family, friends, and clients.
Robbins ends his morning routine with a nutritious breakfast.
Events
Robbins hosts several different types of events all around the world. Read on to find the best fit for your goals.
Courses
For sales professionals who would rather "train at home" or boost their sales skills during what Robbins calls N.E.T. time (No Extra Time), these are the best audio products. Learn, grow, expand, and improve while driving to work, exercising, or taking your lunch break.
Mastering Influence: A dynamic system Tony designed to give anyone the skills to be influential, motivate potential buyers, and create lasting, mutually beneficial relationships with clients. In this 10-day course, you'll learn the techniques, strategies, and secrets of the world's top salespeople and leaders -- principles that Tony uses every day.
Personal Power: Tony Robbins teaches the psychology and the underlying behind the growth and change he has triggered in professional athletes, world leaders and top business entrepreneurs.
Ultimate Edge: The number one best-selling personal development product, the three-part program helps you discover what you want most in life, then gives you the proven tools and strategies to achieve it.
How have you applied Robbins' philosophy and advice to your sales career? Let us know in the comments!